The best cupcakes in Tokyo
Find the most delicious and decadent cakes out there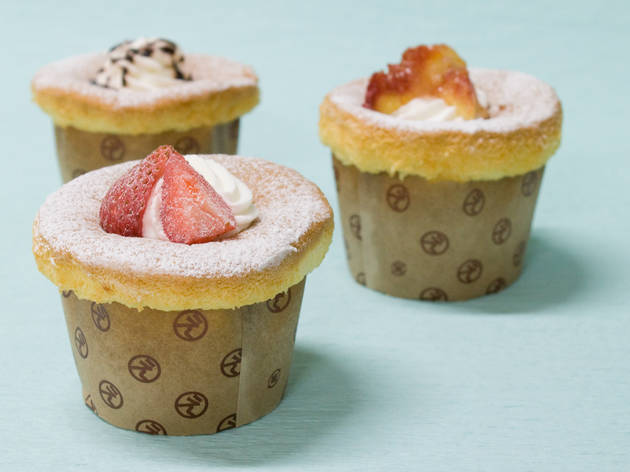 Last year's biggest sweets craze was undoubtedly pancakes, with breakfast eateries springing up all over the city, often attracting unbelievably long queues. However, another trendy dessert emerged more quietly: the humble cupcake, which quickly caught the attention of Tokyo's cute-loving crowd. Specialist shops from Yurakucho to Shinjuku and from Jiyugaoka to Oshiage now tout their quality wares with increasing success. We have scoured the city for the best sugary treats out there, and now present our authoritative top 10. Do take care not to overdo it – these calorie bombs are best enjoyed responsibly. And if you're looking for a more carb-heavy option, try our guide to Tokyo's finest French toast.
The cutest cupcakes in Tokyo
The London location of this legendary cupcake shop is frequented by celebrities, and although the Tokyo branch's clientele is less flashy, the products more than make up for it. The just-right cupcakes are perhaps slightly less unhealthy than most others found in Tokyo, accordingly allowing you to feel slightly less guilty every time you sneak back in here.
Read more
This Takanawa shop is the permanent location of Bellas, perhaps best known for their cupcake truck that's been keeping Hiroo's sugar addicts satisfied for years. The cute and colourful cakes are all baked on the premises. Do take care to get there early though, as stock often runs out during the two midday hours that the shop is open.
Read more
American-style cupcakes are the attraction at this Meidaimae shop, which decorates its creations with pretty flowers and butterflies made from sugar. The popular marshmallow cakes feature a chocolate base covered with a mountain of marshmallow cream. We also recommend the Earl Grey variety with its soothing tea aroma and slightly dry mouthfeel.
Read more
Conveniently located on the bottom floor inside Shinjuku's Isetan, the cupcakes here are so cute you'll have a hard time biting into one. The small animal-themed goodies are super-fresh, and their other creations also feature decadent amounts of fresh cream and fruits, making everything here extremely addictive.
Read more
La Petite Mercerie's cupcakes are loved by Tokyo sweets hunters, despite the fact that prices here are well above the standard. The strawberry shortcake (¥540) is a definite highlight, as it's always topped with the freshest strawberries available, and finished with a hearty helping of matching cream. Yum!
Read more
You won't find any chemical additives in the cupcakes at this Yurakucho deli. Generously topped with fruity purée made from raspberries, passion fruits, and more, these goodies aren't overly sweet or heavy. Reasonable in both size and price, Munchies's creations are also available in packs – how's that for a gift idea?
Read more
Specialists in traditional English cupcakes, this Tokyo Station shop varies its selection by the season. Pick up the 'Fairies' set for a five-pack of cute animal-faced cakes, or go for the simple but well-balanced 'Lemon'.
Read more
These Azabu-Juban sweets makers have attracted a respectable following with their speciality 'Tokyo Entotsu' cupcakes, made entirely with domestic ingredients. The strawberry and chocolate versions are ever-popular, owing not only to their delicious taste but also to their considerable size.
Read more