The best fruit parfaits in Tokyo
Where to get a taste of this 'king of desserts'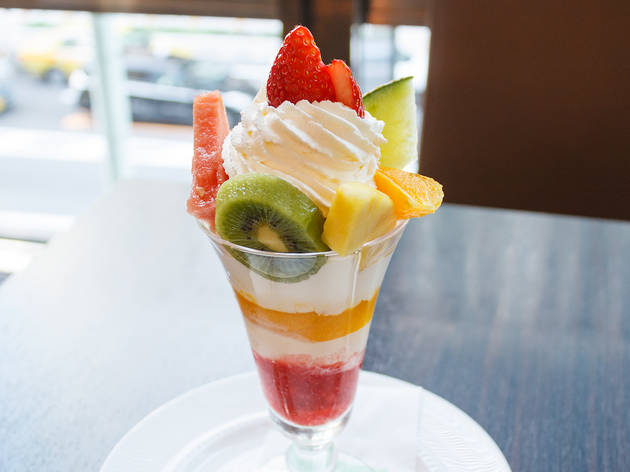 Think parfaits in Japan and you might imagine those strange mixtures of mochi rice cakes, ice cream and whipped cream stacked over a handful of cornflakes. Nevertheless, such unfortunate examples are, luckily, exceptions: Japanese parfaits in general, and fruit parfaits in particular, are usually decadently delicious creations that really do deserve the nickname 'king of desserts'. Made with fresh, seasonal fruits and served American-style in a tall glass, these luxury sweets can be found anywhere from the classic 'fruit parlours' of Ginza to simple cafés associated with neighbourhood fruit shops. Here's our top 15 of truly excellent Tokyo fruit parfaits – note that most cafés rotate their menu with the seasons, so your parfait might look slightly different from the ones pictured here.
15 delectable parfait creations
This Asakusa favourite is best known for its half-and-half choices that allow customers to try a variety of the excellent fruit on offer. We like the mango parfait (¥1,400) that contains both Peruvian and Philippine fruit, as well as homemade mango ice cream. This one stands out not only for its taste but also for its satisfyingly ample toppings.
Read more
Located slightly off the beaten track in Suehirocho, Fruits du Saison serves up their popular parfait masterpiece (¥1,500) year-round. The glass here is stuffed full with three flavours of sorbet, as well as both finely cut and whole fruit, and is voluminous enough for two medium-sized eaters. Just be careful not to spill.
Read more
Parfaits topped with lots of different fruits have the upper hand in Tokyo, but worthy one-flavour specimens are not to be forgotten. This Monzen-Nakacho joint boasts an excellent mango parfait (¥2,100), which makes up for the steep price with size and overflowing fruity goodness. This one comes with vanilla ice cream, but some of the other menu items feature rare combos of chocolate and caramel.
Read more
The renowned Sembikiya sells some of the fattest, shiniest and most expensive fruit ever, and serves up treats at this adjoining café in Nihonbashi. Try the special parfait (¥1,785), topped with banana and vanilla ice cream, whipped cream, mango sorbet, strawberry sauce and some of the best fruit you'll ever eat.
Read more
Conveniently located inside the Tokyo Station building, Kajitsuen's parfait menu is long enough to make deciding on just one something of a challenge. We went the unoriginal route and ordered the standard parfait (¥950), a beautifully arranged specimen containing more than 10 kinds of fruit, whipped cream and four kinds of ice cream – enough to satisfy even the most ravenous sweets hunter.
Read more
Founded in 1902, Shiseido Parlour is a pioneer of Japanese-style 'Western' cuisine (yoshoku), i.e. omu-rice, croquettes and the like. Their third-floor café boasts a mean strawberry parfait (¥1,680), packed with milky ice cream, strawberry sauce and almost impossibly perfectly shaped, big red berries. This one competes with Sembikiya (above) for the title of Tokyo's most popular parfait, so you might have to queue for a while before getting in.
Read more
Also known as a hot spot for Japanese-style thick pancakes, Akasaka's Fru-Full is all about using only the freshest, seasonal fruit out there. The parfait (¥1,200) here always contains strawberries and oranges, but the other ingredients change seasonally – we were lucky (?) enough to get prunes and kumquats. The ice cream and sorbet here is also top notch.
Read more
This Yotsuya-Sanchome café, perched on the second floor of an average-looking fruit shop, is actually loved by parfait fans in the know. The reason can be found in the quality of the fruit used, as we found out with the strawberry parfait (¥900). This combo of sorbet, ice cream, strawberry sauce and fresh fruit is simple but satisfying, and the berries have that powerful sweetness that's so often lacking when it comes to lesser specimens. True devotees can use the stamp card and eat their way through the entire menu for a special present.
Read more
Shibuya's Dogenzaka is where you'll find this old-school 'parlour', founded in 1936 and still serving an excellent strawberry parfait (¥945). Reasonably priced and available year-round, this one consists of thick jam, vanilla ice cream, strawberry sorbet and whipped cream, in addition to the tochiotome 'brand berries'. Recommended for those watching their waistline.
Read more
Hidden under fruit specialists Takano's Shinjuku shop, this café serves up a variety of delights, but the jewel in the crown has to be their signature parfait (¥1,050), a complex creation composed of ice cream, mango sorbet, strawberries, mango, pineapple, melon, watermelon, kiwi, blueberries, oranges and dragon fruit. The mixture of sweet ice cream and sour fruit is pretty damn near perfect.
Read more
The parfaits at this refined café, located on the upper floors of Seibu's Ikebukuro store, are as beautiful to look at as they are mouth-wateringly tasty. Our top choice is the 'mango rose bouquet parfait' (¥1,800), which lives up to its name with ample mango toppings laid out in the shape of flowers, completely covering the whipped cream and caramel ice cream in the glass. Add passion fruit sauce for an extra fruit kick.
Read more
A surprise addition to this list, Shiinamachi's Nora also makes parfaits topped with homemade sorbet and seasonal fruit, but theirs are far less sugary and fatty than most competitors' versions. The selection rotates seasonally – our springtime creation contained vanilla ice cream, strawberry, kiwi, pineapple, dragon fruit, grapefruit and excellent kiwi sorbet.
Read more
Run by a trio of patissiers, Sangenjaya's Nicolas is a full-fledged restaurant that just happens to also serve amazing parfaits. Their dessert menu changes every month in order to accommodate the freshest fruit available – we tried the sakura-an (cherry blossom-flavoured bean paste) and mochi version, which came topped with peach sorbet and a cookie. Trust us, it tastes far better than it sounds.
Read more
Run by a strawberry and mango farmer from Saitama's Kazo, Ichiman displays commendable dedication to local ingredients. The 'mini strawberry parfait' (¥700) is a yogurt-based, ice cream-topped creation that gets an extra sweet touch from the strawberry jam splashed on top. Don't worry about the 'mini' designation – the size is just right for one.
Read more