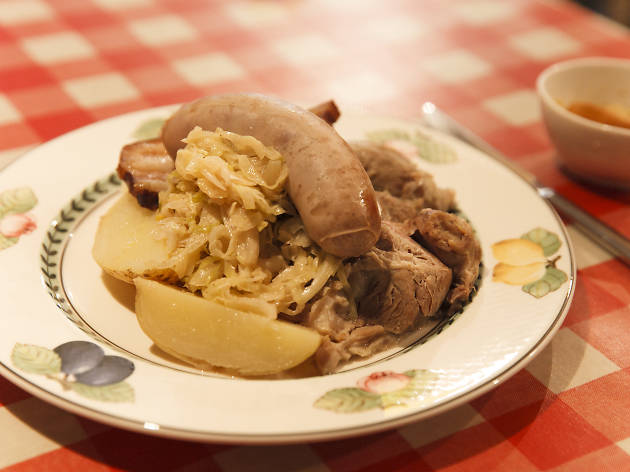 1/3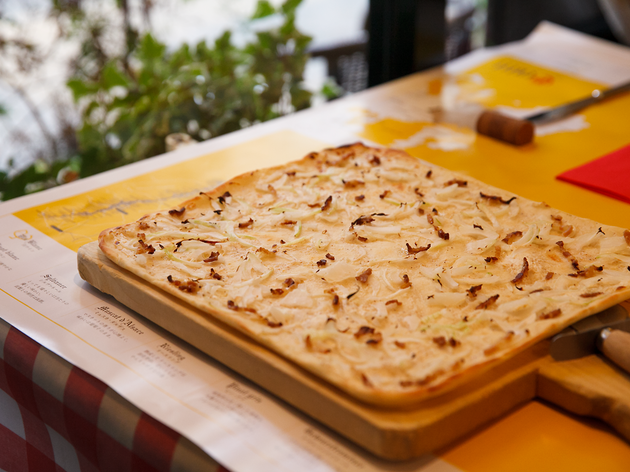 2/3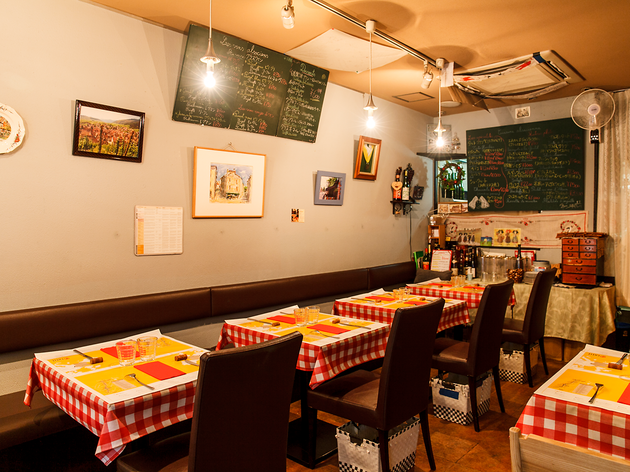 3/3
Gentil is that rarest of things – an Alsatian restaurant. Nope, it's not a particularly specialised dog café, but a homely brasserie serving the cuisine of Alsace, a region of northeast France bordering Germany and Switzerland. It's entirely reasonable for customers to be confused (there are helpful maps on the tables) because it's tricky enough to find Alsatian food in Paris, let alone Tokyo. As one might expect, the cuisine represents something of a mishmash of regional ingredients and influences; while most French bistros have escargots and creme brûlée, it's unusual to find quite so much pork or typically German dishes such as spätzle (egg noodles, usually with cheese), gugelhupf (a cake similar to the Italian panettone) and black forest gateau on their menus.
The restaurant's speciality, tarte flambée, isn't eaten much outside of Alsace and the nearby German states. It's a thin rectangular pizza made with fromage frais, and Gentil does it brilliantly with light handmade dough topped with thin wisps of onion, a creamy layer of cheese and flavourful strips of streaky bacon. For something more hearty – and, be warned, portion sizes at Gentil authentically reflect Alsatian generosity – try another famous dish of the region. A plate piled high with pork sausages, fatty bacon, potatoes, sauerkraut and mustard, the choucroute garnie will keep you sated all day.
Most of these rustic, filling dishes are priced around ¥1,200-¥1,400, and lunch deals start at ¥800. It's a charming place with red and white checkered tablecloths, blackboard menus, a short but smart French wine list, and several paintings and photographs from Alsace. One thing is guaranteed – after getting a taste of Alsatian hospitality and cuisine at Gentil, you'll be dreaming of exploring the region's picturesque villages and rolling vineyards for days to come.
Venue name:
Gentil
Contact:
Address:
2-5-3 Asakusabashi, Taito-ku
Tokyo


Opening hours:
Mon, Tue, Thu, Fri 12noon-2pm, 6pm-10pm; Sat, Sun & hols 12noon-3pm, 6pm-9.30pm / closed Wed, 3rd Tue of every month
Transport:
Asakusabashi Station (Sobu line), west exit; (Asakusa line), exit A4