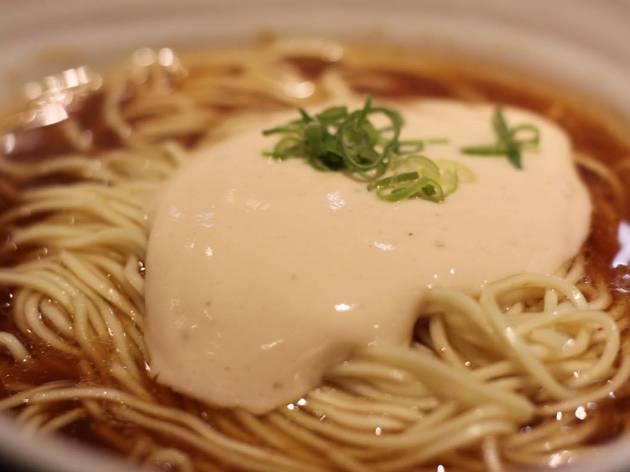 1/4
2/4
3/4
4/4
The days of trundling around the city as a Muslim without being able to find anything Japanese and halal to eat are slowly coming to a tasty end. Owned and staffed by muslims, Ramen Ouka's menu is very simple, and all the better for it: halal ramen, 'halal spicy ramen' and vegan ramen, all available in sizes from small to extra large, and a few extra toppings. At ¥1,100 for a regular-size ramen, which might not fill you up completely if you're hungry, it's not the cheapest place in town, but this is offset by the complimentary bowl of rice (to make ochazuke) and specialist tea at the end.
We opted for one spicy and one normal version: both came with a topping of roast chicken, some baby corn and an egg (note that the 'roast chicken' option on the vending machine is simply an extra round of toppings, not a side dish). The spicy version definitely had a bit of zing to it (although you might want to ask for extra chillies if you truly like it hot), whereas the normal version was more citrussy by virtue of the yuzu-based 'meringue' on top; the combination of the sea bream-based broth and relatively thin noodles meant that both versions were decidedly light and refreshing, and would not even feel out of place on a hot summer day.
The Muslim owners have definitely fretted over getting the tiny details right: even the oshibori (wet towels) presented to you at the start are free of alcohol-based hand sanitiser, and the ramen bowls are specially shaped so as to make pouring your remaining broth over the rice easier. They've also made sure there's place for wheelchair users – enough to make this joint quite popular with the mix of both visitors and locals we saw on our visit. Apparently they do get quite busy, especially in the evenings and at weekends, so you might get caught in an inevitable queue. But if you're looking for a proper ramen experience that also happens to be halal, definitely stay in line.
Venue name:
Ramen Ouka
Contact:
Address:
1-11-7 Shinjuku, Shinjuku-ku
Tokyo


Opening hours:
Mon-Thu 12.30pm-3pm, 6pm-10pm; Sat, Sun & hols 12.30pm-10pm / closed Fri
Transport:
Shinjuku-Gyoenmae Station (Marunouchi line), exit 2
You may be interested in: