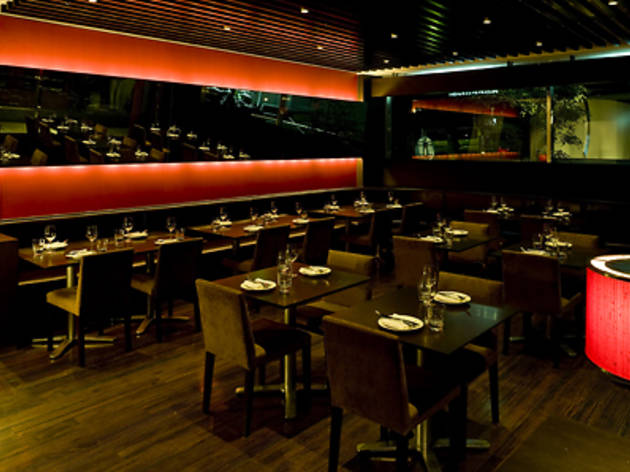 Time Out says
Roti Roppongi, conveniently located near Roppongi Station but tucked away just one block away from the main drag, provides a stylish yet casual culinary oasis in the middle Roppongi's chaos. Roti is billed as an 'American wine bar and brasserie' – but it's actually much more than that, offering modern updates on favourites and eclectic New World combinations.
The décor, in deep red and dark wood provides an air of un-stuffy, modern sensibility during the day and the feel of a warm, embracing boîte at night. One gets the impression that versatility is the keyword here: the dining room seats 36 and the wine bar an additional 16, giving diners the impression of space that is simultaneous with a sense of intimacy. Weather permitting, there's also a terrace.
Chef Ian Tozer helms this gem of an eatery, which comes after a string of successes not only in Japan (TY Harbor Brewery, West Park Café), but the US (San Francisco's A Moveable Feast) and UK (London's Auntie's). Dishes run the full gamut from updated American-style favourites to popular Mediterranean and Tex-Mex flavours which reflect the eclectic palate Roti is aiming to achieve. 'Nibbles' like the decadent truffle fries (drizzled with white truffle oil and covered in a few thick cuts of parmesan) or the grilled Lebanese flatbread with a creamy, garlicky tahini are just the tip of the iceberg when it comes to starters. Try the Asian-Med hybrid 'Bang Bang Chicken Salad' (combining hints of ginger and sesame with crispy Asian vegetables, crunchy noodles, and peanuts), or the more iconic Greek salad (with a dressing that reminded us of childhood nights out at a venerable New York steakhouse) packed full of all the feta-and-olive goodness you might expect – both in hearty portions that were enough for our party of three. Appetisers here favour seafood, but the selection is such that there is something for everyone; we tried the Tasmanian oysters, which arrived at our table attractively arranged over ice with a spicy red cocktail sauce and lemon – fresh, tender, and bursting with a clean, briny flavour of the ocean. One item that made an impression was the crab cakes; after years of kitchens sticking to the tried-and-true formula, Tozer has avoided the usual in his interpretation. They're light, tender and crispy, with a mustard sauce that adds depth and personality to what could easily have become a culinary cliché. It should also be noted that orders can be increased in size by adding more individual portions – another key in Roti's versatility.
Rotisserie chicken is the star item here, and ours came in two varieties: the classic version bursting with a well-balanced spicy rub, and the Peruvian style chicken on a bed of coriander brown rice and garbanzo beans with a zippy jalapeño-garlic dipping sauce. Chicken comes in a quarter size and half-size with side dishes; the quarter size is enough for one person and possibly a doggie-bag to take home (available on request). Roti also has a menu of burgers and sandwiches for a lighter take on things, and is open for lunch during the week and brunch on the weekends. For dessert, the line up is a mix of classic comfort sweets (bread pudding and cheese cake) mixed in with American favourites such as pecan pie and a tantalising 'Blackberry, Rhubarb & Apple Crumble' that was a sweet-and-tart finish to our meal.
The other star of Roti's menu, of course, is the wine. With over 80 varieties of old and new world wines on their list, we found one of the best way to get a sampling of them is to try a wine flight, which consists of 3 tasting glasses of your choice of three wines off their Californian wine list. We tried their Riesling, along with a Pinot Noir and a Zinfandel with satisfying results.
Roti offers a variety of services including English-speaking staff, party bookings, wine events and even more practical touches such as takeaway, home delivery (in a limited area) and a kids' menu.
Details
Address:
Piramide Bldg 1F, 6-6-9 Roppongi, Minato-ku
Tokyo


Transport:
Roppongi Station (Hibiya, Oedo lines), exit 1a/1b
Contact:
Opening hours:
11.30am-10pm
Users say