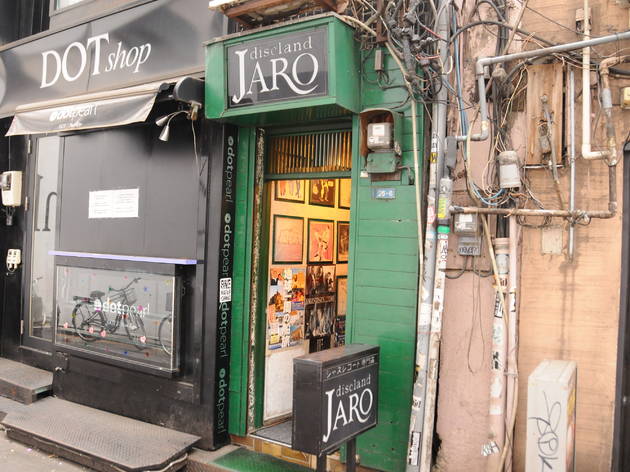 Shibuya has plenty of record shops specialising in electronic music, but Jaro is one of the few entirely jazz-focused stores in the area. First opened in 1973, it's housed in a basement filled with around 8,000 titles, ranging from classics of modern jazz to releases in obscure sub-genres.
Venue name:
Discland Jaro
Contact:
Address:
26-6 Udagawacho, Shibuya-ku
Tokyo


Opening hours:
10.30am-7.30pm (closed for lunch 12.30pm-1.30pm)
Transport:
Shibuya Station
Rating Breakdown
5 star:

0

4 star:

0

3 star:

0

2 star:

0

1 star:

1
This shop may have a great selection, but it also has the RUDEST owner I have ever met. I live in Japan, and speak some Japanese. I went there with a visiting friend, who has a HUGE collection of vinyl records, with the intention of buying several items. Before we went downstairs, she stopped to take a photo. The owner came rushing up the stairs and SHOUTED at us, saying we could only come in if we were planning to buy (which we were), then slammed the door in our faces. Needless to say, his assumption that we were only sightseers, and, therefore, not intending to enter his shop, cost him several hundred dollars in profit. In fact, he lost two customers that day who HAD BEEN VERY EAGER TO PURCHASE - we even had a roll-on airline cabin bag ready to hold the items we intended to buy. (This was Monday November 20, 2017). My advice if you go there? Open the door... and run away! The guy is a total jerk and doesn't deserve your hard-earned cash!
この店にはすばらしい選択肢があるかもしれませんが、所有者は私が今までに会った中で最も無礼で荒い人です。 私は日本に住み、日本語を話します。 私は海外の友達と一緒に行きました。 海外の友人にはビニールレコードがたくさんあります。 私たちはいくつかのアイテムを購入したかったのです。 我々は階下に行く前に写真を撮った。 オーナーは私たちに叫んで階段を登った。 私たちが何かを買わなければ、私たちは店に入ることができないと彼は言った。 それから彼は私たちの顔に密接にドアを閉じます。 言うまでもなく、私たちがただの観光客であるという彼の仮定は、彼が彼の店に入ることを許可しなかったことを意味し、その日に数十万円の利益を得られなかったことを意味する。 実際、彼はその日に2人の顧客を失った。 購入したい商品を運ぶためにキャビンバッグを持ってきました。 (これは2017年11月20日月曜日でした)。 もしあなたがそこに行くなら私のアドバイス? ドアを開ける...すぐに逃げる! その男はトータルジャークで、彼はあなたのお金の価値がありません!