Where to buy lingerie in Tokyo
Vivian Morelli wades her way through Tokyo's 'kawaii' lingerie in the hope of finding something a little less, well, cute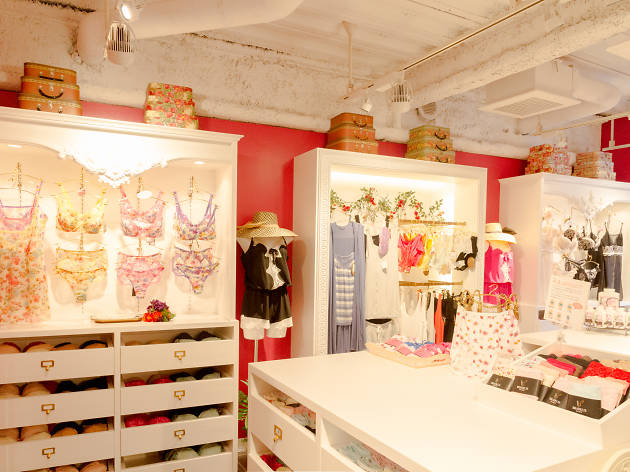 Frills, bows, ribbons, ruffles, volume, padding, pastel hues, oh my. For many non-Japanese women, shopping for underwear in Tokyo can be a bubblegum-overload adventure – that is, if you can manage to squeeze yourself into the small sizing. Everything is so… padded. So sweet. So cute. But cute isn't usually what we look for in lingerie, especially if you're buying it for date night. We want seductive, sheer, barely-there. We look for gauzy fabrics, smooth lines, pieces that just disappear under form-fitting clothing.
'However, what is considered sexy overseas isn't necessarily considered sexy in Japan, and perhaps our lacy, black and see-through underthings are just not the locals' cup of tea,' notes Nicola Thiele, a Tokyo-based fashion blogger at tiredoftokyo.com and master's student at Bunka Fashion College. Indeed, what's trending now in Japan is the kawaii (cute) movement, which actually goes beyond colour-coordinated outfits, cute bows and sparkly manicures. Kawaii encompasses all things adorable, delicate and beautiful, but it is also about uniqueness, confidence and wearing things for yourself, as opposed to just pleasing others – opposite sex included.
Naturally, the lingerie trends in Tokyo mirror the current kawaii wave, featuring pretty and saccharine details that exude innocence, playfulness and femininity. Most underwear stores present seas of pale pinks, baby blues and light greens, which all go hand-in-hand with the softness of kawaii. Those girlish Japanese collections offer coverage and modesty, and are usually adorned with flowers, hearts or bows. Many lines also feature popular characters from Disney or Sanrio.
'Most Japanese bras are heavy on the padding and ruffles. As pretty as they look on the hanger, they simply do not work under T-shirts and other tight-fitting clothes,' says Nicola. 'The only way to achieve a smooth look is to wear an undergarment on top, such as a camisole or tank top, and shorts over underpants, which is an extra step and layer,' she adds.
And judging by the endless rows of basic undergarments on display at chain store Uniqlo, ranging from nude-toned tanks to slimming body-shapers to camisoles with built-in bras, there is indeed a market for items to conceal frilly underwear, and to enhance curves.
But change is on the lingerie horizon
Fortunately – at least, for those of us who don't look good when dressed up as dolls – the kawaii movement is evolving into something a bit more bold and fashion-forward thanks to social media and the exposure to international brands. Tokyo fashion in general is changing, too: think bleached locks, pastel highlights, defined brows, high-waisted shorts, exposed stomachs, faux-fur vests and lots of bling – à la Alisa Ueno, founder of clothing brand Fig & Viper. The Japanese model-turned-fashion designer is the latest It Girl, and her wildly popular daily Instagram feed is providing heaps of inspiration for local street style.
As a result, the lingerie trends are also transforming: Japanese brands such as Peach John are now offering naked-like collections and sheer creations that show a lot more skin and curves. Their underwear is meant to be seen, perhaps with just a pop of colour peeking from underneath a tank top. French lingerie brand Princesse Tam-Tam, recently acquired by the Fast Retailing group (alongside Uniqlo, Theory, J Brand and GU), made its big entry into Japan, bringing its naughty-yet-nice combos to this side of the world.
Japanese fashion and culture is experiencing a revival, and the body image, attitudes, sexuality and trends are evolving – with lingerie going in the same direction. While there is still a definite frills overload in underwear shops everywhere, the international influence can increasingly be found in local brands, and shopping for underwear in Japan doesn't have to be a cringe-inducing experience any more. In fact, when we asked one sales assistant at the Ginza branch of Princesse Tam-Tam what their best-selling item upon opening was, they told us it was a simple see-through black bra – sans bows, padding or underwire. Very Parisian, n'est-ce pas?
Five top shops, from kawaii to classy