Best bouldering gyms
Hone your climbing skills at the top walls in Tokyo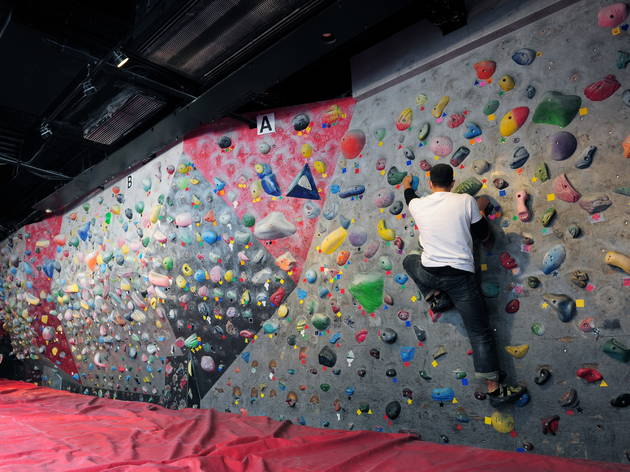 Bouldering is a form of free climbing that doesn't require any special equipment – anyone can do it, whether it's at the neighbourhood rocks or on dizzyingly high walls. The sport is not all about strength – skill, a sense of balance, and strategy are far more important, making it a great form of exercise for people of all ages. Natural climbing places may be few and far between in the concrete-filled landscape of Tokyo, but fortunately the city boasts many specialised indoor gyms for honing your skills. Here, we introduce a number of facilities that cater to newcomers (as well as to more advanced climbers, of course) – find a gym near you and start scaling those walls!
14 top bouldering spots
Both B-Pump locations hold lessons for first-timers every day, and there are also 'boulder dojos' for beginners, women and children. All of these can be attended without advance bookings, so anyone can participate. The Akihabara gym has a 'space wall' equipped with blacklights – recommended for those of you looking for a cyber experience. Click below for the Akihabara gym's details, and here for the Ogikubo gym.
Read more
The Gravity gyms in Takadanobaba and Shimokitazawa are decorated in red and black colours, making them stylish spaces with great acoustics. Their attention to detail extends all the way to the changing rooms and toilets, which are exceptionally clean. Classes are held frequently, and range from beginners' courses to night-time classes.
Read more
This Shibuya gym has a polished, urban atmosphere, and three floors of great features. The first floor is for beginners and intermediate-level climbers, the second floor is for intermediate and advanced-level boulderers, and the third floor has a dedicated kids' wall that children three years and older can use. The spacious and relaxed terrace and lounge adds a nice touch.
Read more
Miyashita Park is one of the cheapest places for bouldering in the city, and the outdoor wall offers enough of a challenge for most climbers. Remember that in order to climb here, you need to get a certificate through an inspection or by taking a course.
Read more
Designed by pro climber Yuji Hirayama, the walls here include routes for everyone from beginners to advanced boulderers. The chic interior adds a touch of class, while the relatively low ceiling means that most routes here focus on technique and coordination.
Read more
The four-metre wall at this relaxed gym has eleven different surfaces, with angles ranging from 80 to 140 degrees. Located on the sixth and seventh floors, Apex also has a balcony with a great view. Free classes are available for beginners. UPDATE: Apex now also operates a gym in Nishi-Shinjuku.
Read more
Find the largest wall in Tokyo inside the Spo-dori sports complex at Tokyo Dome City. Four metres high and 40 metres wide, it has eight inclination levels (with angles from 85 to 135 degrees) and routes for everyone from beginners up to advanced-level climbers. The tricky holds include baseball bats and bowling pins.
Read more
Located in the heart of the Yanesen area, this large and woody two-story gym is equipped with an extensive variety of walls directed at everyone from beginners up to advanced-level climbers. Start at the first-timer area, and work your way up to bigger and more difficult walls. The free training service is a nice touch, too.
Read more
Feel the warmth of the wood at this Ueno gym, which also boasts a spacious loft. 90-degree, 115-degree, 125-degree, and-170 degree walls are available, so everyone from bouldering beginners to advanced-level climbers can have a good time here. The routes are changed every day, so you'll always have something new to look forward to.
Read more
Very much visible from the street, Boulder Village is one of the coolest bouldering places out there. There are routes here for everyone from beginners to advanced-level climbers, and all the problems are configured in detail and numbered. The configurations are also changed frequently, which should help you stay interested.
Read more
The attention-grabbing deep blue exterior welcomes you to this climbing heaven. Vividly coloured holds are arranged on the wooden walls, which stay open until 11.30pm on weekdays (until 11pm on Mondays and Fridays), making this the place for those of you who want to climb after a hard day of work. Beginners can take a two-hour class to learn all the fundamentals.
Read more
With five locations in Tokyo, T-Wall is one of the biggest players on the bouldering scene. Each gym leaves a different impression: there's an atrium-style facility with lead climbing equipment, a gym with a huge and winding rock-like wall, and a more urban-themed location. Registering at one of the gyms gets you access to all five. Details for the Kinshicho gym are below – click here for Ookayama, Edogawabashi and Higashi-Murayama.
Read more
This slightly inconveniently located but spacious gym features two different areas on a long wall, furnished with various inclinations, globes, and other obstacles. Track your progress with the free achievement sheet – a sure way to keep that motivation high.
Read more