Where to watch Paralympic sports in Tokyo
Enter the unstoppables – we round up the best places to watch Paralympic sports in Tokyo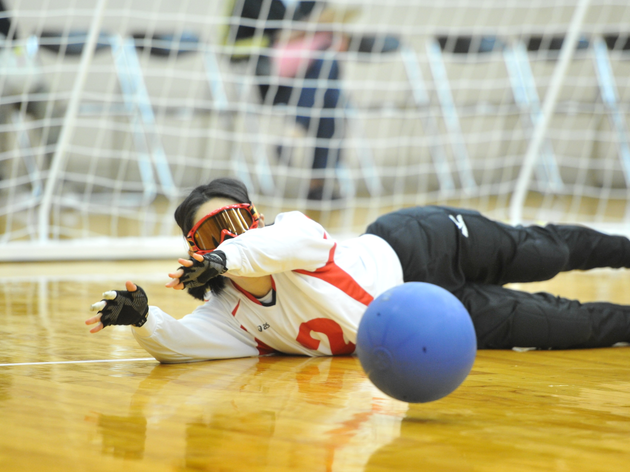 By Kyoko Hoshino
Spurred on by the 2016 Rio de Janeiro Paralympics, interest in Paralympic sports is growing around the world, with many fans already having discovered their favourite events and athletes. Tokyo is set to host the Paralympics in four years, but there's no need to wait that long to watch the athletes in action: a wide range of Paralympic sporting events are being held around Japan throughout the year.
Here, we highlight some of the top official Paralympic events taking place in and around Tokyo this autumn: all are free to attend and open to everyone. Prepare to be amazed.
GOALBALL
Goalball – a sport in which each throw is effectively a shot at goal – is regarded as the most exciting sport in the Paralympics and is played in more than 100 countries worldwide. Each team consists of three visually-impaired players who must wear blackout masks so the playing field is level. The athletes then take turns rolling a ball that contains bells into their opponent's net, which spans the entire edge of the pitch.
Defenders listen to the ball and the attackers' footsteps to determine the position of the ball before using their bodies to block incoming shots. Meanwhile, those attacking use deft footwork to conceal the sound of their steps and bounce the ball off the edges of the arena to get around unsuspecting opponents. Sound is integral to the game, so the events are played in silence – but with such skill on display you'll be watching with bated breath anyway.
2016 Japan Goalball Championships. Nov 26-27. Ome Gymnasium, Ome-shi. www.jgba.jp.
BLIND FOOTBALL
In this version of five-a-side football, teams consist of four visually-impaired outfield players and one fully-sighted goalkeeper. The outfielders wear eye masks, relying on sounds from the specially made ball, the voices of their teammates and advice from a guide behind the opponent's goal to find their bearings.
The rules are very similar to regular five-a-side matches, except there are no throw-ins or corners, so it's just non-stop action. The Eastern Japan League is a tournament featuring teams based in the area around Tokyo. This year, the league year goes on until December, with the top two teams set to face off for the championship in spring 2017.
Blind Football Eastern Japan League 2016, Oct 22: Round 5, Koishikawa Arena. Nov 5: Round 6, Machida Gymnasium. Nov 6: Round 7, Shinagawa Central Park. Nov 19: Round 8, University of Tsukuba Sekisho Field. Dec 11: Round 9, Fussa Baseball Stadium. www.b-soccer.jp/9699/news/higashinihon2016.
PARA-POWERLIFTING
Para-powerlifting events see athletes with paralysis or amputation of the lower extremities lying down on special platforms to bench-press up to three times their own bodyweight. Unlike traditional bench pressing, the competitors' feet do not make contact with the ground. This is a pure competition of strength in which athletes show off their upper-body prowess, and it has become very popular around the world. Events are grouped based on gender, weight and degree of disability: amputees compete in different ranks with weight added according to the extent of amputation.
The All-Japan Para-Powerlifting Championship is held once a year. There are both general and junior events, including powerlifting for the visually impaired, an event that is not part of the Paralympics.
All-Japan Para-Powerlifting Championship. Dec 3. Nippon Sport Science University Tokyo Setagaya Campus, Setagaya-ku. www.phouse.jp.
'Wheelchair rugby is a full-contact affair in which flesh and metal merge to form living cruise missiles'
VISUALLY IMPAIRED JUDO
Paralympic judo largely follows the same rules as standard judo, with classes divided by weight and gender. The main difference is that because the athletes are visually impaired, they begin the match grabbing each other. If they let go, a call to halt goes up, and they interlock again before resuming the match. Instead of moving around looking for openings, they grapple in a persistently locked position, so, in addition to excellent technique, the athletes must have incredible levels of mental endurance and stamina.
There are numerous occasions where the tables are turned right before the bell, and most matches remain exciting down to the last second. The All-Japan Visually Impaired Judo Championship is held annually at the Kodokan Judo Institute, considered the foremost judo site in the nation. Athletes from the Rio Paralympics are expected to appear.
All-Japan Visually Impaired Judo Championship. Nov 27. Kodokan, Bunkyo-ku. www.judob.or.jp.
WHEELCHAIR RUGBY
Also known as murderball, wheelchair rugby is a full-contact affair in which flesh and metal merge to form living cruise missiles. Played on a basketball court, the sport sees two teams of four try to carry the ball past a goal line to score while their opponents do what they can to stop them.
Wheelchair tackles are permitted, with the sharp crashes and loud sounds helping to create a spectacular atmosphere. The Japan Championship will bring together teams that triumphed in local tournaments held this summer and earlier in autumn. Several of the players set to appear will be returning to their teams for the first time after Rio.
Japan Wheelchair Rugby Championship. Dec 16-18. Chiba Port Arena, Chiba. www.jwrugby.com.