Tokyo's disaster survival guide
What to do when an earthquake, typhoon or other (natural) disaster hits the capital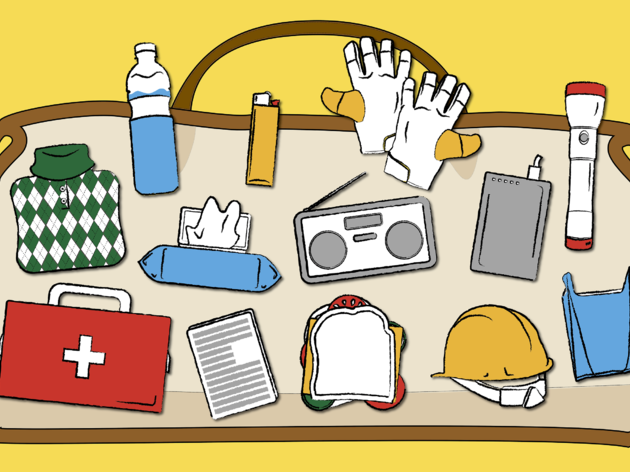 Japan on a whole may be pretty safe in terms of crime levels, but unfortunately when it comes to natural disasters, it's not a case of if but when. Even a casual visitor may have experienced a small earthquake or two, while long-term residents certainly have had their fair share of ground-shaking episodes, plus some typhoon.
Luckily, Tokyo often avoids most of the severe trembles, but it pays to be vigilant and prepared, considering many scientists predict a rather high change of the big one hitting our megalopolis in the next few decades. Here are some of the nitty-gritty basics you need to know, including essential media options for English-language emergency information.
Emergency information and help
Alarm numbers
119 is for emergencies such as fire or quick-response care; 110 is to call the police to report crimes and accidents.
For English-language help, try the Japan Helpline at 0120 461 997. They offer 24/7 English-language emergency services assistance.
Websites & documents
Japan Meteorological Agency
Reliable, up-to-date earthquake, tsunami or weather information, in both English and Japanese. You'll find weather predictions and warnings here, plus data on how strong the earthquake was in your specific area. Their data, which is based on the Japan Earthquake Early Warning (EEW) system, is the first point of reference for many news outlets, and many apps use the EEW to update their own information.
Tokyo Bousai Guide
Designed and distributed by the Tokyo Metropolitan Government, a Japanese hardcopy (or five) of this disaster prevention, preparedness and reaction guide was distributed to every household in 2015. It's truly a comprehensive book; do give it a read. For the English version, check out the PDF edition online. It might be lengthy (300+ pages), but there are some really interesting and important life-saving bits of information. Check out the Survival Tips section in particular, which includes how to keep yourself warm with newspapers, how to make a stove from cans, and more.
NHK World
The national broadcaster, NHK's multilingual platform has information in 16 languages on their website, while information is also disseminated through their (English-language) news and radio channels.
Tokyo Metropolitan Government Disaster Prevention
Essentially a web version of the Bousai Guide, this slightly clunky website does have quite a lot of useful info on it. You just need to dig a little to find it.
Apps
If you're with big Japanese carrier such as Docomo, AU or Softbank, your phone will blare out a warning message in case of a truly strong earthquake, a tsunami or a missile overhead, but it always pays to get the information these apps. Just remember to change the settings to the types of information you want.
Yurekuru (iOS/Android)
This English-language earthquake app sends out a signal when one has been detected by JMA's EEW system, depending on the sensitivity of the settings you've chosen. The map shows you how strong the earthquake was felt in various regions (partially based on user responses), but the really nifty thing is its Sonae page, with a wealth of disaster preparedness and emergency tips, including for flood, fire and tsunami. Note the Android version seems to have a better rep than the iOS one.
Yahoo! Bousai Sokuho (Yahoo!防災速報) (iOS/Android)
Probably one of the most used apps in Japan, this one tends to be fast and accurate, and includes things such as tsunami and missile alerts, but is only available in Japanese.
This will differ depending on where exactly you are and the type of disaster. In general, it's advised to get to higher ground wherever possible after a large earthquake, in case a tsunami occurs afterwards.
Whether or not you need to evacuate the premises depends on the specific situation, but it's generally advised to only do so after the shaking has stopped completely, to protect yourself from any possible falling objects while on the move. Hide beneath a table or under a doorpost, away from windows, with something to protect your head.
In terms of mental preparation, open public squares, such as school playgrounds and parks, are often designated (temporary) evacuation points. It pays to take note of them while walking around town.
Otherwise, check the disaster prevention map – this map shows you all the shelter and evacuation options in Tokyo in the area of your choice.
Technically essential in every household, yet often forgotten by anyone not living with their family, a disaster kit is a simple list of things you'll need when things go wrong. At the bare minimum, it should contain enough food (ready-to-eat or those which can heat up without needing electricity), drinking water and simple medical supplies to keep you going for a few days. Other items that are often advised to be added to your kit are:
- flashlights (solar/hand-powered, or with spare batteries)
- radio
- chargers/power banks/back-up batteries for phones and other essential communication devices
- lighter
- copies of important documents, e.g. passport
- warm clothes
- helmet/head protection
- work gloves
- wet tissues
- plastic bags (to keep things dry with or carry things in)
Keep your important papers, cash and bank cards in a place you can easily grab them, and if possible, put your disaster kit items together in a sturdy bag, ready to snatch up if unfortunately needed.
More to explore