A streetcar named Toden
Slow down and explore the city like the Tokyoites of old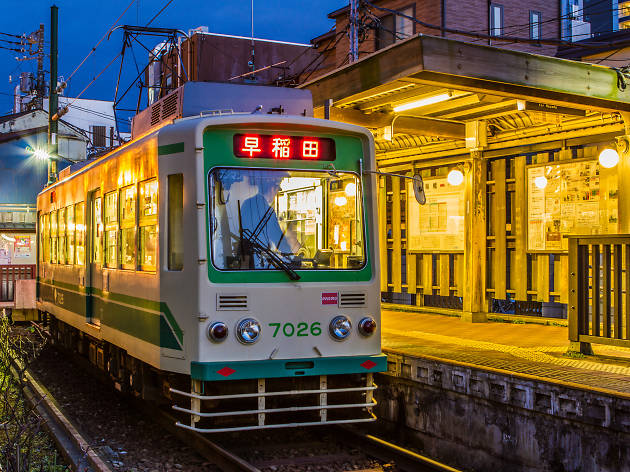 Long before high-tech trains zipped to and fro in the subterranean bowels of Tokyo, a canopy of streetcar cables sprawled the city's streets. While their rails have long disappeared from sight, we've tracked down Tokyo's two remaining trams and other old-school forms of transport to take you on a journey through history.
TODEN ARAKAWA LINE
In its heyday, the tram network known as Toden comprised 41 routes. When transportation eventually moved underground and forced the streetcar system into decline in the 1960s, the Arakawa Line's commuters rallied behind their beloved trams and successfully campaigned to keep the line alive.
As the sole survivor of the Toden system, the Arakawa Line operates between Minowabashi and Waseda stations, passing by landmarks such as the Zoshigaya cemetery, Jizo-dori shopping street, Arakawa amusement park and Joyful Minowa Shotengai. During the 50-minute, 30-stop ride, you'll travel back in time to a part of Tokyo relatively unchanged since the war, populated by old souls quietly living out the rest of their days in their quaint houses and dusty shops that smell of sweet nostalgia.
A one-way ticket costs ¥170 (¥165 with IC card) for adults and ¥90 (¥82) for children. For unlimited travel, buy a day pass for ¥400 (children pay ¥200). www.kotsu.metro.tokyo.jp/eng/services/streetcar.html
TOKYU SETAGAYA LINE
Tokyo's only other streetcar still in operation is the Tokyu Setagaya Line, opened in 1925 as a branch route of the Tamagawa Line, which connected the surrounds of the Tama River to Shibuya before all but one of its cable cars were scrapped in 1969. The 10-stop journey from Sangenjaya to Shimo-Takaido takes 20 minutes, snaking through sleepy backstreets at a leisurely pace.
Before taking the tram from Sancha, take a stroll in Setagaya Park and climb atop the area's tallest building, Carrot Tower. The skyscraper, which unfortunately looks nothing like the vegetable, has a free observation deck on its 26th floor, commanding a breathtaking view of Tokyo (against a backdrop of Mt Fuji on a clear day). Once on the tram, make a stopover halfway at Gotokuji to pay the eponymous temple a visit, which is where the world-famous maneki-neko ('beckoning cat') statuettes originated.
A one-way ticket is ¥140 for adults and ¥70 for children, with an unlimited day pass setting you back a mere ¥320. www.setagaya-line.com
TOKYO SHITAMACHI BUS
Unlike the city's two surviving trams, which are venerable artefacts from the Showa period, the Tokyo Shitamachi Bus was actually built in 2008 but made to appear vintage with its retro-futuristic design and large curvilinear windows, with a metallic body that is ready to rust and look the part. The bus offers a comfortable sightseeing experience in downtown Tokyo, departing from Tokyo Station and Ueno en route to Kinshicho.
While the end-to-end journey takes less than an hour, you can disembark at any station to explore the area like a true flâneur and catch one of the next buses running at 20-minute intervals. The route is dotted with must-see places, including the department store Nihonbashi Mitsukoshi, otaku mecca Akihabara, Ueno Park and Tokyo Skytree.
One ride costs ¥210 for adults and ¥110 for children. You can alternatively get a Toei Bus day pass for ¥500 (¥250 for young 'uns), which is valid on other Toei buses too. www.kotsu.metro.tokyo.jp/bus/shitamachi/english/index.html
RICKSHAW
To see how Tokyoites got about before the industrial revolution came knocking, climb aboard a jinrikisha (hand-pulled rickshaw) in Asakusa. Dressed in traditional wraps and zori sandals, your shafu (rickshaw puller) will be your guide and chauffeur, wheeling you back in time to the Edo era.
The Ebisuya rickshaw company offers one-block tours alongside half-hour, one-hour and two-hour rides around Sensoji Temple and the Sumida River. To experience a real time warp, book the two-hour trip, where you'll be carted to the foot of the modern engineering marvel that is the Tokyo Skytree aboard technology from 1869. Tours begin as early as 9.30am and, taking the old-school ethos to heart, end at sunset. ebisuya.com/en/branch/index.html#branch_kaminarimon
Looking to rent a bike in Tokyo?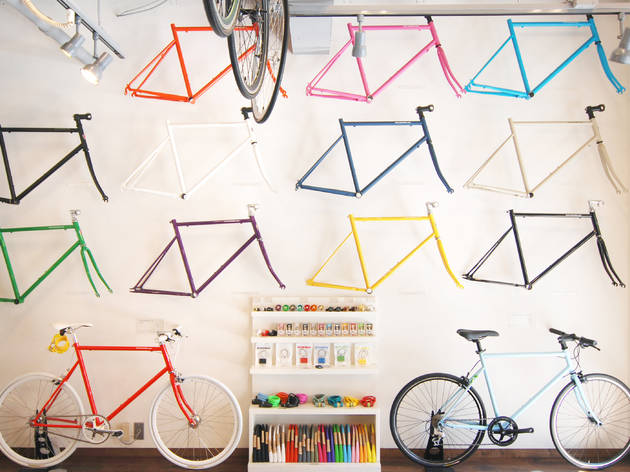 Explore the city on wheels
More to explore