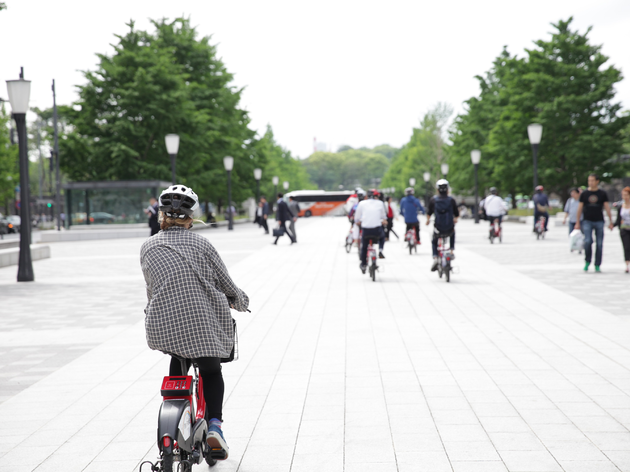 Where to rent a bicycle in Tokyo
Explore the city on wheels
Sure, Tokyo public transport is very convenient, but nothing beats having your own two wheels and the flexibility to explore the city at your own pace and without the constraints of the train timetable. Get in on the whole mamachari (mom's bicycle) lifestyle, so to speak. Whether you're looking to rent a bicycle for a few hours, days or a month, we've got you covered.
Remember to take some form of photo identification along with you, and if you want to go further afield, you might also be interested in our roundup of the best scenic bicycle routes.
This is essentially Tokyo's lesser-known and electrified answer to Paris's Velibs and London's Boris Bikes: the Docomo-sponsored e-bikes (yes, they have a little motor to help you out when climbing hills or when you're just plain lazy) are scattered throughout the city and only require a code to unlock. Register online, choose between 30-minute, daily or monthly hires, hop on and then return it at one of the docking stations located in well over 200 spots across town.
Docking stations around Bunkyo, Chiyoda, Chuo, Koto, Minato and Shinjuku wards. Prices and payment options differ per plan and rental time.
Another e-bike sharing plan, this new kid on the block mainly operates in and around the Shibuya area, but is expanding with docking ports in convenient places across the city, including near centrally located hotels. Currently, they offer 12, 24 and 48-hour 'all-you-can-ride' plans: use their bikes for as long and as many times as you like within that time period for a set price.
Payments and reservations are made through their app, which is currently only in Japanese – although an English one was in the works at the time of writing. Turn on bluetooth once you're near one of the ports, open the app and you'll be able to unlock a bike. High-tech meets pedal power.
Docking ports around Shibuya, and a few in Chiyoda, Sumida and Taito wards. ¥2,100/12h, ¥2,400/24h, ¥3,600/48h (plus tax).
To explore the Marunouchi district or otaku mecca Akihabara – both a short ride away from the Imperial Palace – rent a bicycle from Muji's Yurakucho store. As you'd expect from Muji, they're sturdy, well-designed bikes; not your average mamachari.
3-8-3 Marunouchi, Chiyoda-ku. 10am-8pm (bike pickup until 6pm). ¥1,000/day (a deposit of ¥3,000 is required so bring enough cash). Reservations 03 5208 8241 or in person.
The cheapest option we've found in Tokyo and popular with backpackers staying in the area, this ward-sponsored rental programme only charges you ¥200 for four hours of pedalling or ¥300 for a full day. The only downside is that you're technically not supposed to stray (too far) from the Taito area with your mamachari wheels, and if your hostel or apartment doesn't have secure bike parking, they may refuse to rent a bicycle to you for more than a day. Bring a passport or ID, as they'll require a photocopy of this.
Four pick-up locations inside Taito ward, including next to Azumabashi Bridge. Note that all of them are below ground. 6am-8pm (returns until 8.30pm). ¥200/4h, ¥300/day, ¥600/3 days, ¥1,200/7 days
Your rental bike has never looked as cool: Tokyobike offers some seriously hipster-fabulous rides a short cycle away from Ueno. That minimalist coolness comes at a price, however, with their one-day rentals starting at a somewhat steep ¥2,500. Book ahead through their website and remember to bring some form of ID with you on the day.
4-2-39 Yanaka, Taito-ku. 10am-6.30pm, closed Wed. One-day rental ¥2,500, each additional day ¥1,500.
Best scenic cycling routes
Tokyo is a wonderful city for cycling, but just beyond the concrete jungle there are mountains and parks and lakes just waiting to make you go 'ooh'. Now, we realise that it might take some doing to encourage your lazier half to join you, so we asked Byron Kidd of Tokyobybike.com to sweeten the deal with the promise of a reward at the end. Here are his top picks for easy-to-difficult cycling routes. And if you're concerned about how to travel on trains to the routes' starting points with your bike, the best option is to buy a rinkobukuro (bike bag), usually available at any bicycle shop. Simply take one or both of the wheels off, pop everything in the bag, and away you go.
Best selling Time Out Offers