Classic shopping walk: Shibuya
Take a walk around Shibuya, Tokyo's heart of fashion, for some good old retail therapy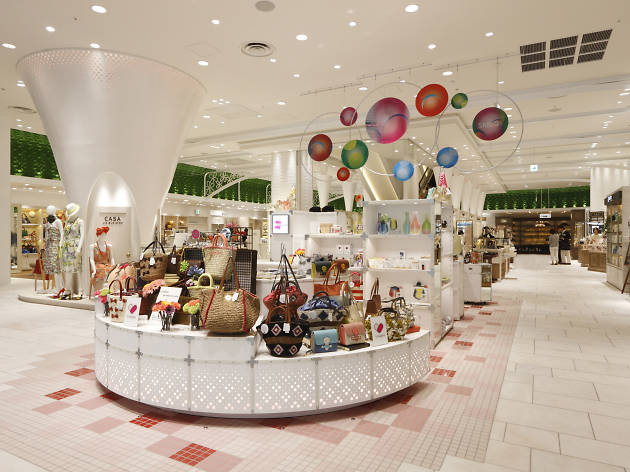 In association with Tokyu Corporation
If you fancy yourself a little more sophisticated, this route will be just up your alley. Start off from the tranquil Kamiyamacho area, on the southwest side of Yoyogi Park, where you might want to enjoy some sunshine and greenery before embarking on the walk. Leaving the park, take the exit near Yoyogi-Koen Station and walk down Inokashira-dori until you spot a statue of a milk cow on your right. This is Shibuya Cheese Stand (5-8 Kamiyamacho, Shibuya-ku), which serves up some delicious fresh mozzarella and ricotta.
Shibuya Cheese Stand
Turn right at the end of the block to head for the hip bookstore Shibuya Publishing & Booksellers (17-3 Kamiyamacho, Shibuya-ku). Magazines and books, both new and used, are arranged according to theme, meaning that you might find a philosophical tract alongside some manga or art books. Though the selections are predominantly Japanese-language, Shibuya Publishing Booksellers also stocks a few English titles – and it's a rewarding place to browse even if you can't read most of what you're looking at.
Find more inspiration, but this time in the form of flowers, at Trefle (42-10 Udagawacho, Shibuya-ku), a florist you'll find hiding in a back street. Their chic style of wrapping flowers enhances the beauty of each bloom.
Go back to Inokashira-dori and turn left at Tokyu Hands. Cross Koen-dori and turn right to head down a hill towards the end of the street. There you'll find the newly launched Shibuya Modi shopping complex. Inside, look for The Yard (4F, 1-21-3 Jinnan, Shibuya-ku), which is possibly the most modern kimono store we've ever come across. The interior design, the fabrics used and even the store concept are super contemporary, and the tailors here create easy-to-wear, custom-made kimonos that won't max out your credit card.
Back on the street, head north until you see a Starbucks on your left, then turn right to cross Meiji-dori. Look for a brown-brick building, which houses a made-in-Japan clothing store called 45R (6-19-16 Jingumae, Shibuya-ku). It emphasises the Japanese tradition of producing durable, comfortable fashion.
Walk down Meiji-dori to the high-rise shopping complex Shibuya Hikarie, which is packed with refined stores, including Katakana (5F Shibuya Hikarie ShinQs, 2-21-1 Shibuya, Shibuya-ku). Stock up on souvenir-type items like traditional fans and Mt Fuji paraphernalia. Then go up to the 8th floor to D47 Museum (8F Shibuya Hikarie, 2-21-1 Shibuya, Shibuya-ku), where each exhibition is devoted to showcasing a particular theme, as represented by Japan's different prefectures.
D47 Museum
To wrap up this classy journey: about five minutes from Shibuya Station, on Roppongi-dori, you'll find British Equipment Trading (3-5-1 Shibuya, Shibuya-ku). They stock vintage Barbour jackets, Smiths watches and TM Lewin shirts, but also a slightly haphazard assortment of imported British foods and sundries, from Walkers biscuits to Brylcreem.