How to take a taxi in Tokyo like a Tokyoite
All you need to know about taking a cab in Tokyo, including how to hail a ride, taxi fares and more. By Xiaochen Su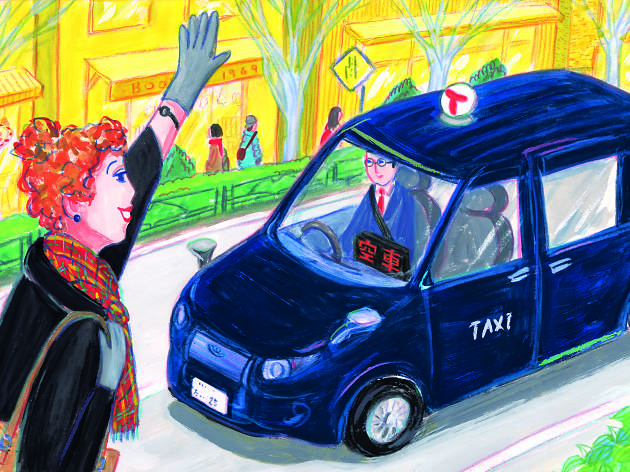 Grabbing a taxi is the easiest way to get around a new city. But there can be plenty of pitfalls for Tokyo newbies jumping into one in a city where the different customs, technology and pricing can baffle first-time users. Here are the main points to consider when hopping into a Japanese taxi.
DON'T: JUMP STRAIGHT INTO A TAXI ANYWHERE
Taxis are fitted with a small digital display at a corner of the windshield showing their current status. A red '空車' (kusha) signals that the car is vacant and ready to be hired while an orange '実車' (jissha) means it's occupied.
Major thoroughfares usually have taxis aplenty and you can flag one down pretty much anywhere as long as it's not obstructing traffic. Hailing a taxi on a small local street however, can be difficult. So walk to the nearest hotel, shopping centre or train station. Such high footfall locations are usually fronted by taxi ranks, where cars for hire are awaiting.
DO: FOLLOW THE ETIQUETTE
Riding a taxi, like many other everyday activities in Japan, is bound by social rules. After flagging down a cab, you should not open the car door yourself. Drivers have buttons that open the back door automatically (the door also closes automatically when you exit). Always sit in the back; the front passenger seat is only used when the backseats are filled.
While cordial, taxi drivers will not tolerate customers attempting to overload their taxis. Smaller sedans will carry a maximum of three passengers in the back. A group of more than four should take two separate cars or flag down a van-type taxi instead.
Don't expect all drivers to speak English. However, with most taxis equipped with a navigation system, detailed verbal instructions are usually not necessary. Write down the exact address of your destination in Japanese, or the name of the major landmark where you want to alight, and hand it to the driver.
DO: KNOW THE COST
Tokyo taxis are known to be the priciest in the region – so be prepared to cough up. The rate is ¥420 for the first 1,052m and ¥80 for each additional 233m. A late-night surcharge of 20 percent is added to trips between 10pm and 5am. A ride into central Tokyo from Narita airport, more than 60km away, can cost up to a whopping ¥30,000 one way, while the same journey on a bus or train will usually only set you back between ¥1,000 to ¥3,000. However, a short distance can work out cheaper than the train or bus if you're in a group.
That said, Haneda Airport, which is closer to central Tokyo, is a favourable destination for taxi-takers. That's because a flat-rate applies to selected locations within the metropolis, ranging between ¥6,100 (to Chiyoda ward) and ¥11,300 (to Musashino City), excluding toll charges and late night/early morning premium (10pm-5am).
DON'T: PAY TIPS
Japan does not have a tipping culture and drivers neither expect nor accept money in excess of the fare displayed on the meter. They will not accept haggling either. Cash is the safest way to pay, though an increasing number of taxis now also take IC cards like Pasmo and Suica as well as credit cards. Look out for the stickers on the door to identify the accepted payment methods.