I, Tokyo: Alexandra Pasquali-Gaudy
Peek into the lives of international figures in Tokyo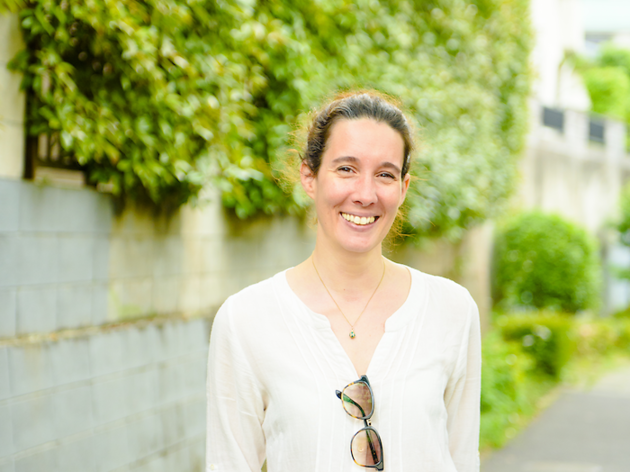 Originally published in Time Out Tokyo magazine issue 15 (June 2017)
A staff member of The Global Families, Alexandra talks about her life and work in the capital.
When did you first come to Tokyo, and what made you choose the city as your new home?
I first came to be with my boyfriend, who was studying here in 2011, but we left two years later. We didn't think another opportunity to live here would come along, but it did! In 2015, we came back to Tokyo on exactly the same date we left two years earlier.
The Global Families (TGF) offers a chance for Japanese and non-Japanese families to meet up. What inspired you to work for them?
I thought it might be a great chance to expand my world in Japan as a mum with no job and few connections. I love the idea of creating bonds between Japanese and non-Japanese families, and providing international families with opportunities to learn more about Japan.
What are the most interesting and attractive aspects of your work?
One of my projects was a hanami picnic in Shinjuku Gyoen. I created maps for the kids, who had to complete tasks before collecting their rewards. We had activities such as face painting and drawing workshops. The kids and their families had a wonderful time despite the crowds. As someone far away from her family, friends and habits, I feel like I am part of a group and I feel useful.
What programmes and activities does TGF offer?
From simple picnics with games and workshops for kids to film screenings, we have a broad range of activities. One recent popular event is hanging out at the horse racing stadium in Chofu. Kids can ride ponies and carriages, take part in a picnic and watch the races together in the VIP room.
What differences and similarities do you see between Japanese and non-Japanese families?
The main similarity is the struggle to find things to keep the kids occupied in this big city – something or somewhere both kids and parents can enjoy. The differences? The way [Japanese] families handle their kids. They never seem to lose their temper, and for that I admire them.
Also, Japanese families give their kids more freedom [from a young age] than we would normally do in France. For instance, seeing little ones getting on the metro by themselves.
When did you first feel like a Tokyoite?
I might not fully be a Tokyoite yet, but I feel at ease here because I'm able to speak a bit [of Japanese], go around and feel a sense of accomplishment. Also, when we go back to France for a holiday, I miss the life in Tokyo, and say 'when we go back home' when I talk with my husband.
Finally, any survival tips for international families?
If you want to feel at ease and not far from home anymore, join us! You'll meet other families and, who knows, make new friends. It can be hard when you don't speak much Japanese and Japanese people don't speak much English. But with kids? You don't have much choice, so you'll need to step out of your comfort zone. Kids are great for bonding with people you wouldn't have talked to otherwise.