I, Tokyo: Benjamin Boas
Peek into the lives of international Tokyoites with our I, Tokyo series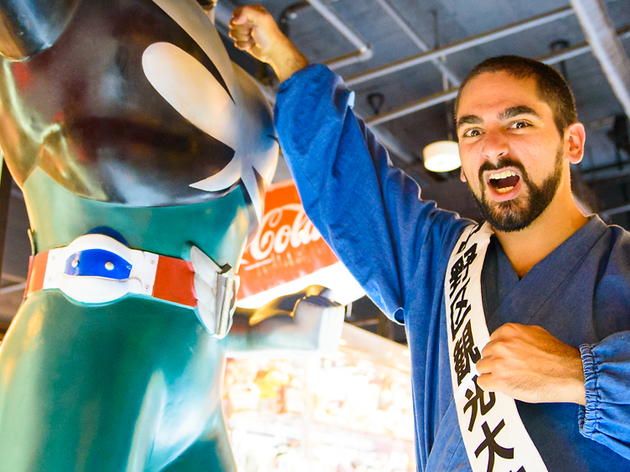 Originally published in Time Out Tokyo magazine issue 9 (March 2016)
Translator, manga author and Nakano Ward ambassador, Benjamin took some time to talk about his life in the capital and love for Nakano.
You moved to Japan when you were 23. Why did you stay?
Every day is an adventure and there's always something new to find. And it's all super safe – amazing!
When did you first feel like a Tokyoite?
Honestly? When I had filed so many of my own residency applications that I knew the ward and immigration offices like the back of my hand.
You've recently been appointed as an ambassador for Nakano Ward. Is it safe to say Nakano is your favourite place in Tokyo?
Most definitely! It's packed full of some of the most interesting businesses, places and people in Tokyo. Best cake shop in the country (Kyle's Good Finds), awesome little cafés and niche businesses, and of course Nakano Broadway. Plus it's only one stop away from Shinjuku.
What do your duties as ambassador involve?
Spreading the word about Japan's coolest ward, as well as helping the locals welcome international visitors. We actually have a good head start on this; half the residents speak a foreign language and four percent of the ward is non-Japanese.
So does this mean you have to wear this nifty ambassador outfit at all times?
Actually, I'm expressly forbidden from doing this. I need to formally request permission each time I wear my sash! But the samue (kimono-style top and trousers set) is actually what I wear normally. It's super comfy.
Tell us about the background of the photos in the story?
That bad boy is just inside the entrance of Henya, Mandarake's shop on the fourth floor of Nakano Broadway. You can spot it by the big red torii gates in front. The gates symbolise the transition to another world, and that's exactly what the inside of the store feels like. It's full of toys that date back decades, from giant robots to Japanese action figures of the Beatles. Even if you're not into collectibles I recommend checking it out, it's a total trip.
You recently published a manga book. How's that going?
Very well! The book, which was co-authored and illustrated by Chika Aoyagi, is called 'Nihon no Koto ha Manga to Geemu de Manabimashita' ('Japan: I Learned It All From Manga and Video Games). I've loved manga ever since I was a kid so I was delighted to publish my own Japanese comic.
It's actually kind of meta since it tells the story of how I fell in love with Japanese comics and video games. It's published by Shogakukan, stocked at Kinokuniya bookstore, and we've sold over 2,500 copies so far. The sequel will come out next year.
How did you learn to speak and write Japanese so fluently?
Like the book says, comics and video games. When I was first into the stuff, most of it hadn't yet been translated into English so I had to either study Japanese or give up on reading the newest comics. Obviously actual Japanese classes were necessary for this, but I wouldn't have studied so hard if I hadn't had that motivation.
Top three manga comics or anime films for English speakers?
'Lone Wolf and Cub' is my favourite manga ever and Dana Lewis's English translation of it is excellent. If samurai revenge isn't your thing, 'Yotsuba&!' is a delightful little manga series that appeals to just about anyone. And of course anything by Studio Ghibli, either subbed or dubbed. I actually enjoyed the English dub of The Wind Rises better than the original Japanese.