Heads up! We're working hard to be accurate – but these are unusual times, so please always check before heading out.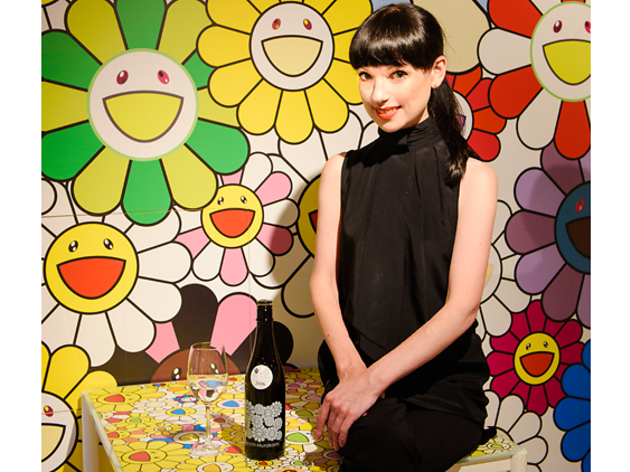 I, Tokyo: Rebekah Wilson-Lye
Peek into the lives of international Tokyoites with our I, Tokyo series
Originally published in Time Out Tokyo magazine issue 12 (December 2016)
A sake consultant and IWC sake judge, Rebekah works in international PR and promotions at Hidetoshi Nakata's Japan Craft Sake Company. She took some time out to talk about her life and work in the capital.
What inspired you to become a sake professional?
The inspiration was my first sip of sake in Japan. I was served a cup of local Shizuoka sake, Isojiman – the aroma and flavour was a revelation! I never knew that sake could have such an elegant aroma and refined flavour.
It also made me curious: how could something made from rice have such beautiful fruity notes? As there was very little information available in English in those days, I immediately began to taste, visit breweries, and learn as much as I could.
How does it feel being a non-Japanese sake consultant promoting sake in this country?
I am grateful to have been so warmly welcomed and supported by the people in the sake community – particularly the brewers, who have become my second family here in Japan. Thanks to their guidance I have discovered sake is more than just a drink. It is an invisible thread that is interwoven through Japan's rich cultural tapestry.
But to be honest, as a sake consultant, I don't view myself as being any different to my Japanese contemporaries. Of course, being a foreigner does give me certain advantages in that I am able to do things that are a little outside the norm, and can communicate to both local and international audiences.
What is your most impressive project so far?
Without a doubt, the most exciting project I have been involved with is the Takashi Murakami x NEXT5 Sake collaboration. After I developed the sake list for Murakami's café, Bar Zingaro, in 2013, he asked me to hold regular sake seminars for his customers.
The first brewer to support my sake event was Yusuke Sato, the young kuramoto of Akita's famed Aramasa Brewery. That led to me developing a relationship with the other members of NEXT5, a group of progressive Akita brewers.
It occurred to me that it would be wonderful to combine Murakami's modern Japanese art with the sake of these progressive brewers. After two years the idea finally came to fruition, and we released the Takashi Murakami x NEXT5 Sake in July 2016. It was a dream come true!
How do you usually determine the quality of sake when you judge competitions?
When judging, I look for a sake which is well-balanced and has characteristics that best exemplify the style or grade it is being judged in. It's important that there is a harmony between the aroma and flavour, and that the body and overall composition in the mouth are well calibrated. But while technical excellence is an important consideration, the sake must also be delicious.
What do you recommend to try for sake beginners?
There are so many styles and varieties of sake that it can be a little overwhelming for a beginner to know where to start. I would recommend going to a restaurant which has a wide sake selection and knowledgable staff, and trying a tasting set which has a variety of flavours, aromas and styles. Just remember: taste is subjective – there are no rights or wrongs when deciding what your favourite sake is. The best sake is the sake that you like best.
The sake industry has been facing decreasing consumption in recent years, yet you say we are in the 'golden age of sake'.
The sake industry has indeed been in a deep decline since the 1980s, but over the past few years there has been a renewed interest in sake. And this turnaround is really due to the efforts of a small group of progressive brewers, who see the need to adapt and bring sake into the 21st century.
Also, sake exports are on the rise, and progressive brewers, who have travelled and have an international vision, are striving to connect with new audiences. Sake is now being served on the menus of the world's best chefs and recognised for its food pairing by international sommeliers.
We're likely to think that Japanese sake only goes well with Japanese cuisine. Can you come up with any unlikely foods that pair well with sake?
Most people still think of sake as something to pair only with sushi, tempura and other. Japanese cuisine. However, sake is the perfect accompaniment to international cuisine and sometimes is even a better pairing than wine.
As for unlikely food pairings, my favourite is sake and cheese. The reason is sake has seven times more amino acidity than wine – the acid that contributes to our sense of umami. And it is this amino-acidity that makes sake particularly well suited to other umami-rich food such as seafood, meat and...cheese!
Any ways to try a variety of sake without breaking the bank in Tokyo?
While export tariffs make sake ridiculously expensive abroad, sake is relatively cheap in Japan – in fact, I think it is underpriced. These days, more and more stylish, casual eateries which specialise in sake are opening up around Tokyo – we really are spoiled for choice.
But the best way to enjoy a wide range of flavours and styles is to attend a sake tasting event. Not only can you can drink your fill of sake for the price of the entry fee, you can also meet the brewers who make it.