I, Tokyo: Stéphane Danton
Peek into the lives of international Tokyoites with our I, Tokyo series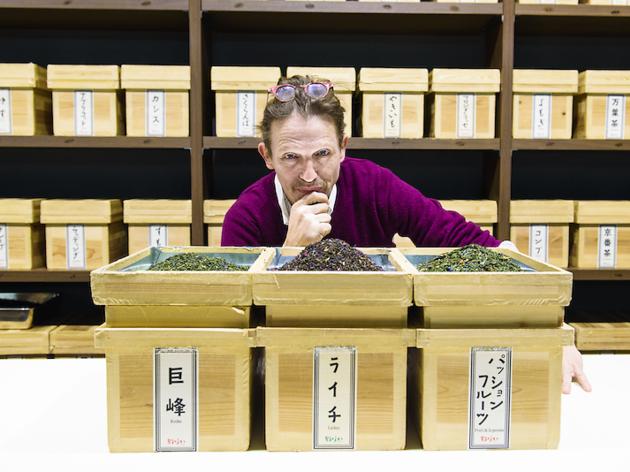 Originally published in Time Out Tokyo magazine issue 14 (March 2017)
Green tea dealer at Ocharaka, Stéphane Danton's flavourful Japanese brews could be just what you need to familiarise yourself with the nation's favourite beverage. This multi-talented merchant served his tea at the Japan pavilion during the 2008 World's Fair in Zaragoza, Spain, and now works on spreading the joys of Japanese tea to the world, while harnessing the power of tea to revitalise rural communities in Japan.
When did you first come to Tokyo, and what made you choose Japan as your new home?
I homestayed in Hokkaido in 1986, and came back in 1992 to work as a sommelier. I later worked at a French tea salon, and that sparked my interest in tea.
A Frenchman with a sommelier qualification teaching Japanese people about the inner workings of tea – sounds pretty unlikely. What brought you into the world of green tea?
Since my days at the tea salon, I've had the idea that there are similarities between wine and tea. When I decided to start this business, people around me were against it, asking why a French sommelier would work with green tea. But there are so many Japanese sommeliers promoting France's favourite drink, so I thought I'd love to do the same for Japan's favourite drink.
Do you have any tips for promoting Japanese tea overseas?
People are likely to show off the very top products in other countries, because they have confidence in these. That makes sense, but it's hard to understand the true quality at first – think someone trying a premium Bourgogne as their first wine. I try to let everyone enjoy the world of tea in a casual way at the beginning, let them develop their interest, and then hope that people can eventually start understanding quality sencha.
You also work with local governments, helping produce their local teas. What made you dedicate your time to this?
After my time at the tea salon, I worked as a promoter of Western-style wedding parties in rural areas while running a restaurant in Nerima. So I travelled throughout Japan, and fell in love with the local people and products. I hope to give back by helping them produce their own original, locally made teas, which can revitalise entire communities.
When did you first feel like a Tokyoite?
In 1986, when I moved to Tokyo for Japanese language school and rented a flat by myself for the first time. It was very small but I felt like I was a part of this city.
Finally, any survival tips for first-time visitors?
When you get lost, you might want to ask people for directions. In this case, just remember that you need to be polite: speak face to face, nicely and slowly. Japanese people are very shy but friendly, so even if they can't explain the directions in English, they might take you all the way to your destination!