Public cats of Tokyo: Eigakan, Hakusan
The jazzy Kotaro reigns over a cinematically named café in Hakusan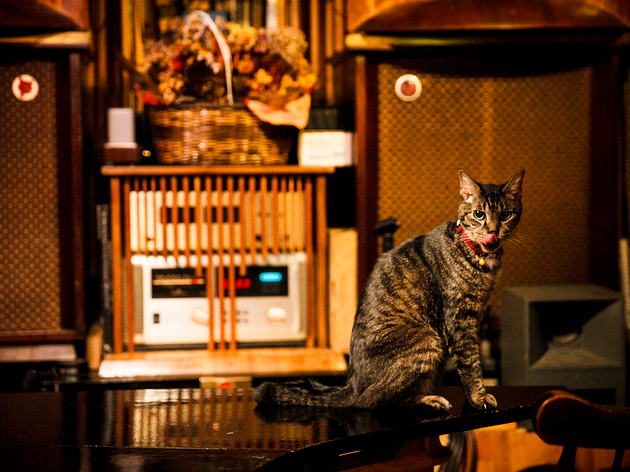 One of the most distinctive jazz spots in the Tokyo metro area, 'Eigakan' means movie theatre in Japanese. Its owner is a keen lover of arthouse films and documentaries, and you'll find a range of movie-related paraphernalia and magazines displayed around the café.
But Eigakan has another reason to while away the hours, too: Kotaro, its resident kitty, who flaunts his tiger-esque stripes while swaying to the jazz tunes.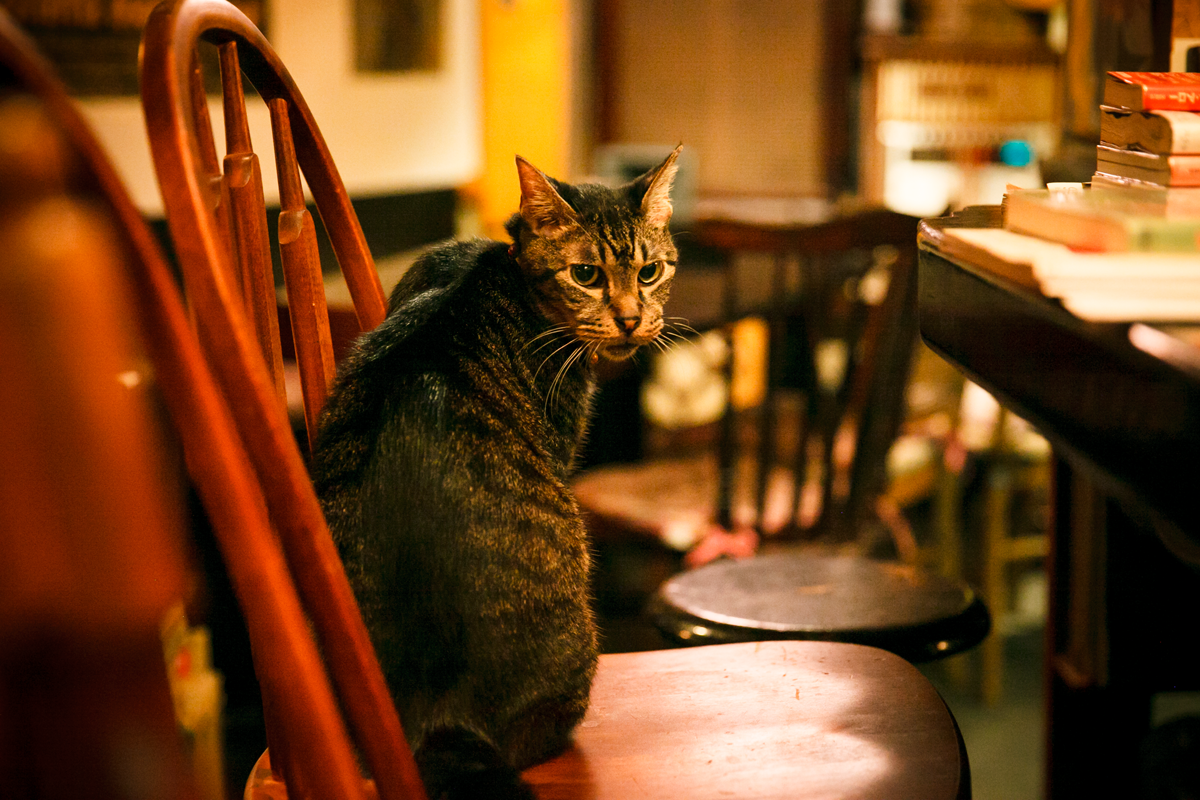 Kotaro's journey into the business is worthy of a jazz song itself: soon after he was born, he never used to come inside, but his good old dad did. One day, his dad died, and Eigakan's owner placed the urn with the kitty's cremated remains on old dad's favourite cushion.
After that, poor little Kotaro – one year old at the time – started coming to the bar every day to pay his respects. That was a decade ago, and the now 11-year-old cat has proven the perfect successor to his late father.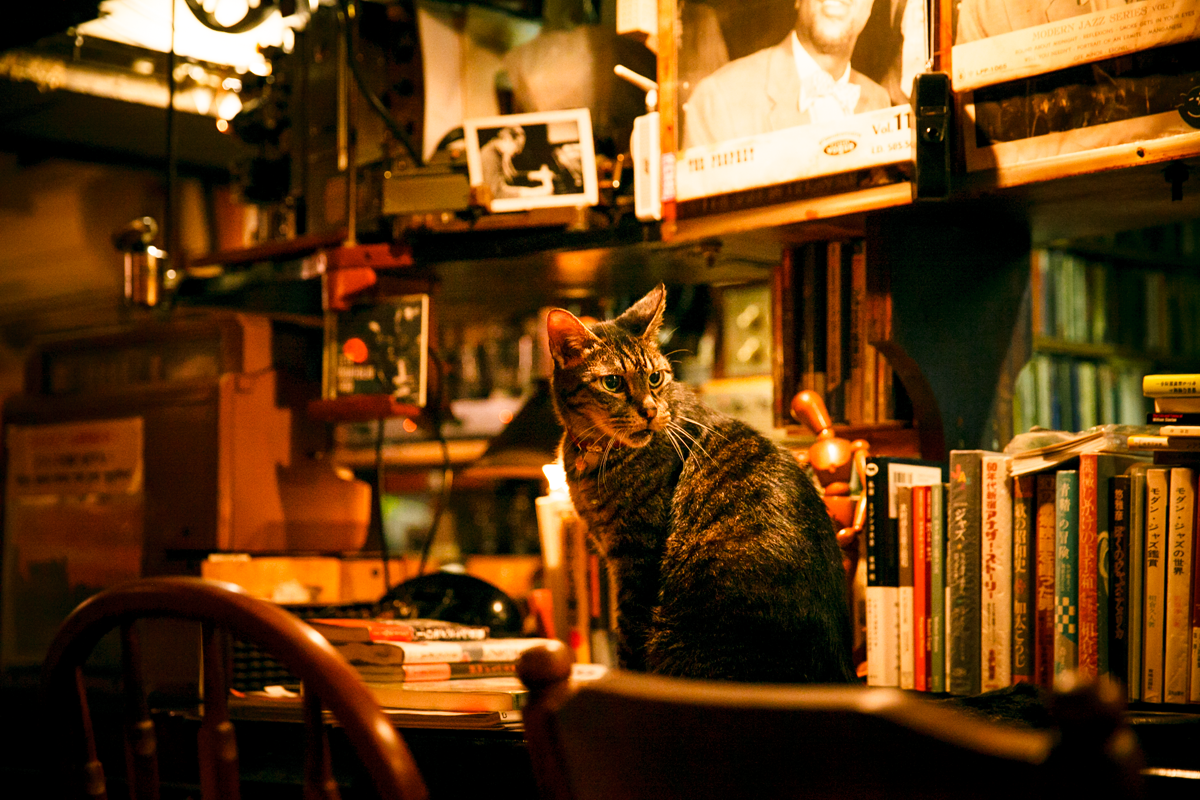 Kotaro adores being stroked along his striped back. Being a bit shy, he was on alert when we first started shooting, but warmed up to us rather quickly. That being said, the master's touch is king, and that's when Kotaro really gives in to pure relaxation.
He's also a very diligent employee: when the boss calls him to duty by saying 'Kotaro-kun!' and rapping on the bar, the cute ball of short fur flits across the counter to help out with bartending duties.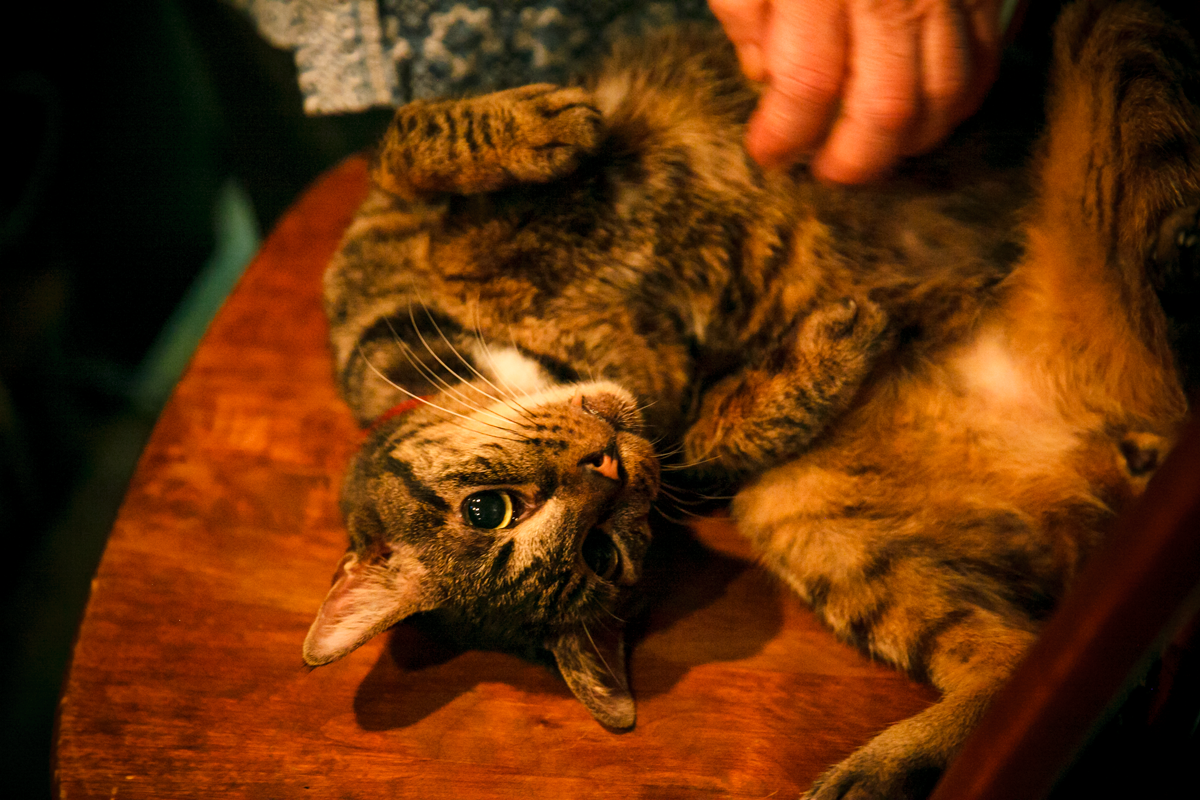 Relaxing while maestro strokes
On his way to help out with the drinks
That being said, Kotaro does have a darker side too. Sometimes, he manages to 'accidentally' break some glasses – and not just one, but quite a few.
Malicious intent or not, that is the question, but Kotaro always feigns good-natured innocence, and is thus usually forgiven rather quickly.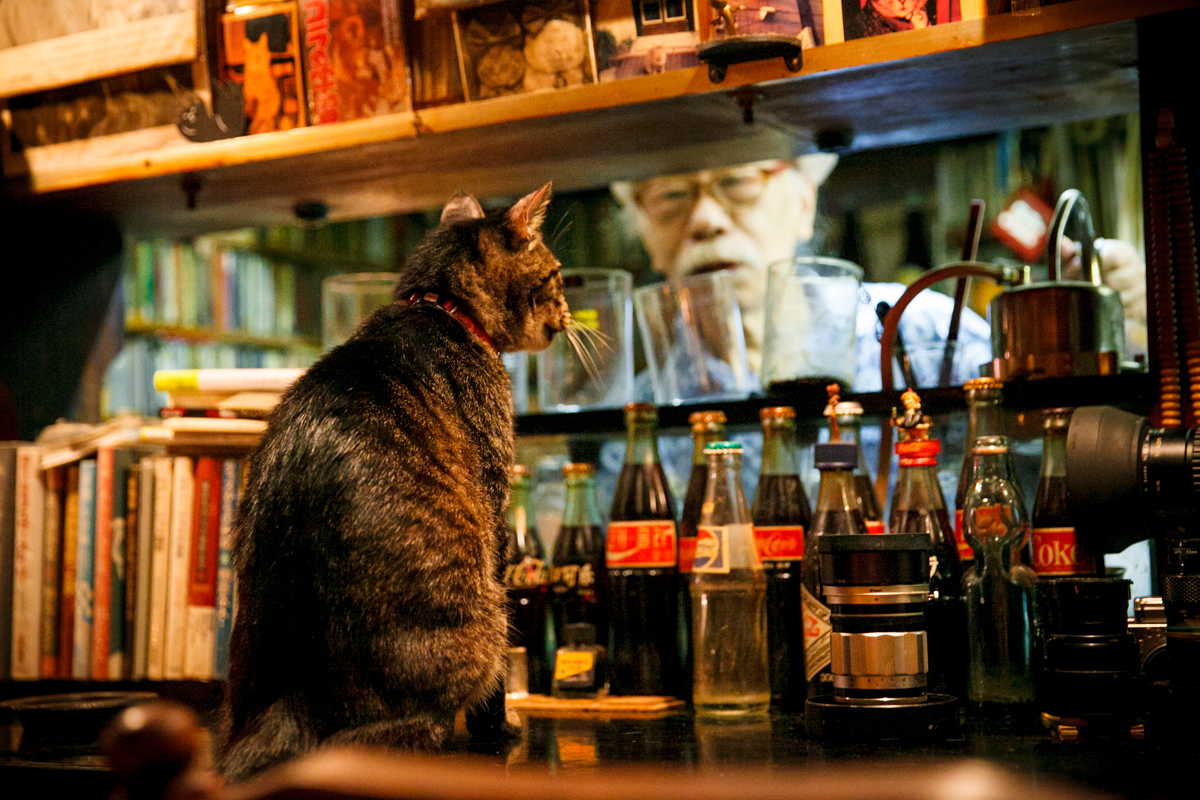 Kotaro's favourite day of the year is his birthday. That's when, rather than eating the boring cat food he normally gets, he's treated to slices of sashimi. A well-cared-for kitty (rather than a spoilt-rotten cat) is a happy one.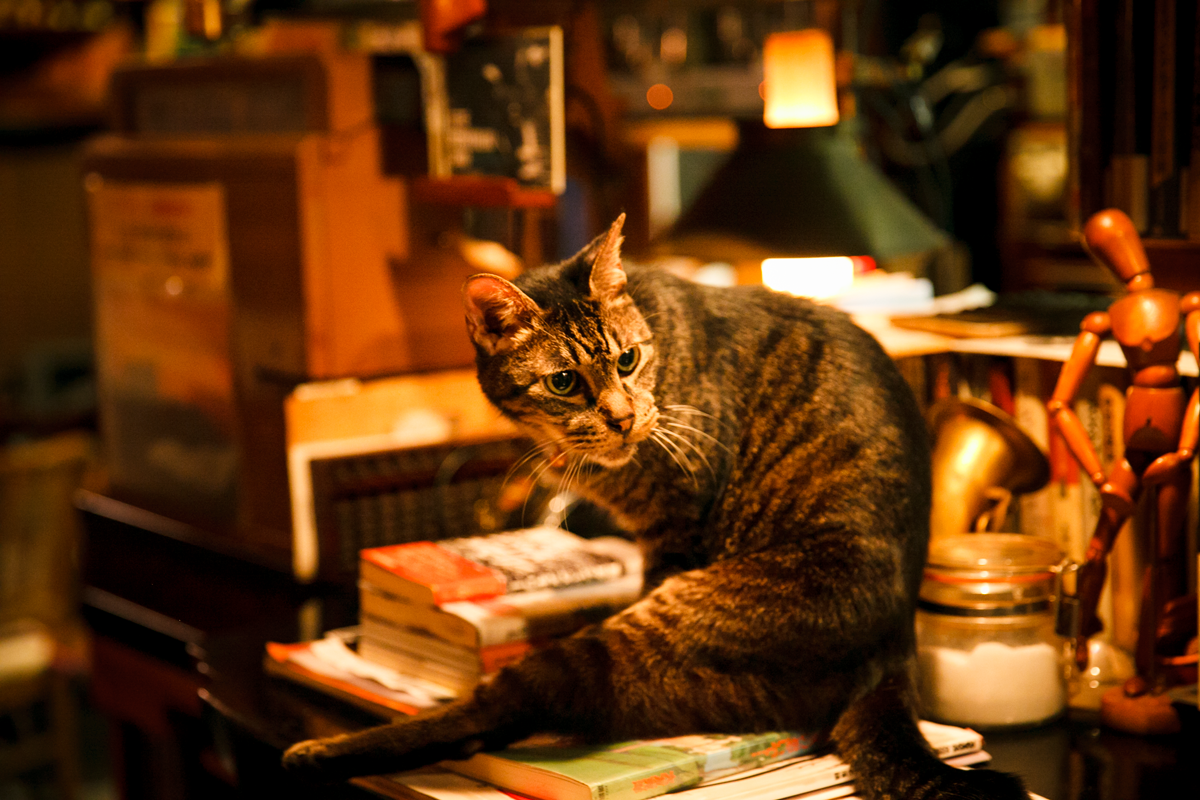 Despite working at a jazz joint, it seems that Kotaro has yet to find a favourite song. He does like to groove though, swishing his tail vividly when the music intensifies while slowing down to a gentle swish when the tempo goes down.
Being a 10-year veteran by now, he really owns the job and has made it his calling. If you're looking to give in to the music while hanging out with Kotaro, do stop by Hakusan for a lazy drink.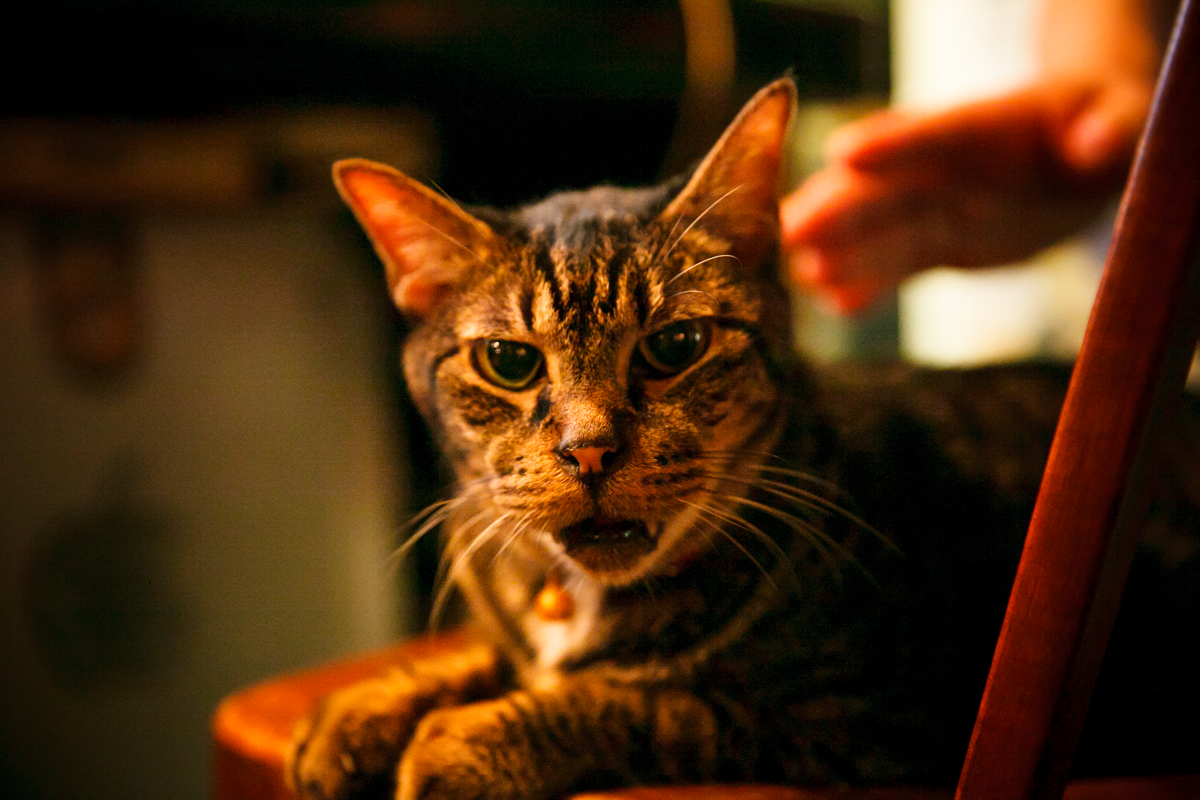 Photos by Keisuke Tanigawa
Kotaro, male, 11 years old
Daily work schedule
3pm – Arrive at work for the opening shift
11.30pm – Go home when the bar closes
Days off: Sundays, holidays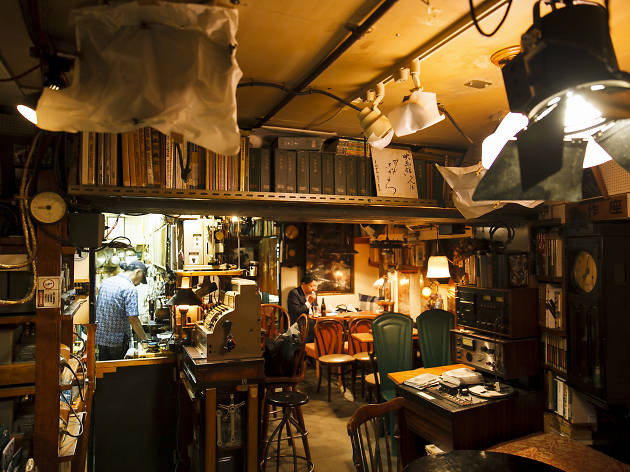 Eigakan
One of the most distinctive jazz spots in the Tokyo metro area, 'Eigakan' means movie theatre in Japanese. The owner Yoshida-san has a background in documentary films and originally rented the space so he and his pals had a spot to project films in. Over time it slowly transformed into the beautifully cluttered jazz bar it is today...
More to explore