Public cats of Tokyo: Tit Chai, Shimokitazawa
Meet the Thai food-hawking Em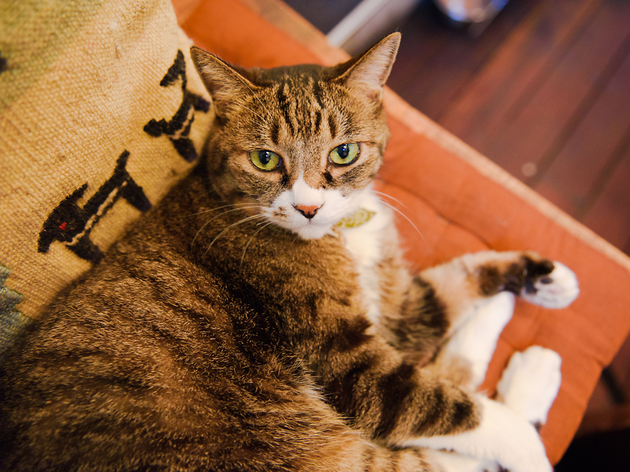 Only five minutes on foot from Shimokitazawa Station's south exit, the homely Thai-style restaurant Tit Chai is hidden away down a street just off the main drag. It's known for authentic flavours and an ever-cheerful owner, who keeps customers lingering over their lunchtime bentos on weekdays.
But for the past six months, another member of staff has reportedly been stealing patrons' hearts. Based on a nugget of information, we recently trekked to Tit Chai to find out what's going on – and, in the process, name and shame yet another Public cat.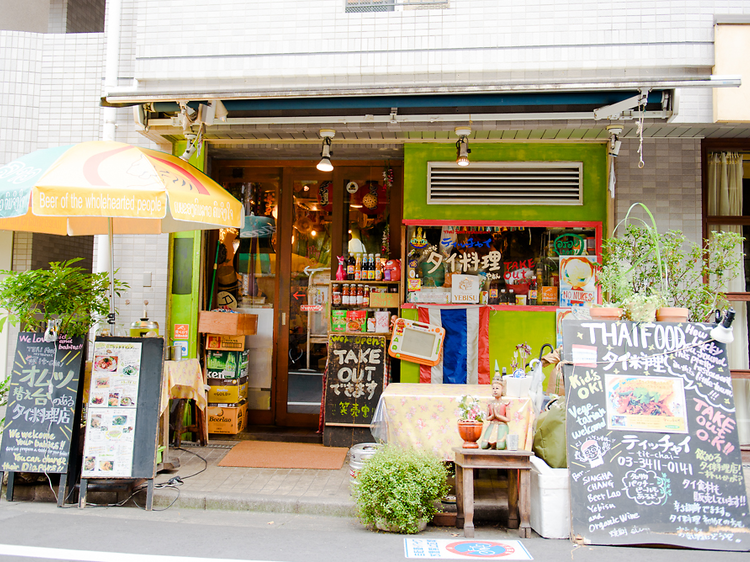 Opening the narrow door, we immediately discovered a cat sleeping on a seat in the very back. This is the girl we came for: new staffer Em. She's been inseparable from her owner since she was born, and the two have been living together for over 15 years now.
Until recently, the owner would leave little Em at home while running Tit Chai, but eventually thought she might be a bit lonely – not to mention she could very well help lure even more lunchers in. That was the start of Em's restaurant career, which has been going predictably well for over half a year now.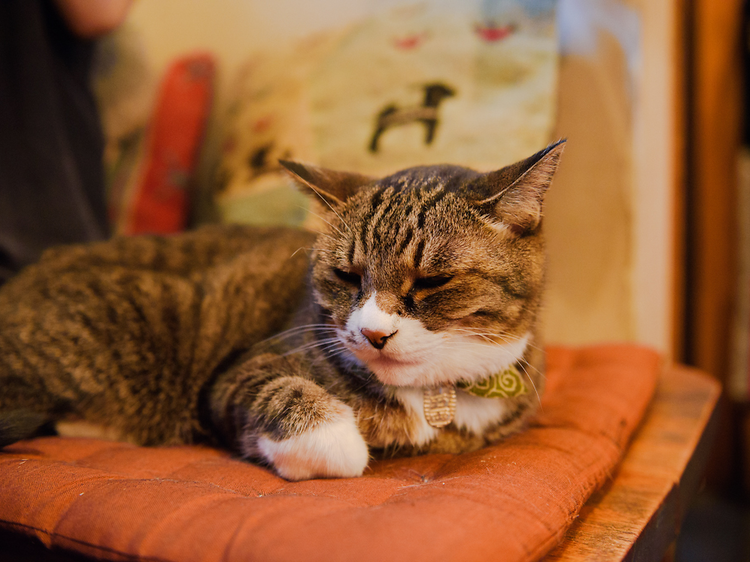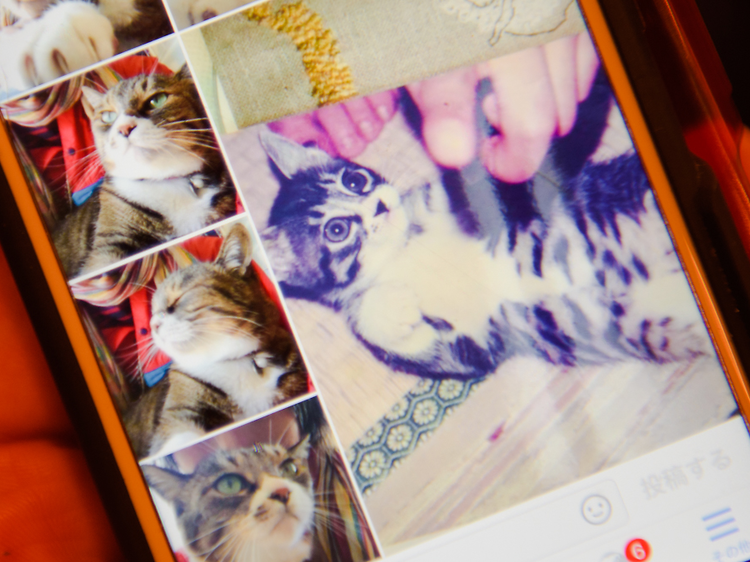 When Em was just a little Em
Sure, Em tends to snooze a lot while on the job (although some say she's just pretending), but the cuteness factor is compounded by her slight ear and tail wiggles mid-sleep. It seems like she wiggles along to music she likes, and when we visited, there was definitely enough movement going on for us to guess she was grooving to the background beat.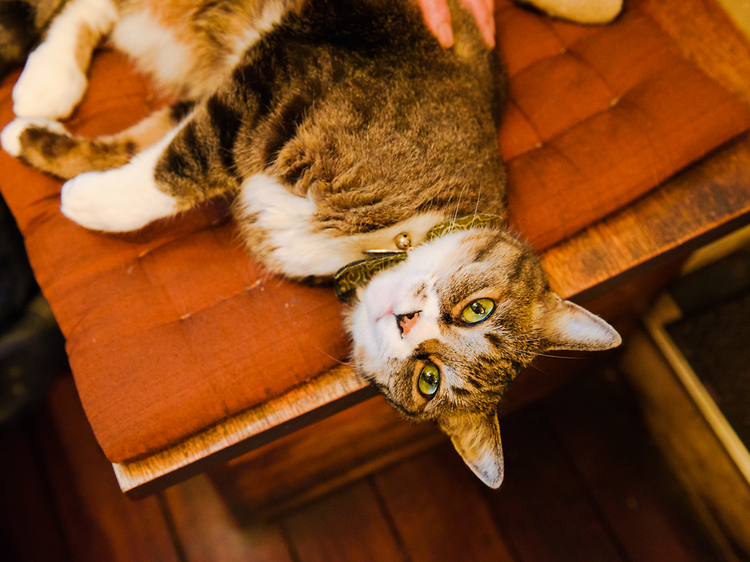 As for why Em is named Em, it turns out that her owner travelled to Vietnam just before he met the cat. Having started thinking of the cutesy kitty as a little sister, he named her after the Vietnamese word used for little sister or younger woman.
And sure enough, when you see the intense look of pleasure on Em's snout when she's held by her owner, the relationship that's blossomed between the two over 15 years is very apparent.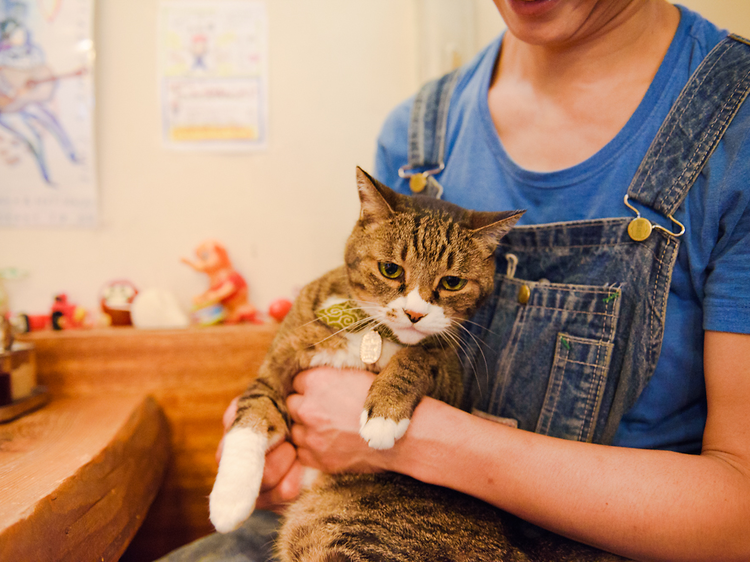 Cuddling up with the owner
But this lady seems to have found romantic love for the first time just a few months ago. The charmer is a white stray with badboy looks, who usually waits for her outside the eatery.
We sure hope he's only chasing Em, and not going around flaunting his whiskers to some of the other neighbourhood kitties. With Em still relatively new on the job, she's also only just discovered the pleasures of going for a stroll around Shimokita.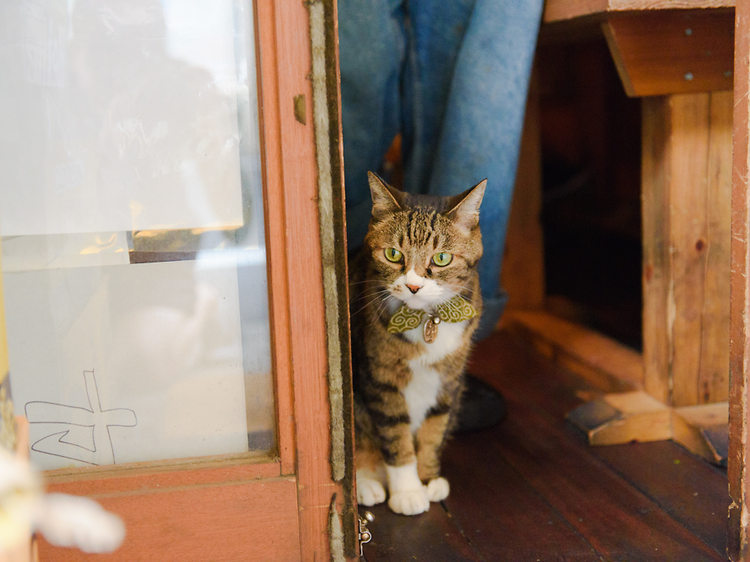 We wonder if she's on the lookout for her beau here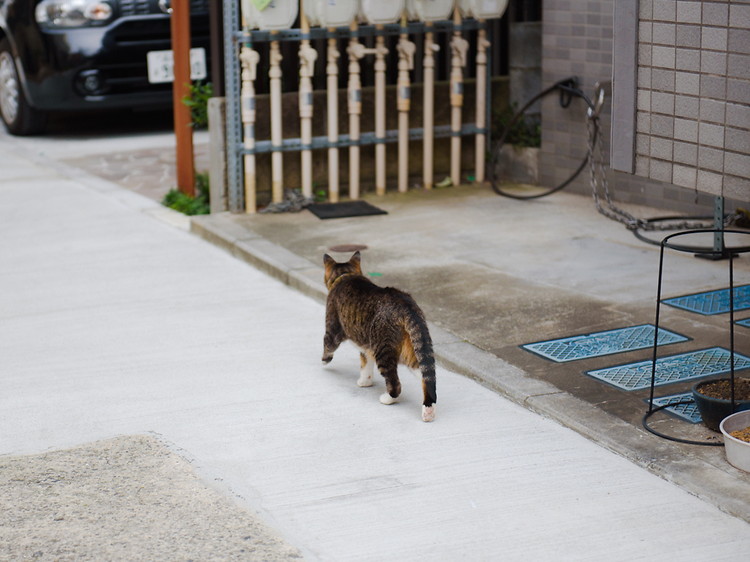 Showing off her smooth moves to the neighbourhood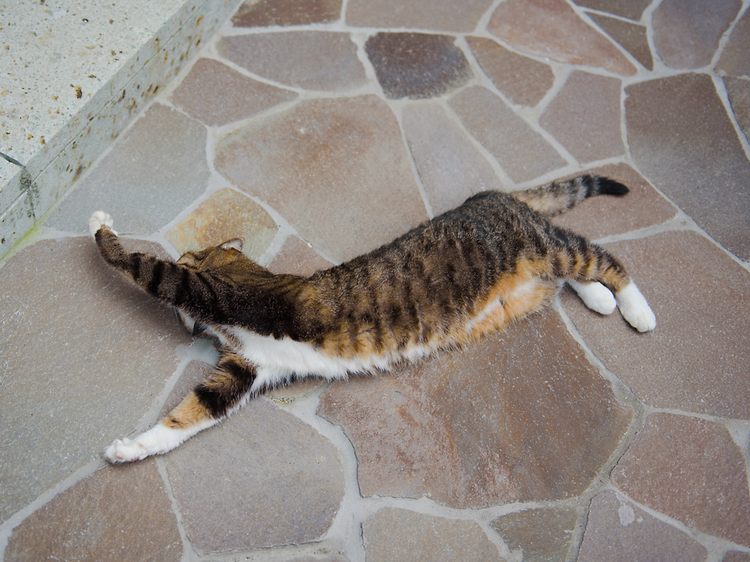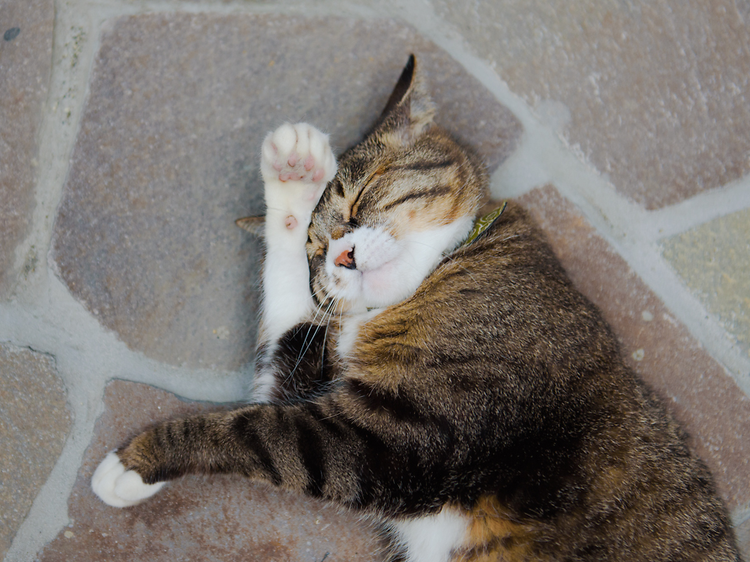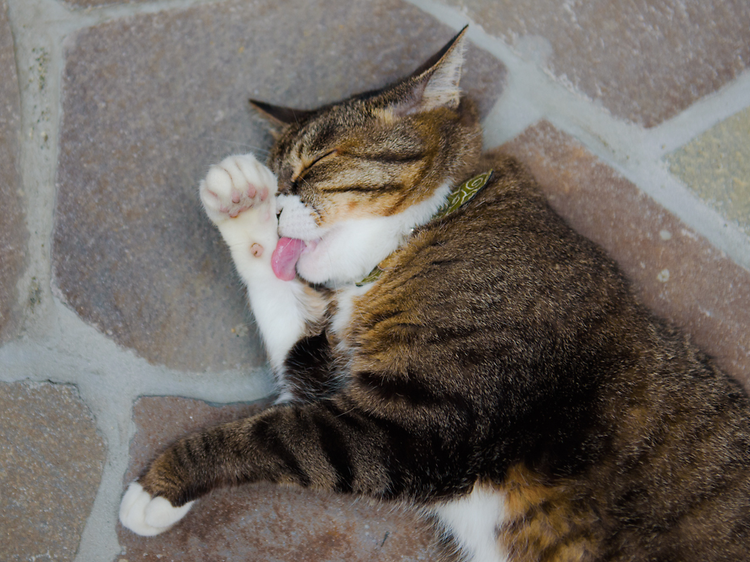 Although Em seems to thoroughly enjoy traipsing around and exploring the wider world, she never forgets to return to the restaurant – she is, after all, quite comfortable in her role as business kitty.
When you look at her and the owner side by side, it's easy to notice their strong levels of trust and camaderie, all in tune in order to attract unsuspecting passers-by into their comfy eatery. Be sure to pop by and spot Em faking her nap while on duty, but do keep your guard up – many have already fallen for her feline charms...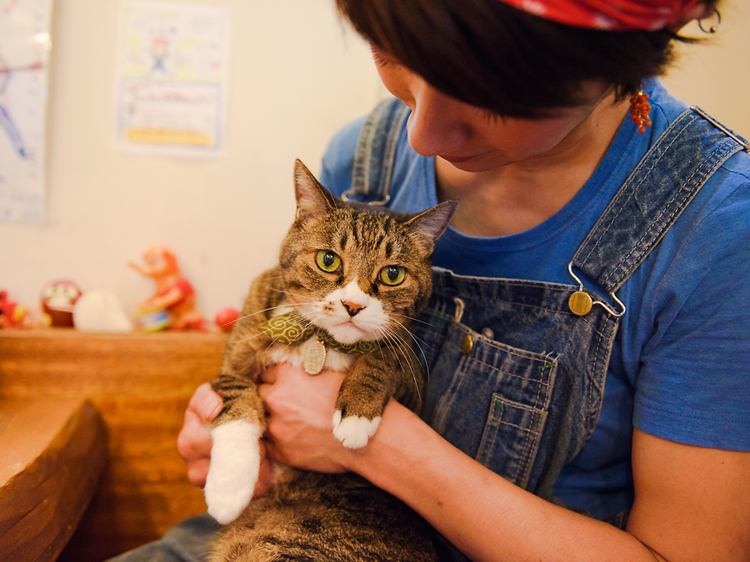 Photos by Kisa Toyoshima
Em (female), 15 years old

Daily work schedule

Noon – arrive at the restaurant for lunch hours

3pm-ish – stretch paws around the area for a bit

midnight – end of the working day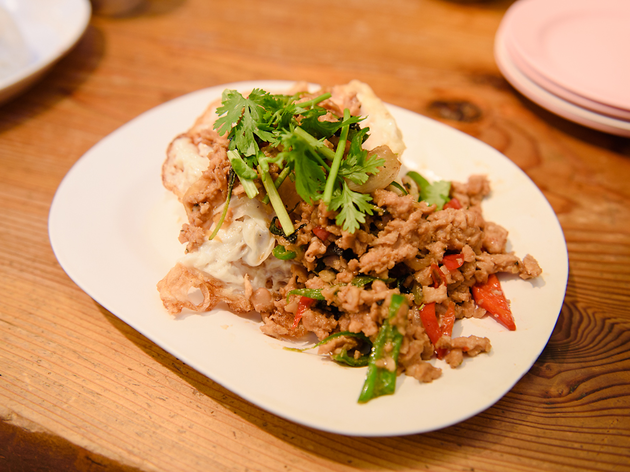 Tit Chai

A short walk away from Shimokitazawa Station's south exit, this small Thai-style restaurant is located in a back street just off the main beat. Although the chef is Japanese, Tit Chai has a stream of Thai fans and boasts a taste to back up its street cred. The most popular dish is the somewhat piquantly spiced gapao rice, topped off generously with basil...