Heads up! We're working hard to be accurate – but these are unusual times, so please always check before heading out.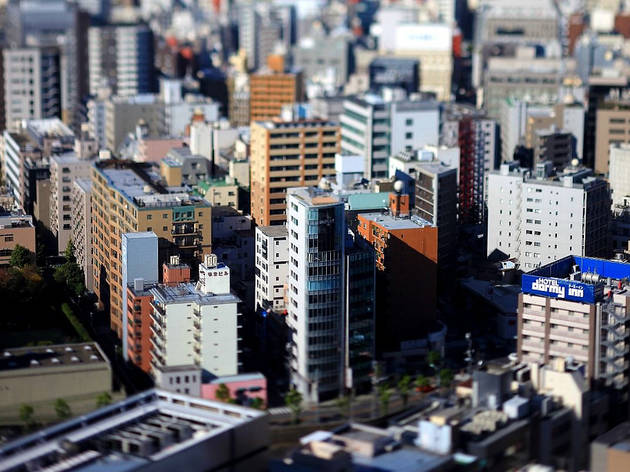 Tokyo facts: 40 trivia tidbits to wow your mind
How many Tokyoites can you fit in a Mini? You'll find your answer here...
By Jon Wilks
Think you know this city? We do. That's why we've put together the ultimate Tokyo facts list. And we're not talking boring old demographics here, either – only the really important stuff, like how many Tokyoites can you fit inside a Mini Cooper? Why is Roppongi Hills cursed? How did Harajuku become the hip and happening place it is now? For more strange Tokyo facts and useless lists, read on…
Tokyo world records
As you might imagine for a city this size, Tokyo holds a worthy amount of world records, some of them more unusual than others. We've picked out a selection of pleasingly bizarre winners.
1. Most people in a Mini Cooper
On May 5, 2011, Tokyo's Shiodome Nihon TV Studios witnessed one of the greatest human feats of all time, when 21 members of the Caless Dance School squeezed into a Mini Cooper. The reason? Quite simply, to see if 21 women could squeeze into a Mini Cooper. Why else?
2. Longest slab of meat
The world's longest single slice of meat was cut by Nico Jimnes Rodrigez of Hattori Nutrition College on September 23, 2010. The Iberico ham slice measured 13.35 metres.
3. Youngest Dance Dance Revolutionary
The youngest person to achieve the ultimate score on a Dance Dance Revolution game did so in Tokyo on August 29, 2010. Ryota Wada mastered the song 'Hyper Eurobeat' at the tender age of nine years, 288 days. A great future awaits.
4. Biggest bikini parade
On May 23, 2010, Venus Fort in Tokyo hosted one of the world's most scantily clad world record claims when 323 women stripped down to their bikinis and wandered around the stately shopping mall holding Venus shavers in their hands. A prouder day this city has rarely seen.
5. Crazy kanpai!
The world's largest toast took place in Tokyo at Jingu Stadium on June 26, 2010, when 27,126 people raised their glasses and shouted, 'kanpai'. At the time of writing, 14 months after the event, plausible reasons have yet to surface.
6. Busiest, er, mountain…
Takao-san, on the western outskirts of Tokyo, is the world's most visited mountain, having attracted 2.6 million visitors in 2009. After all, there can't be many mountains that have a decent udon shop and a beer garden at the summit.
Tokyo food facts
OK, so it's well known that Tokyo has around 88,000 restaurants and more Michelin stars than any other city in the world. But did you know that there's a McDonald's serving specials for sumo wrestlers? No? Well you're about to…
7. Megasize me!
The McDonald's in Ryogoku, on the east bank of Tokyo's Sumida River, has a very special deal for the fat men that make the area famous. On any given day of the triannual Tokyo basho, the overall winner is entitled to one free McD's meal. What's more, the restaurant boasts a huge sumo chair for him to enjoy it in – three times the size of a normal McDonald's chair. Talk about lard-arsed luxury!
8. Gyu to go
And while we're on the subject of Japanese fast food chains, Yoshinoya, the venerable gyudon franchise, burst into life no less than 122 years ago, when the family store began carving up cows in Tokyo's Nihonbashi area. Like Mos Burger above, the company is now an international chain, with outlets in Shanghai, Taiwan, Hong Kong and the US.
9. Starbucks rules
Depressing news for fans of the humble kissaten, but Starbucks now has 259 outlets across Tokyo, with the branch overlooking the Shibuya Crossing (itself the world's busiest crossing) taking the prize for the highest revenue generated. So busy is this Shibuya branch, in fact, that it registers second on the company's worldwide success list, topped only by (and this is hard to believe if you've ever been there) the branch in Stansted Airport, UK.
10. How many bars in Golden Gai?
At the time of writing, the Golden Gai district in Shinjuku has 257 bars open for business. The area, which is one of Tokyo's most celebrated drinking dens, is approximately 2,000m2 and was formerly one of the city's red light districts. These days it is better known for its camaraderie, although foreigners often find it less welcoming when not in the company of a knowledgeable local. Not that famous faces have that problem; Quentin Tarantino and Wim Wenders are known to favour La Jeteé whenever they happen to be passing through.
11. The oldest restaurant in Tokyo
The restaurant that seems to have the strongest claim to being the oldest in Tokyo is Komagata Dozeu, an eatery that has been flogging poached loach to the Asakusa faithful since 1801. There are probably a few other places that would try to pinch the title for themselves, but Komagata have managed to survive earthquakes and bombing raids to maintain their business on the very same plot of earth for six generations. Not bad going in this transient sprawl.
12. The most expensive restaurant… in the world!
Regularly topping the world's most expensive restaurant list is Tokyo's very own Aragawa, a steakhouse specialising in Kobe beef that will cost you at least ¥35,000 per person, per meal. By all accounts, the mustard sauce is a must-have.
Brain-busting building facts
It'd be remiss of us not to include a few trivial tidbits concerning the city's buildings, especially since it's about to be home to the second tallest one in the world. Oh, and if you want to know where the city's least likely yakitori factory is hidden, then this is the section for you.
13. First rock band to play the Budokan? Not the Beatles…
Which was the first rock band to play the Budokan? History claims it was The Beatles, but it invariably forgets to take into account the support acts – an entirely Japanese lineup that included Isao Bitou, Hiroshi Motizuki, Yuya Uchida, Jackie Yoshikawa and Blue Comets, Gorou Sakurai, and Drifters. Some extra Beatles geekery for you: tickets to the concert cost between ¥1,500 and ¥2,100, and both Paul McCartney and John Lennon managed to 'escape' the clutches of their Japanese bodyguards on the second morning of their stay – the bass player ran off to the Imperial Palace, while the rhythm guitarist hit up the Asahi Museum, which was located in Harajuku at that time, presumably thinking there might be beer on offer.
14. Expensive suites
Tokyo's Ritz Carlton has the city's most expensive hotel room, charging a whopping 25,000 US dollars per night for use of the Ritz Carlton Suite. Located on the 53rd floor, it enjoys a stunning view over the Imperial Palace (it'd have to, at that price), and comes with its own butler (we should hope so!).
15. Back at the Dome
In 1998, promoters at Tokyo Dome managed to sell all 200,000 tickets in under one hour for a Mariah Carey concert. Prior to that, the record was held by… Mariah Carey, who had sold 150,000 tickets in less than three hours two years earlier.
Meanwhile, the first live concert at Tokyo Dome (not counting the marching bands that performed at the opening ceremony) was by stalwart J-rock band The Alfee, who took the stage two days after the Dome opened back in March 1988.
Not that this was the longest concert the Dome has ever witnessed. That honour is held by Guns N'Roses, who wouldn't shut up for three hours and 37 minutes on December 18, 2009.
Perhaps the strangest concert the building has seen was Luna Sea's 2010 show, a reunion gig on Christmas Day that only admitted people wearing black clothing.
16. Secret yakitori factory
While the Ryogoku Kokugikan is known by every sumo fan on the planet (it's the Tokyo stadium that houses the hefty goings on), less well known is the fact that a yakitori factory is housed beneath it. Perfect for after-bout snacking.
17. Japanese stand up
This odd little factoid relates to Loft, a Shinjuku live music venue that has been up and running for three decades. Aside from having hosted some fairly recognisable names over the years, the live house also claims to have been the first place in Japan where – wait for it – audiences actually stood up!
Tokyo superstitions
Every city has its spooky stories. Tokyo is no different, with many of its best having achieved immortality thanks to the likes of Hokusai and Co. Here are a few others you may or may not know.
18. The Curse of Roppingi Hills
A recent urban legend has it that Roppongi Hills is cursed. The building opened in 2003, and has since seen a number of its residents fall from grace, related businesses become embroiled in scandal, and at least one child died in grisly circumstances. Reasons given for the building's rotten luck include its address (there are three sixes in the Japanese rendering of Roppongi 6-chome, Roppongi Hills), the fact that it looks a wee bit like a grave stone, and the idea that it was built on land that witnessed the deaths of some of the 47 Ronin (a story so muddled by myth that nobody's even sure how the ronin died, let alone where).
19. Love lights…
The good people of Tokyo will have you know that your love will last longer if you watch the lights of Tokyo Tower get turned off with your partner. We're not even sure that the tower ever turns its lights off… but neither have we ever been lucky in love.
20. Love lost…
On a less happy note, couples who take a boat ride on the pond at Inokashira Park run the risk of breaking up prematurely. It is said that Benzaiten (the Buddhist goddess of wealth and carer of the pond) gets jealous watching happy couples.
21. Love lost in long queues…
Similarly, and rather more plausibly, it is believed that new couples visiting Tokyo Disney Land will also suffer a short romance. The reason? Because the length of the queues really tests their mettle, and many find they've not got much in common after all.
Trains are king
You can't do Tokyo without doing trains. This section, therefore, is dedicated to one of the city's greatest success stories – the humble railroad.
22. Which is the busiest Tokyo train line?
They could hand out badges of honour relating to Tokyo's busiest train lines. After all, bragging rights are just about the only thing that makes some of those journeys bearable. But which one is actually the most congested? Here are the top five, including the sections of the line that are the most crammed, and the capacity percentage that they run at during their busiest peaks (figures from the Ministry of Land, Infrastructure, Transport and Tourism).
1. Sobu Main Line (Kinshicho - Ryogoku), 203 percent
2. Yamanote Line outer loop (Ueno - Okachimachi), 201 percent
3. Saikyo Line (Itabashi - Ikebukuro), 200 percent
4. Tozai Line (Kiba - Monzen-Nakacho), 196 percent
5. Keihin-Tohoku Line (Ueno - Okachimachi), 195 percent
23. How many stations does Tokyo have?
Tokyo's train lines snake through 503 stations across the 23 wards. Ironically, given its importance to emerging Japanese fashion, Harajuku is home to the oldest station building still standing in Tokyo. The quaint shack, located on the Yamanote line, has been there since 1906. It's not the oldest station in the capital, however – Shinagawa has been a railway terminus since June 12, 1872.
24. World's busiest station also has most doors
You're probably well aware that Shinjuku Station is officially the busiest station in the world. In 2007, it registered an average of 3,640,000 passengers per day. On a more peculiar note, however, it also has more exits than any other station – over 200 at the last count.
25. Tokyo's deepest station
This frivolous little award goes to none other than Roppongi Station, which lies deeper underground than any other, the Toei Oedo line stopping at platform one, 42 metres below sea level – relatively shallow when you consider that the world's deepest platform, at Moscow's Park Pobedy, can be found a suffocatingly low 84 metres beneath the surface.
26. Tokyo's oldest line
They don't come much older than the Ginza line, not in East Asia anyway. Founded by a business brain by the name of Noritsugu Hayakawa, who'd taken something of a shine to the London underground during a visit in 1914, the Tokyo Chika Tetsudo opened its first stretch of line between Ueno and Asakusa in December, 1927, advertising itself as 'the first in the Orient'. According to Wikipedia, 'Upon its opening, the line was so popular that passengers often had to wait more than two hours to ride a train for a five-minute trip.'
People and places
Why did Mariah Carey cause the Shibuya police a panic? Why did Joe Strummer see things so clearly in Japan? All will be revealed…
27. Who was the biggest badass, Joe Strummer or Paul McCartney?
According to Redemption Song: The Ballad of Joe Strummer, a 2007 biography by Chris Salewicz, the 1982 tour of Japan was the first time The Clash performed without the aid of pharmaceutical substances, giving the gigs a renewed energy and clarity (The Clash: Live in Tokyo is a perennial favourite amongst The Clash hardcore).
It's likely that the notorious punk band entered Japan cautiously, having seen Paul McCartney, everyone's favourite Rupert the Bear botherer, busted for carrying eight ounces of marijuana into Narita Airport two years earlier.
Macca spent nine nights in a cell at Kojimachi Police Station, mucking in with other prisoners, even leading them in communal bath-time singsongs of 'Yellow Submarine'. According to his biographer, Howard Sounes, McCartney requested and received vegetarian meals, though his request for bananas was turned down. 'Regulations forbade detainees from having bananas… a man might peel a banana, throw the skin on the floor and a prison officer might slip and fall.' And so ends the strangest McCartney-refused-banana story you're ever likely to hear.
28. What's the most popular theme park in Japan?
According to 2010 figures published by TEA, five of the world's top 25 most visited theme parks are in Japan, two (kind of) in Tokyo. Tokyo Disneyland and Tokyo DisneySea (both Chiba Prefecture) hooked 14.45 million and 12.66 million visitors respectively last year, making them the third and fourth most visited parks in the world. The remaining Japan-based attractions in the top 25 are Universal Studios in Osaka (8.16 million), Nagashima Spa Land, Mie Prefecture (4.47 million) and Yokohama Sea Paradise (4.02 million). Absolutely no sign of Hanayashiki, sadly.
29. Tokyo's most haunted area
Tokyo has haunted houses on almost every street, or so it would seem. However, according to Time Out Tokyo's Japanese staff – experts, unquestionably – the best place for ghost spotting is Komine Tunnel, out in Hachioji, where a girl in a red dress is frequently seen and traffic accidents are a frequent occurence…
30. Why is Harajuku so damn hip?
The Harajuku area, Takeshita Dori in particular, has long been associated with far out fashion. As with any hip and happening hotspot, it's difficult to give an exact reason for the emergence of a popular trend, but in an interview with The Japan Times earlier this year, Seiichi Matsui, head of the local business owners' association, pointed to the postwar arrival of American expats, many of whom settled in the area and brought with them a need for import shops. Tokyo teenagers interested in the exoticisms of 'gaikoku' (abroad) found their curiosity sated around burgeoning and bright Takeshita Dori.
31. How many times has Godzilla attacked Tokyo?
Essential pub-quiz trivia, this. Everybody's favourite fire-breathing radioactive dinosaur has attacked and destroyed Tokyo no less 28 times, making light work of 18 different areas, with both Nagatacho and Shinagawa coming in for notable repeated beatings. Surprisingly, Saitama has been spared Godzilla's unwelcome attention thus far.
32. Yoko Ono studied her timetables with… who?
Yoko Ono was a graduate of Tokyo's Gakushuin School, where she was classmates with none other than the current Emperor of Japan. In a 2007 Japanzine interview, she explained, 'We were classmates. But, you know, it's just a fluke.'
33. Rock Shibuya to a standstill
Earlier this year, a Radiohead no-show managed to bring fleeting panic to the world's busiest intersection, but it's not the first time the area has seen international artists get the Shibuya police hot under the collar. Mariah Carey (again!) managed to dole out her own personal brand of civil disorder when she brought the area to an unscheduled standstill in early 2003 while filming the video for 'Boy (I Need You)'. As with the Radiohead incident, it seems the police hadn't been informed.
34. What's in a name, Pond Bag?
There are three different reasons given for why Ikebukuro has the name it does (the kanji literally translate as 'pond bag'), all of which are inscribed on a plaque near the Fukutoshin line entrance of the station. Could be that a lake near the original village looked like someone holding a bag, or perhaps that the area had a lot of lakes (like a bag o' lakes, to some strange minds), or maybe even that a turtle once appeared from the lake carrying a bag on its shell? Suffice to say, nobody has any firm idea…
35. Conga line to Toronto
If you took the entire population of Tokyo (approximately 35.6 million, including each of the 23 special wards), and stood them back to back, the line would be approximately 6,433 kilometres in length - or the same as Shibuya Station's Hachiko exit to Chapman Valley Park in Toronto.
36. 'Til death us do part, or at least 'til dinner…
Unsurprisingly, Tokyo has the highest marriage rate in Japan. Happily, many of them manage to stay together, too – the capital has only the eighth highest divorce rate in the country. Meanwhile, more marriages end in divorce in Okinawa than in any other part of Japan.
Genuinely useless facts
We'll round off these 40 Tokyo facts with a few that you might as well start forgetting immediately. Can anyone guess how many days a year you can see Mt Fuji? No? Well, don't worry – the answer lies below.
37. Fuji vision
Mt Fuji may be one of the most recognisable natural landmarks on earth, but Tokyoites don't get nearly enough opportunity to see it. Despite being well within viewing distance from the capital, Fuji is only visible for an average of 79 days a year, so don't visit expecting to feature it in the backdrop of your holiday snaps. We've not seen it for months…
38. Give blood, Akihabara style
There are few things that the cult of kawaii doesn't corrupt here in Japan, giving blood included. For the determined fan of all things anime, cosplay and manga, a visit to the blood donation clinic in Akihabara comes with the comforting presence of a gang of 'image characters', and even your own Akihabara-themed tissues for mopping things up afterwards. For full details on access and donation times, click here.
39. Japan's smallest village
Despite housing the world's biggest city, Tokyo Prefecture is also home to Japan's smallest village. Aogashima Village in the Izu Islands has a population of only 194 people.
40. Tokyo might not be Japan's capital after all
Tokyo is only the de facto capital of Japan, a position never officially clarified by law. While it is generally accepted that Tokyo is top dog, there is still dispute amongst those that have the energy to argue, a large part of the confusion stemming from the fact that nobody can agree on when the transition was made (if, indeed, it was ever officially made at all). Some hardliners still claim Kyoto is the capital, while other more passive individuals would have you believe Japan has two capitals. Wake us up when you've come to a decision, won't you.