Transcreating Tokyo, part 19 – Blue skies and cool air
Takeo Funabiki continues his survey of Tokyo's seasonal highlights with a look at early autumn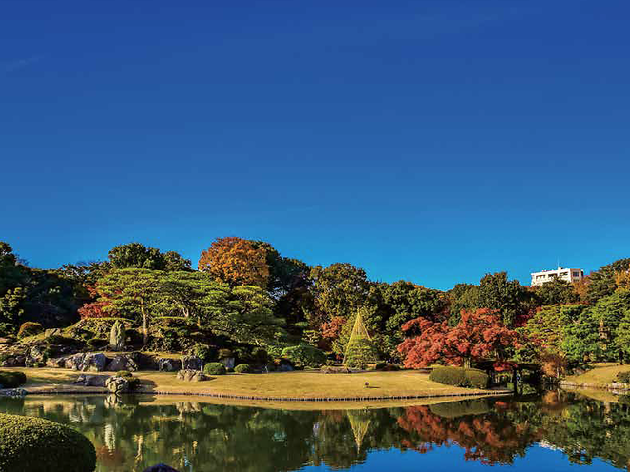 September and October, Tokyo's autumn months, are characterised by blue skies and a cool climate. The air clears up, clouds float by high in the sky and a pleasant breeze brings faraway sounds to urbanites' ears. Children's voices, the sounds of ship whistles from the bay, the still green leaves shaking in the wind – all small signs of a wonderfully pleasant season.
As the Heian-era waka poet Fujiwara no Toshiyuki put it, 'Nothing meets the eye to demonstrate beyond doubt that autumn has come – yet suddenly we are struck just by the sound of the wind.' After the scorching heat and sweatiness of summer, autumn has a feeling of rebirth to it, one appreciated for well over a millennium.
However, it's not as if the start of September always equals pleasant weather: as noted in the Fujiwara poem, this is a season that looks just like summer, albeit with a faint feeling of autumn. This idea of anticipation is present in everything seasonal in Japan. Tokyo's cherry blossoms bloom in late March, but many people start planning their hanami parties as early as a month in advance.
It's the same for September, when beaches empty and discussion turns to the wonders of autumn with the turn of a calendar page – despite the fact that the summer heat can linger deep into the month. Unlike summer, which comes suddenly as soon as rainy season passes, autumn moves ever so slowly. But curse the lingering heat long enough and one morning you'll notice how the sky looks different and the bustle is gone: autumn has finally arrived.
Magnificent foliage
When asked when the best time to visit Tokyo is, I always say 'October'. Not because there's a specific event going on or anything, except for the obvious autumn leaves. To see yellow ginkgo trees, Tokyoites head to Icho Namiki-dori in front of Jingu Gaien park, while Rikugien is a popular spot for viewing fiery foliage. Although Tokyo's parks can hardly compete with the many renowned leaf-viewing locations across Japan in terms of splendour, the capital famously does offer a little bit of everything.
Be it for shopping, eating or sightseeing, Tokyo is the perfect base. And if you're really looking to experience the foliage, just take a day trip to Nikko or even Kyoto – what Tokyo lacks in grandeur it makes up for in convenience.
As for my favourite autumn leaves spots in the capital, I'd have to mention the trees lining the Imperial Palace moat from Sakuradamon towards Hibiya. Even a moment's look at them when driving past reminds me of their superb contrast with the blue sky, which extends so beautifully above the palace grounds – the giant city's quiet, lush centre. When looking out over it from Hibiya, you'll notice the top of the National Diet building sticking out into the great azure, which appears even clearer and higher than usual in autumn.
Although many of my readers are foreign tourists visiting or planning a visit to Tokyo, as a resident I have little interest in the capital's sightseeing spots, just like few Parisians have in the Eiffel Tower. That's why I don't aim to offer suggestions, instead hoping to convey Tokyo's charm through my own experiences and feelings. I think that's only fair, as if I was to visit, say, Florence, I'd want to not only see art at a museum, but also experience the city as locals do.
That's why I don't recommend lit-up parks during autumn leaves season. These are pretty, sure, but also extremely crowded, better for watching people than the foliage. The reason I hope you visit Tokyo in autumn is because of the fine weather. August is too hot and December is too cold, but late September and October are perfect: cool with few clouds, ideal for strolling the city. Even the people seem calmer and happier with their lives.
In addition, autumn is the most culturally rich season in Tokyo, with museums and theatres rolling out plentiful programmes, and the tastiest season, thanks to seasonal, newly harvested delicacies including seafood, vegetables and mushrooms. When stepping outside on your way to dinner, you'll notice how the temperature is perfect for an evening stroll.
Stormy skies
In my youth, there was one more thing I was looking forward to every September and October: typhoons. Before you misunderstand, let me make clear that I'm well aware of how destructive these storms can be and how they're nothing to make fun of. But as a child, I did like typhoons.
Before one was to arrive, my parents would be busy closing the storm shutters in our home, checking that no tiles were coming off the roof and so on, while I would get excited looking at the black circles on the weather maps which indicated the typhoon's route towards Tokyo.
School would close on the day of the typhoon, the wind would get stronger, I'd hope to catch a few of the walnuts that had fallen into the neighbour's garden…Luckily enough, Tokyo's location means that it rarely sees serious typhoon damage. Perhaps that's why I can be so careless about them – anyway, enough of that for now.
What I do need to emphasise is that a typhoon – one of the several English words that have its origin in Japanese – can bring about chaos in Tokyo's public transportation system, so it's best to spend stormy days quietly inside. Forget worrying about losing an entire day to the weather: you'll have taifu ikka – supremely clear post-typhoon weather – to look forward to the morning after.
Takeo Funabiki
Cultural anthropologist
1948, born in Tokyo
1972, BA, University of Tokyo, Faculty of Liberal Arts
1982, PhD in anthropology, Cambridge University, Graduate School of Social Anthropology
1983, University of Tokyo, College of Arts and Sciences, lecturer
1994, Professor
1996, University of Tokyo, Graduate School of Arts and Sciences, professor
2012, retired from the Graduate School, Professor Emeritus
Field work conducted in Hawaii, Tahiti, Japan (Yamagata Shonaiheiya), East Asia (China, Korea) and Melanesia/Polynesia (Vanuatu, Papua New Guinea). Professional interests include 1) mechanism of mutual interference of human culture and nature, 2) the representations of ritual and theatre, and 3) changes in culture and society that occur during the course of modernisation.