Trendsetting walk: Harajuku/Omotesando
Indulge in a shopping spree in Harajuku, Tokyo's centre of kawaii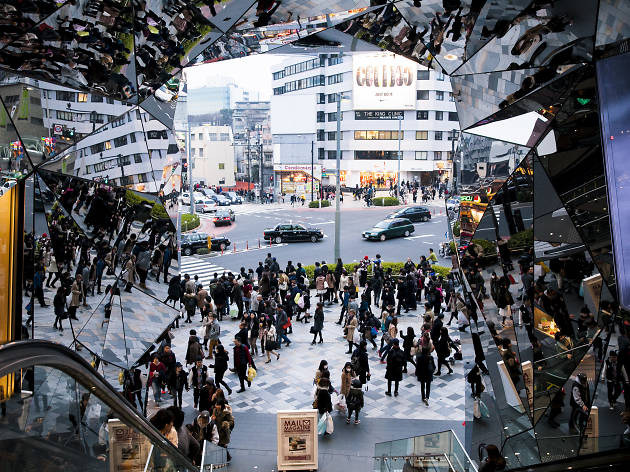 In association with Tokyu Corporation
Harajuku is well-known as the centre of Japan's kawaii (cute) culture and as an area that continuously gives birth to new trends. Begin your walk on the famed Takeshita-dori, which is packed with shops selling unique yet cheap goods.
Arrive at Harajuku Station and take the Takeshita-dori exit. Follow the crowds down a short hill and push your way through the throng of Japanese teens until you see Calbee Plus (1-16-8 Jingumae, Shibuya-ku) on your right. This is an antenna shop of Calbee, one of Japan's major snack manufacturers. We recommend tasting their cup of hot, fresh chips with special toppings such as double cheese, chocolate sauce and soft serve ice cream.
Browse your way to the end of the street and turn right onto Meiji-dori towards the popular shopping complex Laforet Harajuku (1-11-6 Jingumae, Shibuya-ku). The 1.5BF (yes, they even have half floors to maximise on space!) is filled with Lolita fashion and is a little like entering a fantasy world.
Laforet Harajuku
Back in the real world, cross Meiji-dori at the traffic lights and notice the building on the corner with an entrance covered in mirrors. This is Tokyu Plaza Omotesando Harajuku (4-30-3 Jingumae, Shibuya-ku), a good place for brand names like Minnetonka as well as quirky souvenirs.
Then carry on along Omotesando and turn left at the first corner (you'll probably see a long queue; they're lining up for pancakes). Walk past the line of people for one block until you spot the pink exterior of 6% Dokidoki (4-28-16 Jingumae, Shibuya-ku). This shrine to the 'shockingly cute' offers an array of accessories and clothing in some truly eye-popping colours.
6% Dokidoki
Go back to the main street and stop by hat shop Ca4la (1-2F, 4-26-18 Jingumae, Shibuya-ku). Then cross the pedestrian bridge just in front of it and drop by famed designer products store MoMA Design Store (3F Gyre, 5-10-1 Jingumae, Shibuya-ku), located inside the plush Gyre building.
Don't forget to visit Kiddy Land (6-1-9 Jingumae, Shibuya-ku) to browse loads of cartoon characters, then wander down the very cool Cat Street. On your right, you'll see the Japan flagship store of Opening Ceremony (6-7-1-B Jingumae, Shibuya-ku), where you'll find apparel from up-and-coming designers and cult streetwear brands. At the end of Cat Street, you'll connect to Miyashita Park's crossing, which is just a short walk from Shibuya Station.
Opening Ceremony