Produced in collaboration with Time Out Tokyo, the sixth issue of Nikkei Asia's special magazine Unlock the Real Japan is out now.
A publication for business leaders in Asia, Unlock the Real Japan features interviews with some of Japan's top experts in their fields and focuses on a variety of current affairs and seasonal themes. You'll find the magazine enclosed within the Nikkei Asia news magazine, distributed for free at embassies and luxury hotels in Japan.
The sixth issue explores the many ways Japan is combating the climate crisis. It also introduces Japanese businesses and initiatives that focus on reducing carbon emissions.
In an interview with Hiroshi Ono, the Vice-Minister for Global Environmental Affairs at the Ministry of the Environment reveals the government's plans for an inclusive and sustainable economy. He also talks about the importance of COP27, the UN climate change conference to be held in Egypt in November this year.
Following that you'll find a report on four cutting-edge innovations that will be showing at Japan's pavilion at the COP27 conference. The environmental products and solutions on display include a radiative cooling technology that works without electricity as well as a train that runs on fuel cells and electricity stored in batteries onboard.
In another feature, Kazuya Kitamura, energy journalist and head of the Japan Renewable Energy Link (J-REL), explores the feasibility of Japan's renewable energy targets for 2030. He also examines how the local production and consumption of renewable energy are reviving a small city in Iwate prefecture.
We also talked to Toshiaki Tanaka, the vice-president of Mitsui O.S.K. Lines, on how the shipping company is aiming to achieve net-zero emissions by 2050. One of Mitsui O.S.K. Lines' latest inventions is the Wind Challenger, a sail system that uses wind power to assist propulsion in order to reduce shipping's greenhouse gas emissions.
You'll also read up on the transformation of Shibuya Marui department store, which is scheduled to reopen as an eco-friendly wooden building in 2026. Don't miss the report on why Japanese clothing chain Freak's Store is expanding into renewable energy and how it's supporting local initiatives in Nagano prefecture through this green move.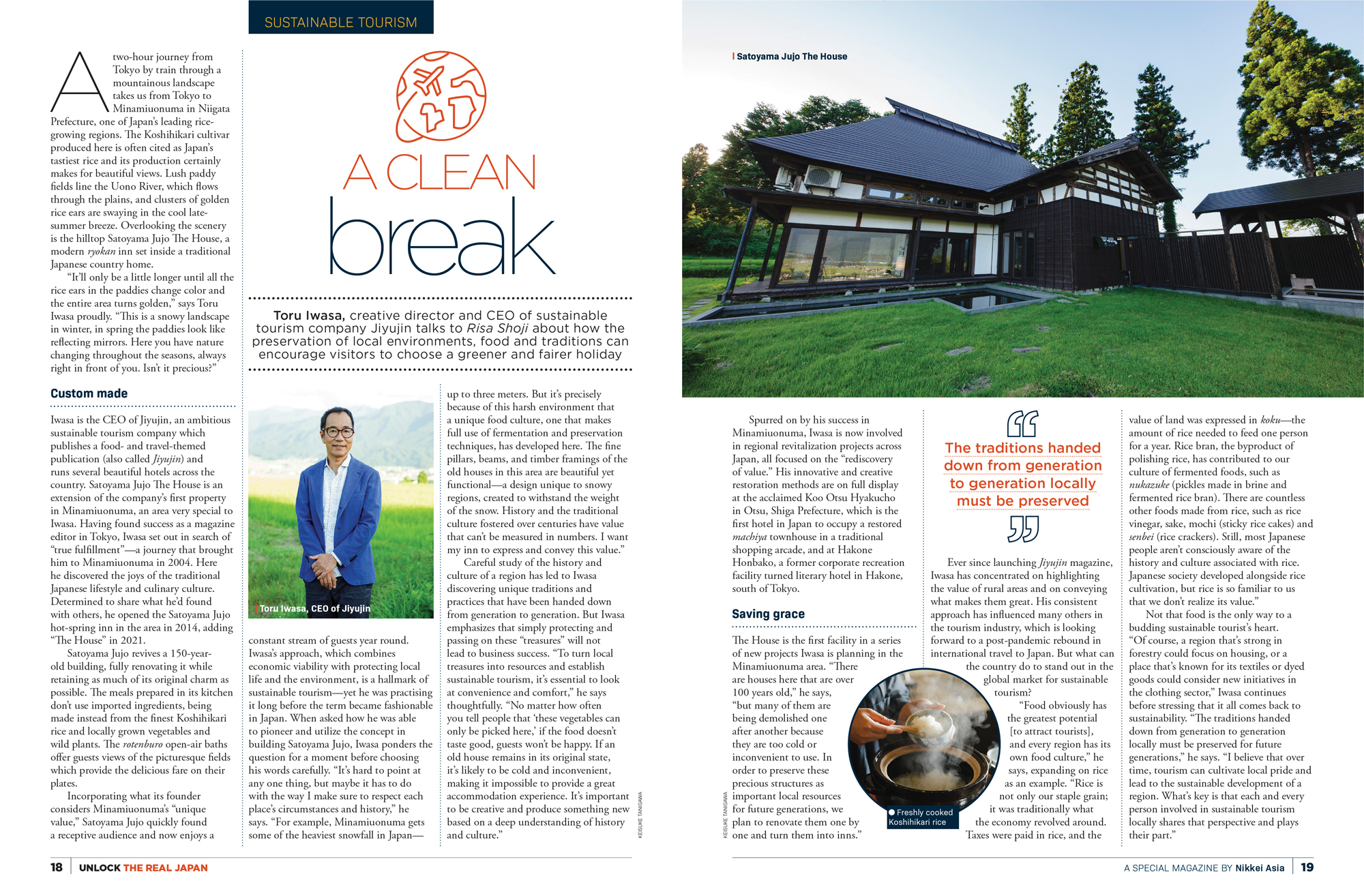 There's more. In an interview with Toru Iwasa, the creative director and CEO of sustainable tourism company Jiyujin explains how the preservation of local environment, food and traditions can encourage visitors to opt for a more eco-friendly holiday. His latest project focuses on renovating old Japanese homes into beautiful inns in the countryside of Niigata prefecture.
Environmentally conscious farmer, chef and sake brewer Yotaro Sasaki, on the other hand, tells us how he is contributing back to his local community and nature by adopting organic rice farming techniques.
If you're travelling to Japan in the near future, make sure to check the etiquette guide at the end of the magazine. It has everything you need to know about travelling safely and respectfully around Japan.
Unlock the Real Japan issue six is written and edited by Marcus Webb, editorial director of Original Inc (the publisher of Time Out Tokyo) and editor of Slow Journalism magazine Delayed Gratification. If you can't find a physical copy, you can read all the articles on the Unlock the Real Japan website.