What do our readers love most about Tokyo?
We asked, you answered. Here are your responses...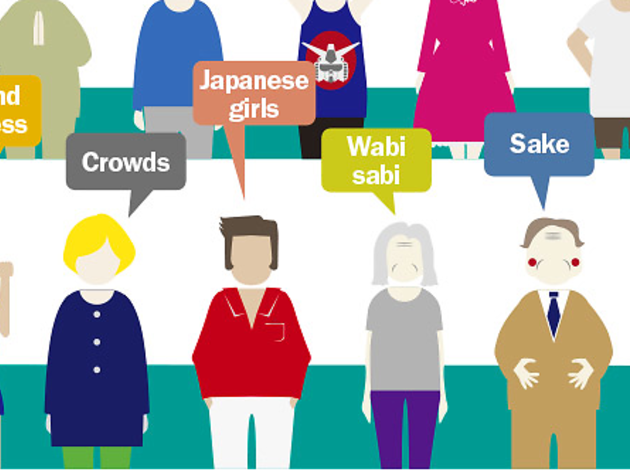 Last month we created a short survey in which we asked you: 'What's your favourite thing about Tokyo?' We had a flood of both interesting and amusing responses – thank you – and three lucky respondents won a Time Out Tokyo tote bag for their efforts. Now that the tote bags are in the mail and we've analysed your answers, as promised we used your responses to create a colourful infographic which you can also find in our summer magazine issue, out at the end of June and focused on '50 things to do in Japan'. Read on for a full breakdown of your answers...
Your answers in full...
We say 'Japan', you say...?
We played the word association game with readers and, unsurprisingly, from the list of options we gave you, sushi was the clear winner. 56% of you also gave your own answers, which included 'zen', 'Japanese girls', 'sakura', 'riding bikes', 'crowds' and 'wabi sabi'.

Sushi 30%
Samurai 6%%
Robots 4%
Lots and lots of tall buildings 4%
What is/was your main reason for visiting Tokyo?
You came for the food, of course. At least, 48% of you said the main reason you visited or want to visit Tokyo is for the food. 35% said the pop culture, while others said they are attracted by the vintage fashion and the temples. Then there's the one guy who works in the judo industry and told us: 'My company transferred me because I was the only guy in the office who knew the slightest thing about Japan.'

The food 48%
The pop culture 35%
The girls (or boys) 8%
I want to see what I look like in a kimono 6%
What tourist spots are/were you most looking forward to?
Everyone loves the scramble. 51% of you told us your favourite tourist spot in Tokyo is the Shibuya crossing. By comparison, Skytree only got a measly 18% of votes, which surely proves once and for all that bigger is not always better. 45% of you gave us your own answers, which included 'Ghibli Museum', 'Meiji Shrine', 'Akasaka Mitsuke', 'Takaragawa Onsen', 'just the streets' and 'the high-tech toilets'.

Shibuya crossing 51%
The temples 25%
Skytree 18%
Shinjuku's Golden Gai 17%
Other than Tokyo, which of these places have you visited (or do you want to visit)?
Kyoto was the clear winner here, scoring 90 out of 100 for its pretty temples. Osaka, Hokkaido and Okinawa also garnered plenty of votes, while other destinations on your must-visit list include Kyushu, Oiso, Nara, Hiroshima, Naoshima and 'a small town called Yanai in Yamaguchi Prefecture'.

Kyoto 90%
Osaka 82%
Hokkaido 37%
Okinawa 35%
If you haven't been here, what is your impression of Tokyo? If you have visited, what was your impression before you arrived?
There were some common themes here, such as you thought it was expensive and crowded, but there were also plenty of more unusual thoughts. Here are a few choice answers:
'Blade Runner mixed with a Wong Kar-wai movie.'
'Compact. A good compact. The buildings, the culture, the streets, the transportation... everything is so well connected.'
'Bad architecture next to stunning architecture.'
'Busy, with every man wearing the same suit.'
'Like stepping into a colourful, almost cartoon world.'
If you have visited, how did your impression of Tokyo change once you'd been here?
As one reader put it, it's a 'world of juxtapositions'. Here are a few more insights:
'It only got better. The key was to stop asking: "Why do they do this differently to what I'm used to?"'
'It's more of a retro futurism.'
'I can't believe so many people can live together in one place and yet everything runs so seamlessly.'
'There is more to Tokyo than meets the eye. Try to see beyond the stereotypes.'
'I completely underestimated the cleanliness, neatness and the high levels of customer service. Very impressive.'
On a scale of 1 to 10, how easy is it to find your way around Tokyo, where 1 is 'If you don't have Google Maps, don't even bother visiting', and 10 is 'All lanes lead to an izakaya.'
The average answer was 7.3, meaning most of you find it pretty easy to get around. Except for that one girl who said, 'I use Google Maps but I still get lost.' Could the guy who considers himself 'a human GPS' please raise his hand?
What's your favourite season to visit Tokyo/Japan?
No real surprise here. With the cherry blossoms making their grand appearance in late March every year, 66% of respondents believe spring is the best season to visit. Plus, you'll miss the rainy season and the humid summer months. Runner-up was autumn, with sumer and winter lagging behind in joint third place.
Describe Tokyo in one word.
We were interested to see what singular word our readers felt summed up the city. And you didn't disappoint, with answers ranging from 'magnetic' to 'endless' to 'supercalifragilisticexpialidocious' to 'what-you-make-of-it' (which, yes, we realise is not one word, but you get points for creativity). Check out the word analysis chart we made for the infographic on the other tab.
Your answers in full...