Best ski spots: Hokkaido vs Niigata
Trying to find your go-to ski or snowboard resort for winter? With over 600 resorts in Japan, that's no easy feat. To help you decide, we've compared the resorts in two of the most popular areas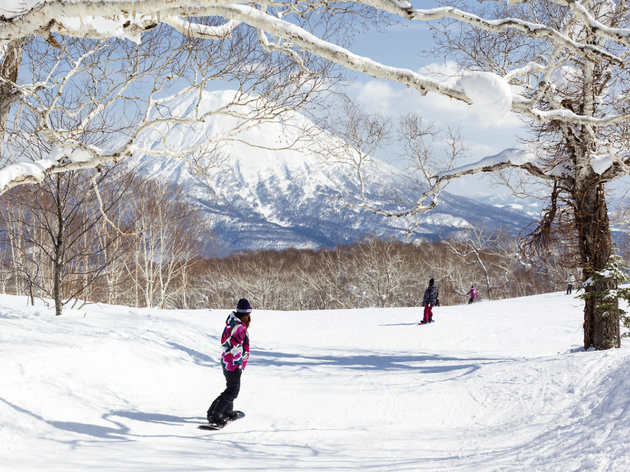 Words by Megan Waters
Everything is bigger and better in Hokkaido, Japan's most northern (and coldest) island, which gets consistent snowfalls. Powder hungers flock here in search of deep powder, off-piste and tree runs. But, located over 1,000km from Japan's capital city, you need more than just a few days to really enjoy it.
On the other hand, Niigata's close proximity to Tokyo, high average snowfall, and good quality snow make it the perfect destination for a one- or even two-day skiing or snowboarding trip. But with so much choice, the only problem is deciding which resort is right for you...
HOKKAIDO'S TOP RESORTS
Niseko
Located around three hours by bus from Sapporo, Japan's best-known resort is increasingly becoming known as the Whistler of the East. Very accessible and foreigner-friendly, Niseko comprises three main resorts (Grand Hirafu, Niseko Village and Annupuri) that are joined together at the top of Mount Niseko-Annupuri. A special combination ticket, the Niseko All Mountain Pass, gives access to all three resorts for ¥5,600 per day. Huge amounts of light powder snow and long runs make Niseko a powder-hunter's paradise, complete with off-trail skiing and snowboarding – relatively uncommon in Japan. Access the backcountry through guided tours, helicopter trips (heli skiing), or cat skiing, where skiers and snowboarders are taken up the mountain in a snowcat grooming machine with an attached cabin in search of that glorious powder. A guided group tour for four to 12 guests, including safety equipment, lunch and transport costs ¥38,000 each per day: hanazononiseko.com/en/snow/weiss-cat-skiing
Kiroro Snow World
A two-hour bus ride from Sapporo's airport, and just 60 minutes from Niseko, Kiroro is not as high profile as other nearby Hokkaido resorts. But the lack of crowds means powderhounds can make the most of the abundant snow and tree skiing without the rest of Hokkaido's hordes. This medium-sized resort has 21 runs spread equally over green, blue and black pistes, and is good for all levels. Although there is no village nearby, the port town of Otaru is only 28km away. Here, you can visit the Otaru Canal, which is lined with cafés and shopping centres in converted old warehouses. The Nikka Whisky Distillery – home to one of Japan's top whisky makers – is also in the area. It was founded in 1934 by Masataka Taketsuru who studied whisky-making techniques in Scotland and is known as the father of Japanese whisky. The distillery allows visitors to enjoy a self-guided walking tour around the grounds and sample different Nikka whiskies. www.kiroro.co.jp/en
Rusutsu
Besides the perfectly groomed slopes, piles of powder snow, and some of the best tree runs in the world, this resort is a haven for families and kids. Full- or half-day childcare is available for children aged one to four, while older kids – or adults who are tired of the slopes – can hang out in the snow park and do some tubing, sledding, snow biking and other activities. Stay at the Rusutsu Resort Tower hotel, which is conveniently ski-in ski-out, has a wave pool and slide, and boasts two games arcades. en.rusutsu.co.jp
Furano
Although Furano has established facilities as well as services in English, it doesn't really feel like a resort, especially not a Western one. For a real Japan experience, visit the nearby town of Furano for delicious Japanese food and sake. The accommodation options range from Japanese-style hotels, pensions and minshukus (Japanese-style B&Bs) to the more Westernised self-contained options such as apartments and chalets. Visit Fukiage Onsen on Mount Tokachi, a well-known outdoor hot spring. Free of charge and open 24 hours a day, this tucked-away bathing spot is for both males and females, but more reserved bathers can wear a swimsuit. tinyurl.com/TOTfukiage
HOW TO GET TO HOKKAIDO

Fly into New Chitose Airport (Sapporo) from Tokyo's Haneda or Narita airports, or Osaka International Airport. Although just a 90-minute flight from Haneda, it's one of the busiest air routes in the world. Or take the new Hokkaido Shinkansen, which is set to open in March 2016 and connects Tokyo with Shin-Hakodate-Hokuto Station in Hokkaido via the undersea Seikan Tunnel. The journey will take just over four hours.
NIIGATA'S BEST RESORTS
Gala Yuzawa

This is the only ski resort in Japan with it's own shinkansen train station, which means you can be on the slopes in under two hours from Tokyo Station. With 15 different runs, excellent facilities for kids and beginners, as well as ski, snowboard and wear rental, it's the perfect hassle-free place to visit when you've just got to get your snow kick – even for just a few hours. Japan's convenience culture even on the slopes. www.galaresort.jp
Naeba
You may know Naeba for being the host of Fuji Rock Festival, but this neck of the woods gets slightly more glammed up in the winter months. Stay at the glitzy Naeba Prince Hotel – the main hub of the resort – for a ski-in ski-out indulgence. With 1,242 guest rooms, 22 restaurants, karaoke booths, spa centres, beauty and nail salons, table tennis and billiards tables, it's more like a small city than a resort. But luxury like this doesn't come cheap, so be prepared to reach deep into those pockets. www.princehotels.com/en/naeba
Myoko Kogen

Because of its relative proximity to the sea, Myoko Kogen receives masses of snow each year. But it's the quality, not quantity, of the snow that really matters. Here you'll find lots and lots of glorious powder. Although not the light, dry snow that you'll find in Hokkaido, this white stuff is still reasonably dry and is thought of as the best powder in the region. Off-piste and backcountry skiing are both permitted at this laid-back resort so you can really enjoy the quality snow. myokokogen.net
Kagura
This three-in-one resort incorporates the areas of Kagura, Mitsumata and Tashiro. You can also get to Naeba via the Dragondola – a 5.5km gondola that claims to be the longest ropeway in the world. A quiet resort, this is a haven for beginners or not-so-confident intermediate skiers and snowboarders. With its sea of green runs (or maybe more turquoise because of their relative steepness compared to a standard beginner slope), this resort lets you comfortably cruise from one end to the other. A first timer? Don't worry, Canyons Snowsports School offers private lessons in English. canyons.jp/tours/winter/snow-sports-school
Ishiuchi Maruyama

At a maximum of altitude of 930m, this resort doesn't quite reach the elevation of nearby Gala Yuzawa, meaning snow conditions can suffer at times. But its abundance of long, wide runs, four terrain parks and two halfpipes makes up for this, and it's actually one of the best freestyle resorts in the country. It's connected to Gala Yuzawa and Yuzawa Kogen, so you can buy a one-day pass for all three resorts (¥5,100 adults, ¥4,200 children). www.visitishiuchi.com
HOW TO GET TO NIIGATA
Getting to these mountains is easy and only takes about 90 minutes from Tokyo. For most resorts (excluding Myoko Kogen), just jump on the Joetsu Shinkansen from Tokyo Station. Trains during the peak season go direct to Gala Yuzawa, or you can transfer at Echigo-Yuzawa Station to catch a local train or bus to your resort of choice. For Myoko Kogen, take the newly opened Hokuriku bullet train from central Tokyo.