30 things to do in Iwami
Explore the flavours, art and natural beauty of this historic region in southern Japan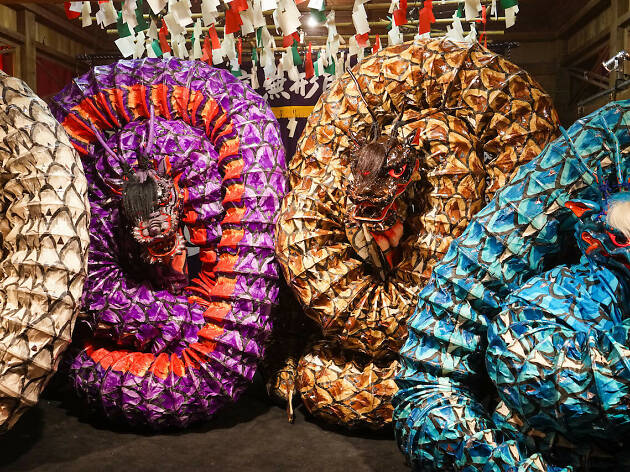 Located in southern Shimane prefecture just north of Hiroshima (about an hour and 45 minute flight from Tokyo's Haneda airport), Iwami is an idyllic town rich in history and traditional culture. Best known for the kagura serpent dance, visitors to the area must catch one of Japan's oldest form of performing arts with origins tracing back to ancient Shinto shrine festivals. Read on for our list of the best things to do in Iwami, from staying overnight in an ancient samurai mansion and touring the 400-year-old Iwami mine, a World Heritage landmark, to experiencing the delicious seafood from the Sea of Japan.
The Iwami top 30
1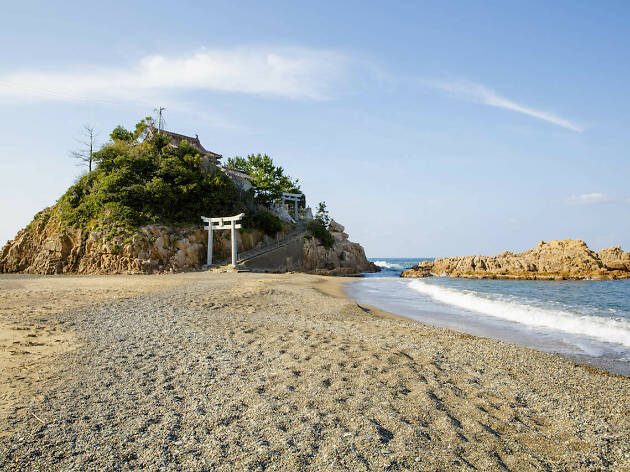 See the 'Mont-Saint-Michel' of Japan
Sitting on a small island connected to the coast only via a narrow sand causeway, Ebisu Shrine is a mystical spot known as the 'Mont-Saint-Michel' because of its resemblance to the famous French landmark. The stern reefs of the Sea of Japan can be admired from the top, but make sure to hurry back to shore before the tide turns.
2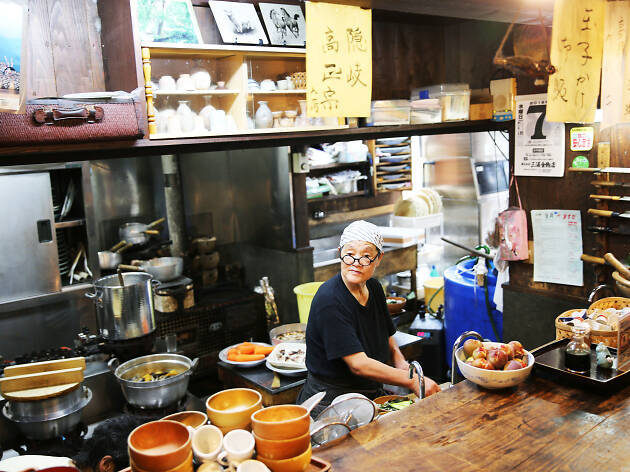 Fill up on marine delicacies
For a taste of Shimane sake and super-fresh fish from the Sea of Japan, head to Tagosaku, this no-frills izakaya where squid and various other marine creatures swim around in tanks, ready to be prepared as soon as an order comes in. Go for the kaisendon (sashimi bowl) at lunchtime, or stay up late chatting with the local regulars. Reservations essential.
3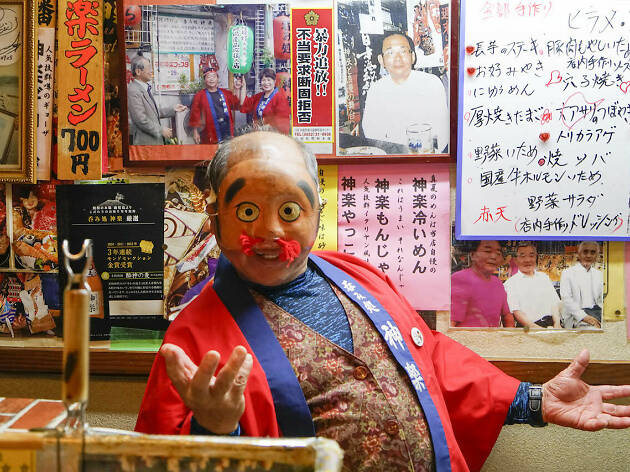 Operated by a friendly husband-and-wife duo with an affection for traditional Iwami Kagura dancing, Nomidokoro Kagura izakaya stands out with the huge snake model hanging from its ceiling. Don't miss out on the punchy jiramai, a very strong shochu-based drink best combined with a serving of akaten, a local chilli-flavoured fish paste cutlet.
4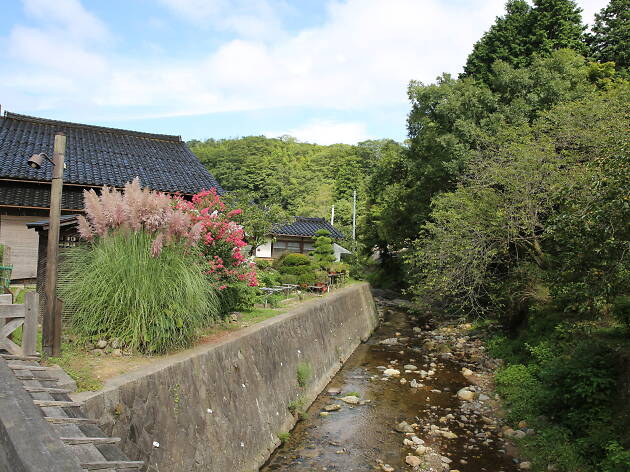 The first mine in Asia to be designated a UNESCO World Heritage site, Iwami Ginzan, including the town and port that supported this silver mine's functions, is best explored on a bicycle. Rent some wheels and tour the picturesque streets, where stylish shops and cafés have sprung up in old wooden houses, or opt for a leisurely stroll in a rented kimono.
5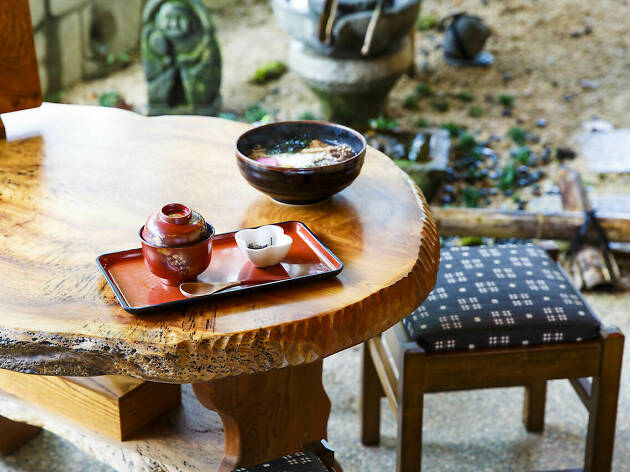 Grab a bite at the station
Housed in an elegant old structure reminiscent of a traditional tearoom, casual eatery Minoya near Masuda is where to savour some power-packed fukimeshi (butterbur rice) or a filling bowl of udon noodles. For dessert, try the zenzai, a sweet azuki bean soup made with a recipe passed down from the owner's grandmother.
6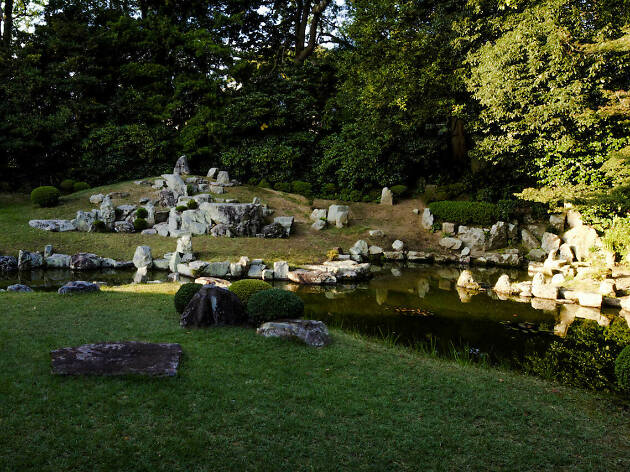 Sink deep into reflection
The awe-inspiring Zen garden at Manpukuji Temple is said to be the work of 15th-century master painter Sesshu, who spent his last years living in Masuda. Its raw lines and dignified beauty reflect the worldview of its celebrated creator, who received a Zen monk's education before becoming an artist.
7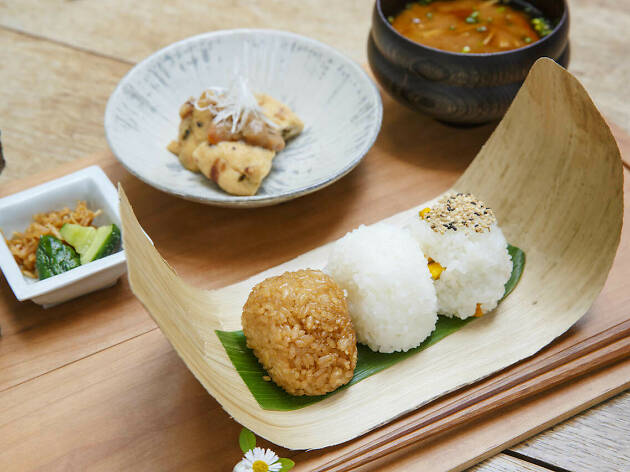 Gungendo is run by the Iwami Ginzan Seikatsu Bunka Kenkyusho, which also operates accommodation facilities in old houses and organises all sorts of other unique initiatives, this shop deals in clothing, accessories, bed linens and much more. Everything is made with Japanese materials and an appreciation for tradition. The building houses a gallery and café as well.
8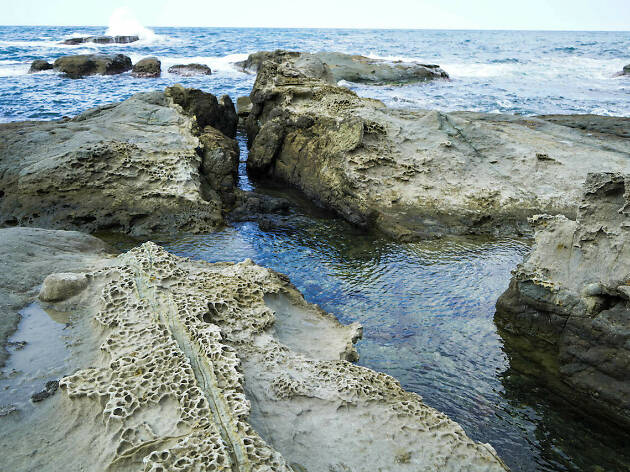 A mysterious piece of coast where lucky visitors can sometimes see the sky reflected in the crystal clear sea, the cliffs of Tatamigaura consist of geological layers up to 16 million years old, with clearly visible shellfish and whale fossils embedded in them. See how many you can spot on your way towards Meganebashi ('eyeglass bridge') at the far end of the shore.
9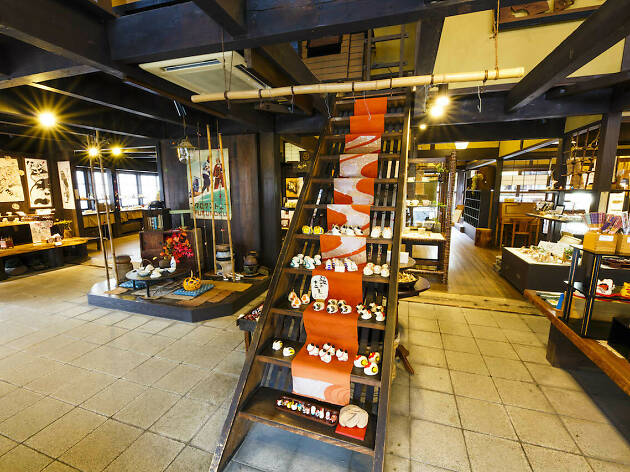 Housed in a vast 170-year-old building previously used by a soy sauce factory, Ebiya is the accessory arm of Chikufuken, a long-established Tsuwano confectioner. They carry a varied selection of seasonal knickknacks from all over Japan, including glassware in summer and pottery in winter, while the self-service café space in the corner is stocked with coffee and cookies.
10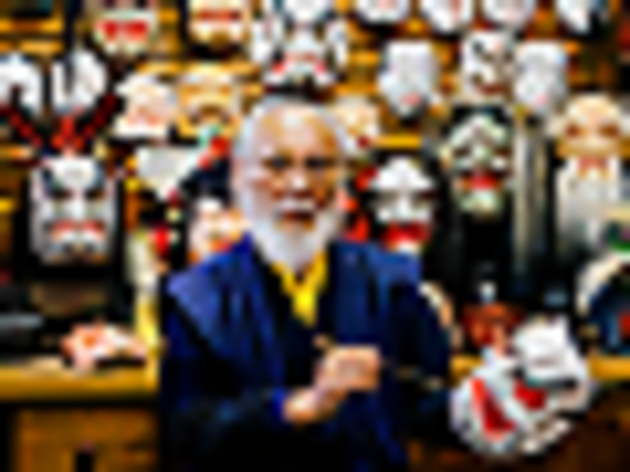 At Kakita Katsuro Mask Factory, countless, almost frighteningly expressive masks welcome you at the entrance to master craftsman Katsuro Kakita's workshop. A self-taught artisan who now works together with his son Kenji, Kakita carefully forms his creations out of Sekishu washi paper, which is light yet can withstand even the wildest of movements.
11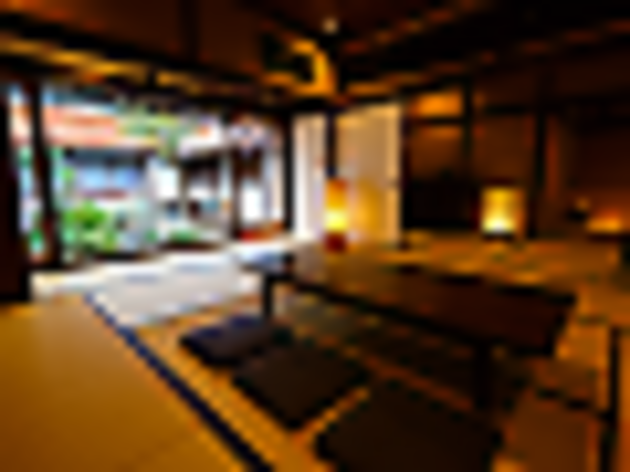 Sleep in a 130-year-old house
Forget staying in a hotel – in Tsuwano, you can rent a traditional Japanese house at Machiya Stay Ebisucho to serve as your base for exploring Shimane. Complete with an inner garden, it offers a luxurious stay for groups of up to five, with dinner and breakfast available upon request. The staff will explain everything you need to know upon check-in (English interpretation available). Book at least a week in advance.
12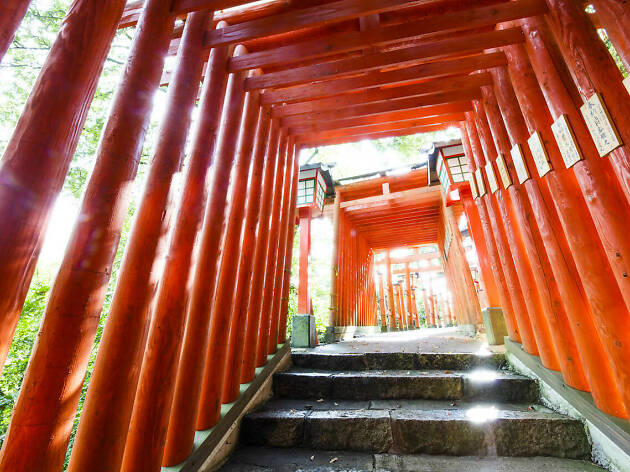 Buy snacks for the fox god
Look up at the mountains from Tsuwano and you're sure to spot the row of red shrine gates leading up to Taikodani Inari Shrine. These 1,000 or so torii guide worshippers to a shrine where you can buy deep-fried tofu to present to the resident fox gods. There's also a lift up to the ruins of Tsuwano Castle from here.
13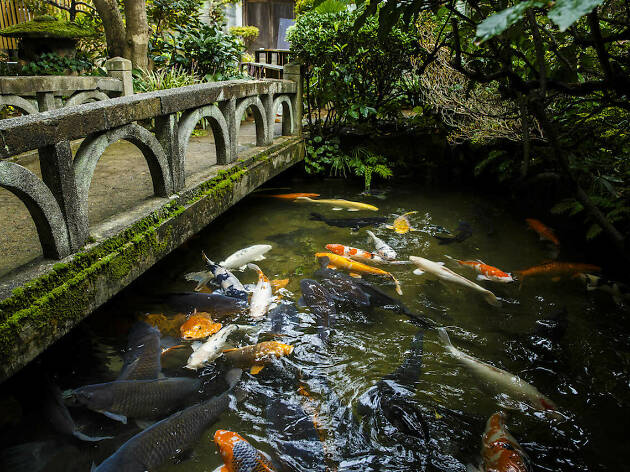 Pick up rice and recommendations
Yoshinaga Rice Shop is an old-school rice shop run by a young couple active in the local community and sells cute mini-packs of its products as souvenirs. They also deal in mochi (rice cakes) and sweets, and invite visitors to feed the colourful carp in the shop's garden pond. While you're at it, make sure to ask the owners about recommendations in Tsuwano.
14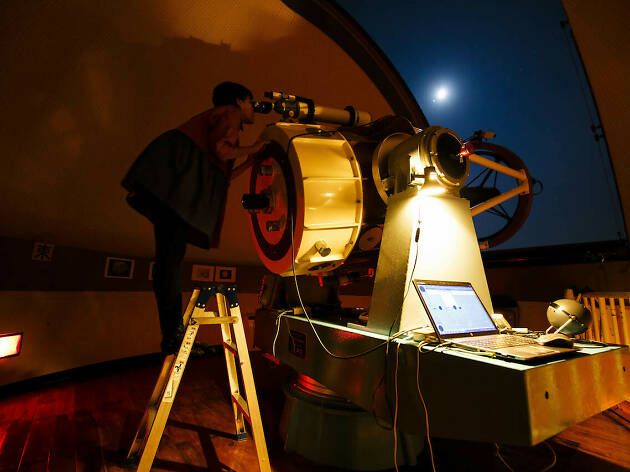 On clear nights at Nichihara Observatory, this mountaintop spot offers breathtaking views of the starry sky. Stargazing hours are 7pm-10pm, but make sure to check that they're open before heading over.
15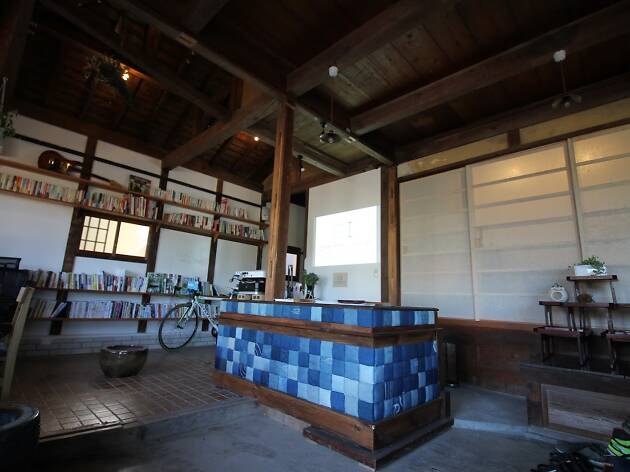 Cook your dinner the old-fashioned way
Budget travellers looking for a traditional option will want to consider this guesthouse, where two rooms of a 130-year-old abode have been turned into tatami-mat dormitories. Guests can cook and have barbecues together, but they'll have to figure out the very old-school kitchen first. Asari House also incorporates shared offices and a shop for made-to-order furniture.
16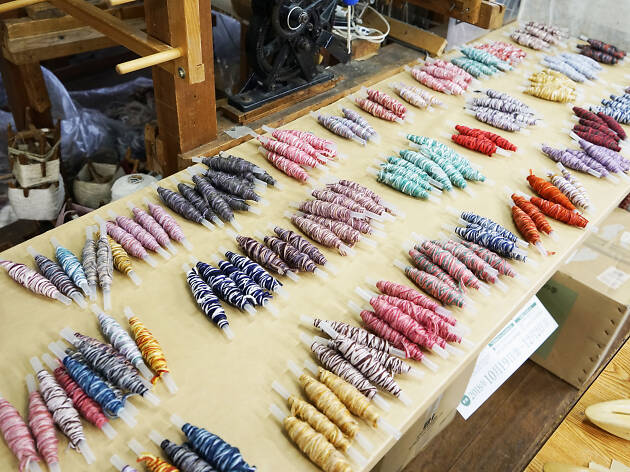 Everyone's all smiles at quirky weaving workshop Yasakamura Watabun Art Fabric, which initially closed in 2012 after 34 years of making kimono belts for one of Kyoto's venerable clothing brands. Recently resurrected, it now specialises in moisturising towels and lets visitors try their hand at weaving their very own colourful placemats.
17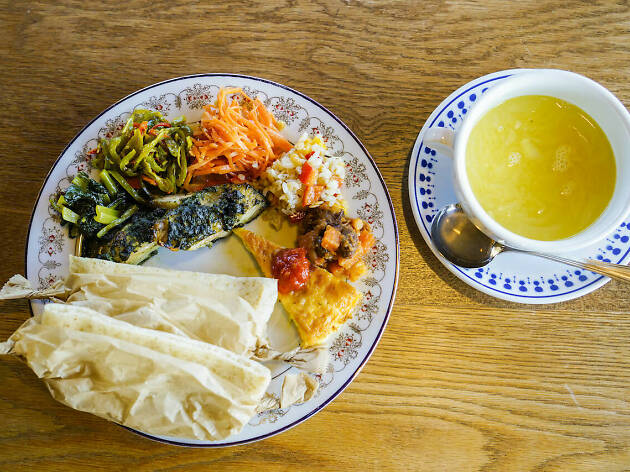 Get a taste for country life
A café located smack in the middle of a vegetable field, Trakai gets its unusual name from a city in Lithuania. The menu is very local, though: meals, drinks and desserts made with produce from the surrounding farm. Note that the café is closed on Sunday and Monday.
18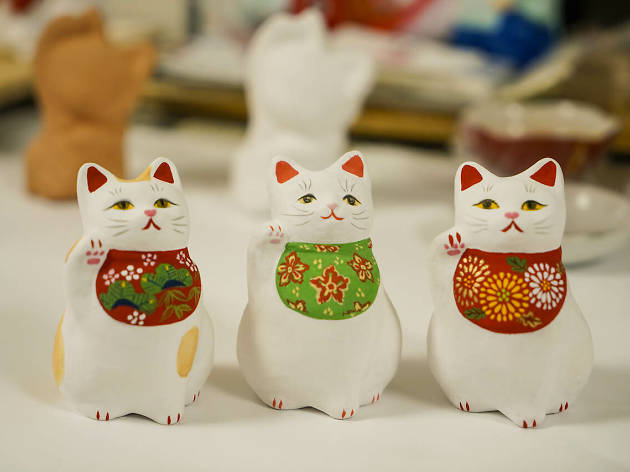 While classes are held only on occasion, clay artist Fukumi Watanabe's workshop at Shimane no maneki-neko Kobo does offer the chance to create your very own maneki-neko (lucky cat) doll following methods passed down from Edo times. Those not taking on the one- to two-hour class can buy Watanabe's traditional clay dolls from her online shop or at the Sekisho Art Museum.
19
How about spending the night in a 230-year-old samurai mansion? Takyo Abeke owner Tomi Matsuba spent a decade renovating this gorgeous structure, where guests can huddle up around a central table to enjoy delicious home cooking and fun conversation. There's room for up to three groups per night (dinner and breakfast are included).
20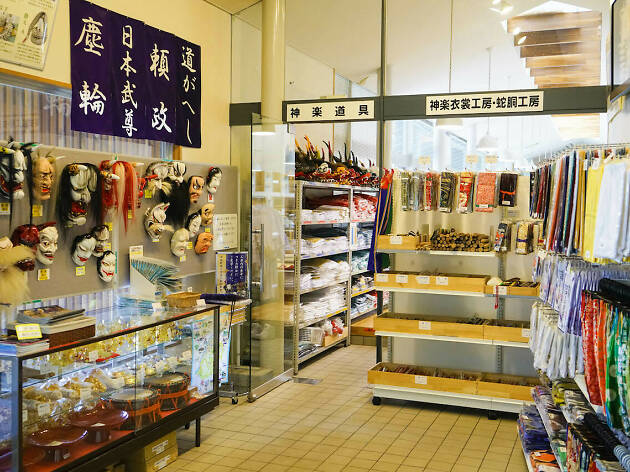 Check in on the mask-makers
One of the largest workshops specialising in Iwami Kagura outfits, Kagura Shop Kuwanoki crafts and sells made-to-order masks, costumes and more. It's open to the public, so you can watch the artisans at work and ask them questions – and buy a few souvenirs at the shop while you're at it.
21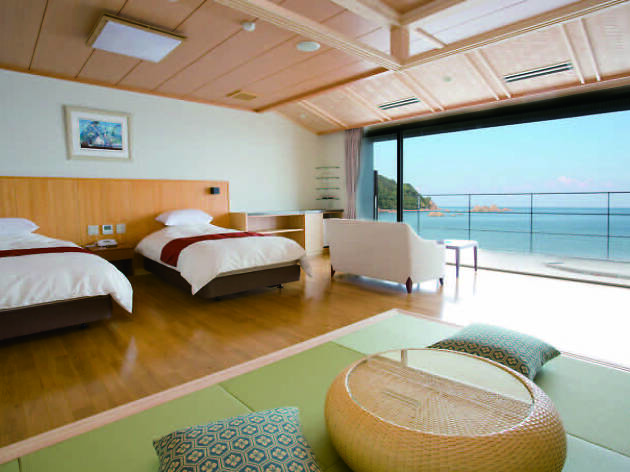 Renovated in 2009, Araisokan, a very modern seaside ryokan (Japanese-style inn) offers ocean views from all rooms, but you'll want to book one of the three suites with private open-air baths. Soaking right in front of the waves beyond is a special experience, and with good luck, you might even spot a few dolphins swimming by.
22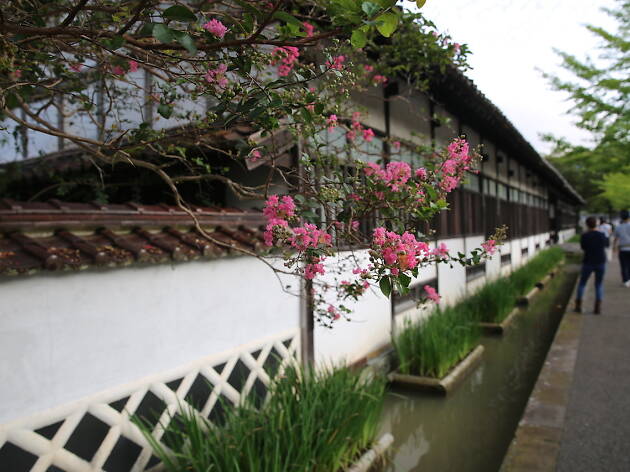 Sometimes called 'Little Kyoto', Tsuwano and its many old samurai homes feel untouched by time. The main Tonomachi Street is particularly impressive, with the gentle stream running alongside it almost covered by flowers, under which koi carp can be seen swimming about. The town's dearth of electric lighting means you'll be walking underneath a gorgeous starry sky at night.
23
A roadside rest stop overlooking the city of Hamada, Yuhi Park has a shop dealing in Shimane vegetables and souvenirs, but we recommend heading straight up to the second-floor restaurant, where the views are especially stunning at sunset.
24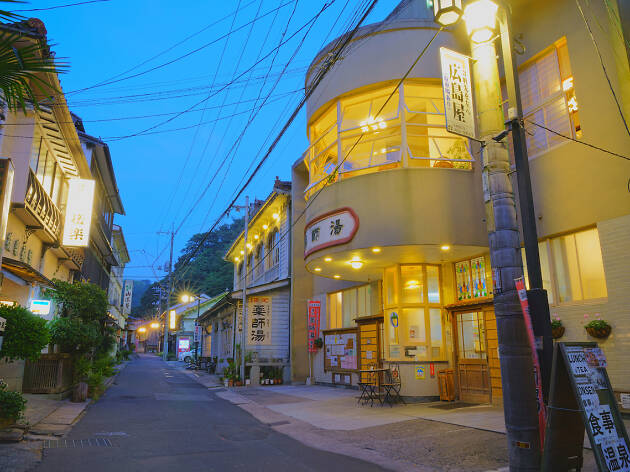 Bathe in 1,300 years of history
Once a prosperous port that handled shipments from the Iwami Ginzan silver mine, Yunotsu is now a quiet but attractive hot spring town with two bathing facilities open to daytime visitors. Senyakuto Moto-yu is the more historic one, drawing on a spring used for a good 1,300 years, while Yakushiyu sits right next to a hip café. Kagura performances take place at Tatsuno Gozen Shrine from 8pm every Saturday.
25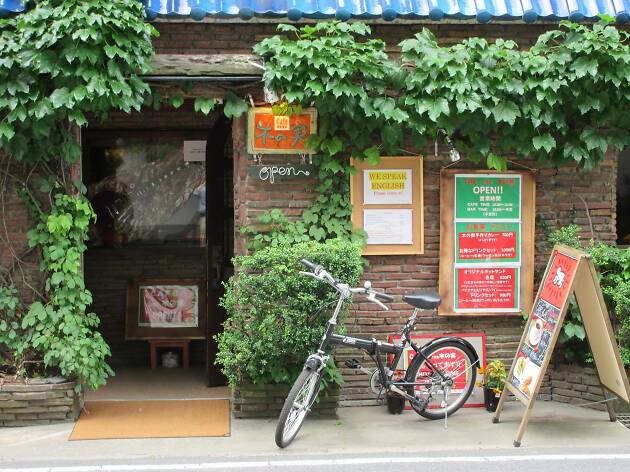 For quality booze, an international selection of beer, and music from the '70s and '80s, there's no beating Café Konomi 2 that stays open until midnight and also serves tasty hot sandwiches and curry.
26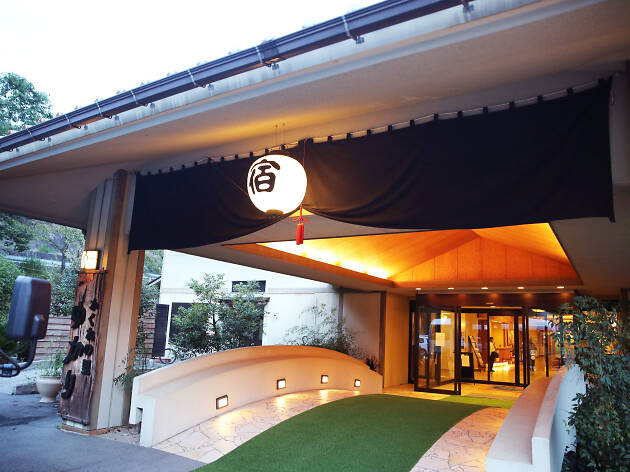 Soak in 'the bath of beauties'
The soft and silky water of Asahi Onsen, known as the 'bath of beauties', has garnered a cult following. Kakure no Sato Yukari is one inn that lets you experience the springs with its outdoor baths, low-temperature steam saunas, jet tubs, foaming tubs and more, including guest rooms boasting their own outdoor tubs.
27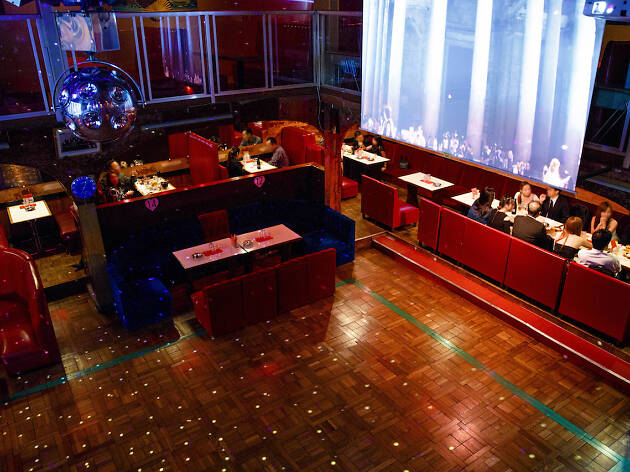 In business for 67 years now, Cabaret Akadama is one of Japan's few remaining old-school cabaret halls. While can-can shows no longer take place here, the atmosphere of bygone days is still evident. The ¥5,000 cover charge gets you two drinks (or a bottle of shochu or whisky), snacks, and the chance to sing karaoke with the hostesses.
28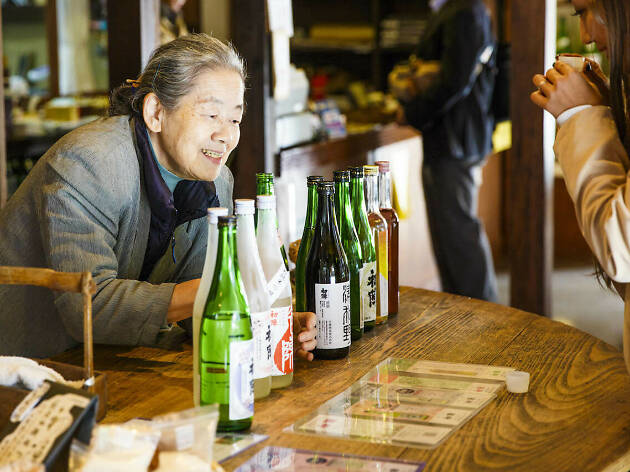 Known for its fiercely cold winters, delicious rice and clear water, the Tsuwano area is ideal for sake brewing. Head to the Furuhashi Sake Brewery for free samples of their signature Uijin brand, and look out for the gigs and parties that occasionally take place here.
29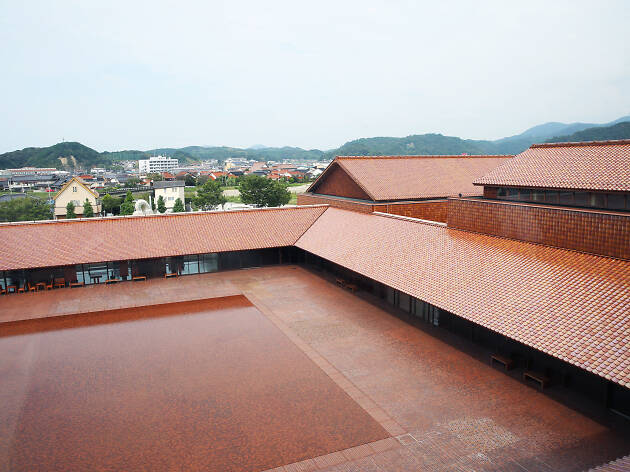 Admire the Sekishu roof tiles
Designed by architect Hiroshi Naito, Grand Toit is a cultural hub for art exhibitions, concerts and theatre performances. The walls and roof are comprised of 280,000 Sekishu roof tiles, colouring the Iwami landscape with their traditional red. In recent years, these tiles have been recognised for their robustness and resilience to snow and rain.
30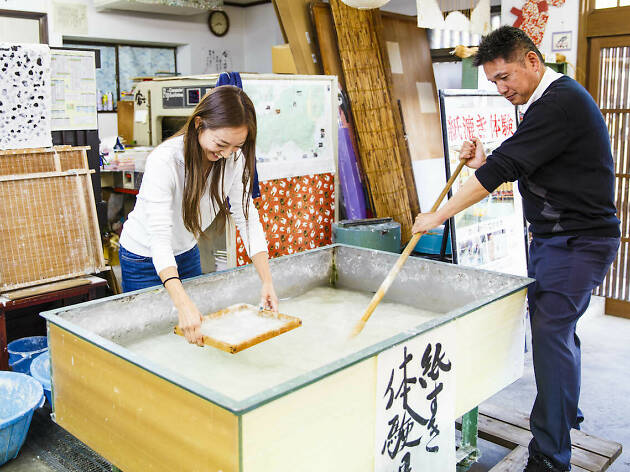 Sara no Ki is Tsuwano's most convenient foodie facility housing a café, restaurant, shop and dessert factory, while the annex building offers 90-minute workshops (¥550) teaching you how to make your very own washi (traditional Japanese paper) postcard. In addition to Tsuwano's famous Genjimaki cakes, the shop carries washi from all over Japan.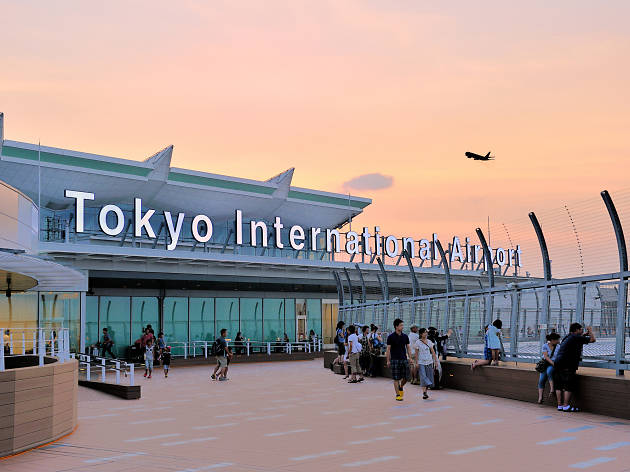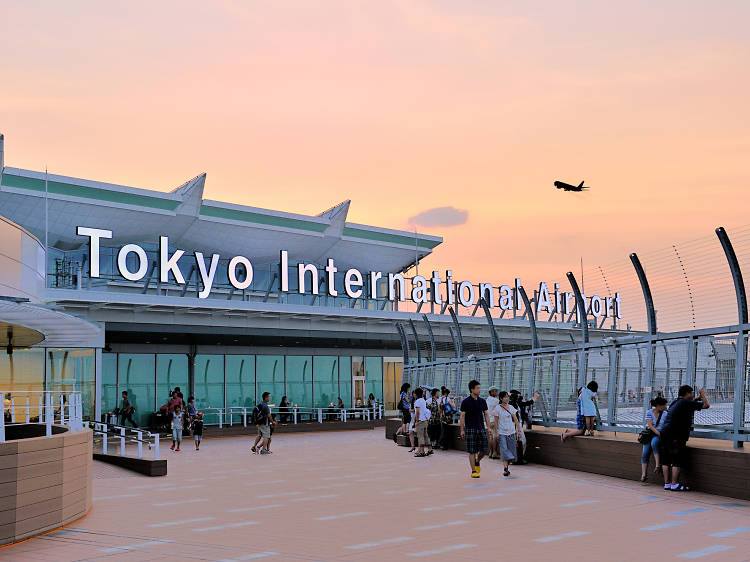 Photo: Highcore/Pixta
You can get to Iwami conveniently by flying in via one of the nearby airports. Connections include direct flights between Tokyo's Haneda Airport and Hagi-Iwami Airport, as well as between Haneda and Izumo Airport. If you're travelling from Hiroshima, we recommend the fash and cheap buses. Take the Hiroshima-Oda bus for the eastern region, the Hiroshima-Hamada bus for central Iwami, or the Hiroshima-Matsuda bus for the western part.