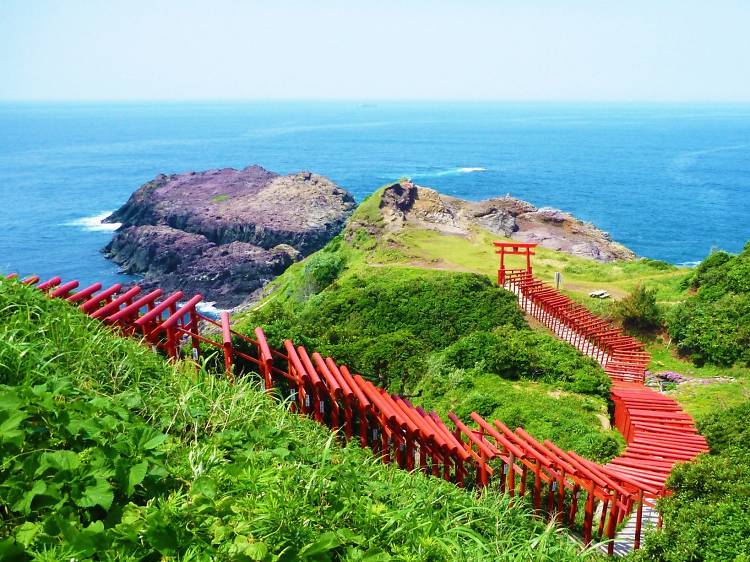 Image courtesy of Nagato City Tourism Board
What they call it: Motonosumi Inari Torii
What we call it: Mushu, the red dragon
Where to find it: Motonosumi Inari Shrine, Yamaguchi Prefecture
How to get there: Fly from Haneda Airport to Yamaguchi Ube Airport (more flight info here). The flight is about 1.5 hours, and it will take about another two hours to get the nearest station: the quickest way is to take a bus to Ube-Shinkawa Station and transfer three times to get to Nagato-Furuichi Station. From this station, it's ten minutes by taxi to the torii gate. You can also take the shinkansen from Tokyo to Yamaguchi or Shimonoseki (4.5 hours) and change to the San'in Main line from there.
Kyoto's Fushimi Inari Taisha might be famous for its 5,000 torii gates, but not even that can match up to this impressive stretch of 123 torii gates that overlook the Sea of Japan. Legend has it that the shrine was constructed after a local fisherman dreamt of a white fox instructing him to hold a religious ceremony in the area. Apparently this is one of the best shrines to pray for good luck, although it's also one of the most challenging in terms of trying to toss your money into the donation box.

Image courtesy of Nagato City Tourism Board