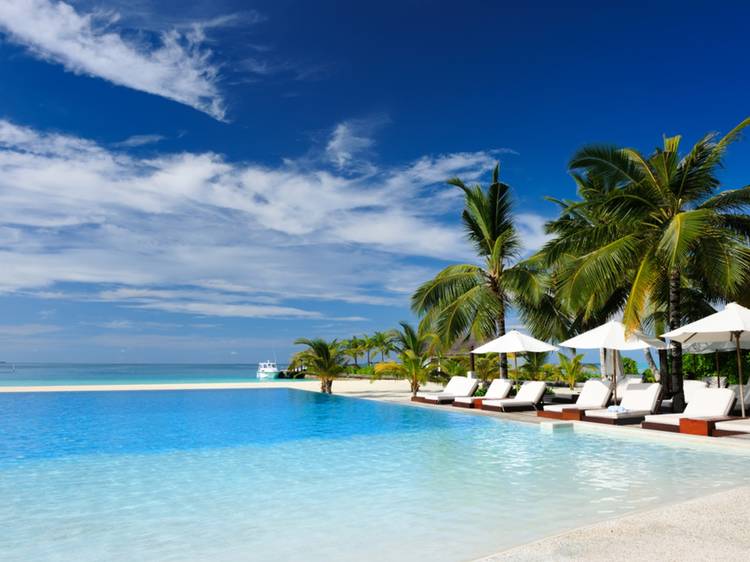 Photograph: Shutterstock
What are the risks in the public areas of my hotel?
Unsurprisingly, the greatest risk in hotels stems from direct contact with other humans. By their very nature, hotels are places where people gather: people who are completely unknown to each other and probably from countries all over the world. That makes communal areas, like restaurants, elevators and swimming pools, the most likely place for the virus to transmit.
As Schaffner puts it, 'any time you're in a situation where you are around other people, then you are at risk'. And because Covid-19 is known to spread among asymptomatic people, travellers should in fact assume anyone they encounter – staff or fellow guest – is potentially infectious.
As long as you remain physically distanced from others in the lobby for formalities such as check-in, then the risks here should be quite low, says Schaffner. Three much riskier areas, he adds, are bars, restaurants and elevators – where social distancing may not be so strictly enforced (or impossible).
Menus and tablecloths are likely to have been disinfected. But when the food and drinks come, you'll have to remove your mask, increasing the risk of catching the virus from those around you. That means it may be best to order in room service or some sort of delivery from elsewhere.
Having second thoughts about that dip? When it comes to hotel swimming pools, the water should generally not be cause for concern, as chlorine levels are usually high enough to deactivate the virus. Physical-distancing measures will almost certainly be in place, but swimmers should also be wary of any potentially contaminated surfaces.