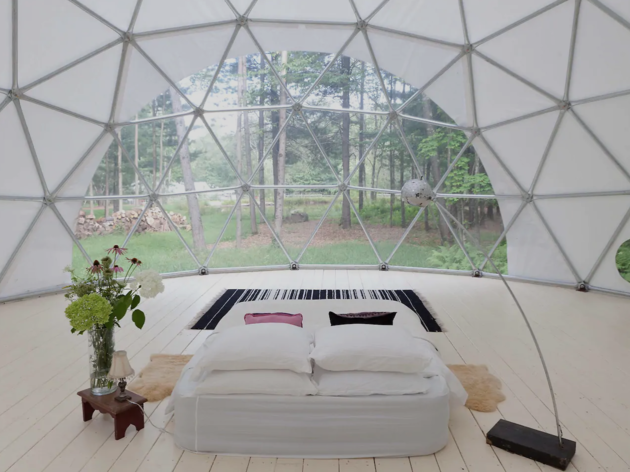 The most unique Airbnbs in the U.S. you have to see to believe
The most unique Airbnbs in the U.S. offer a wide range of accommodations, from Hobbit holes to literal dog houses
Unique Airbnbs in the U.S.
Photograph: Airbnb
1. Cottonwood, ID: The dog house
Needless to say, must love dogs. Owners Frances and Dennis are the artists behind this behemoth; they built the two-story, two-bed, one-bath house themselves and also operate a gift shop full of hand-carved wooden dogs. The beagle home has an expansive second-story wooden deck affording views of the expansive Idaho prairie, and its interiors are stocked with plenty of canine art and books about dogs. From $132 per night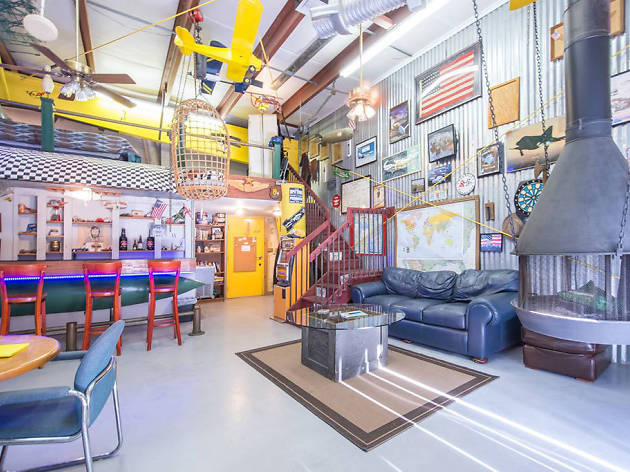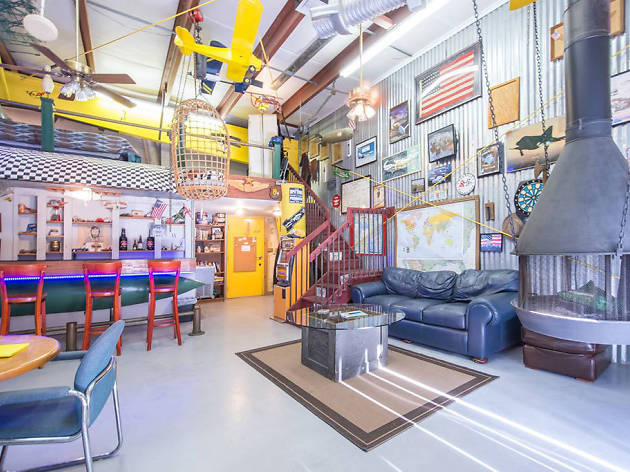 Photograph: Airbnb
2. Geneva, FL: The man cave
This is a man cave hosted in an active airplane hangar (no, we're not joking). The hangar also hosts a garage that repairs classic cars and features an extensive bar stocked with brews. The interior lays on the masculine patina thick: there's a lived-in leather sofa, framed images of airplanes and automobiles, a dartboard and hanging traffic lights, motorbikes and airplane parts. The lofted bed sleeps two and there's a satellite TV, a fireplace and A/C. From $71 per night
Discover the best things to do in Florida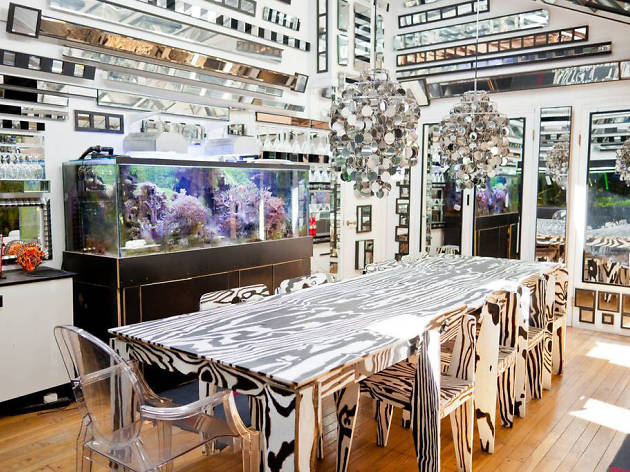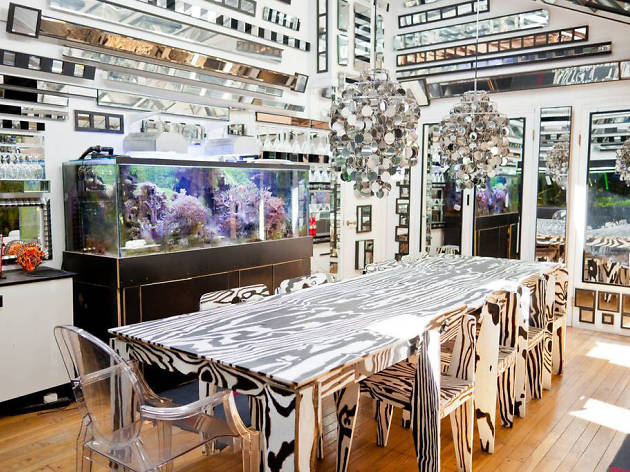 Photograph: Airbnb
3. Pittsburgh, PA: The mirror house
This artist's house and studio located in a Pittsburgh suburb has to be seen to be believed: actually, it will be seen over and over and over again, as both its interior and exterior are almost completely covered with mirrors of all shapes and sizes. The decor is just as eclectic, from the main room's long, zebra-striped communal table and its cut-mirror chandeliers to the oversized coral-accented fish tanks. From $175 per night
Discover the best things to do in Pennsylvania
Photograph: Airbnb
4. Orondo, WA: The stunning view
Built right into the mountainside of the Columbia River Gorge, this Hobbit hole has an iconic round doorway with views that capture rolling orchards and hills as well as stunning sunsets. Inside are thoughtful touches like a polished-wood chess set and a woodworking bench with whittling tools to keep you occupied during your stay. There's no kitchen on the property, but the charming RiverWalk Inn Cafe is just a short drive away.
Photograph: Airbnb
5. St. Paul, MN: The haunted manor
Rumored by Minnesota locals to be haunted, this stately 1884 manor looks imposing from the outside but inside is packed with thoughtful details such as period furniture, weathered leather trunks and intriguing all-black bathroom fixtures. The master bedroom offered in the listing is spacious, with tall ceilings and plenty of windows that flood the space with light. You'll also have shared access to the kitchen, a sweet hot tub and a very friendly doberman named Scorch. From $78 per night
Discover the best things to do in Minnesota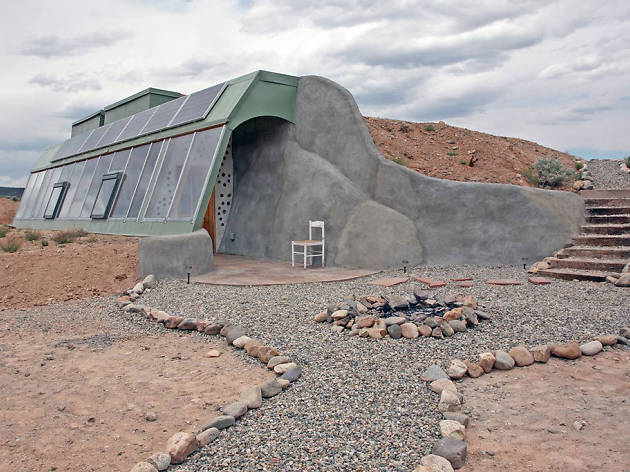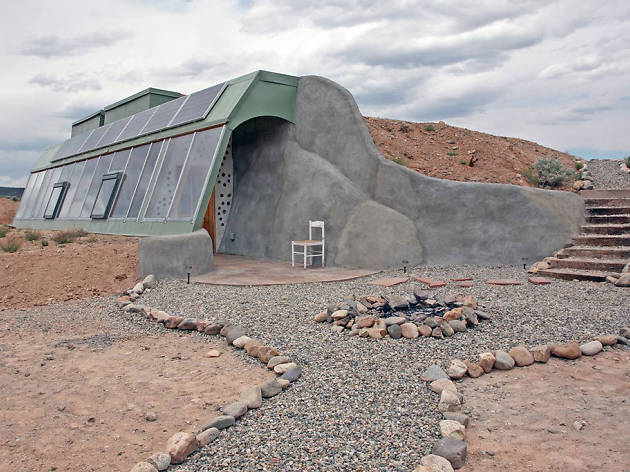 Photograph: Airbnb
6. Taos, NM: The earthship
On the outside, this futuristic, off-the-grid home looks like something out of a sci-fi movie: a gray curve of sculpted concrete and a wall of windows. Inside, though, it's a handsome studio with a full kitchen and bathroom. Built by hand by owner Dan, the "earthship" catches its own rainwater with sloping windows, generates its own electricity with solar panels and stays at 72 degrees year-round without any A/C. Inside an attached greenhouse, plants help regulate the house's temperature and perfume it with the smell of fresh mint. From $125 per night
Discover the best things to do in New Mexico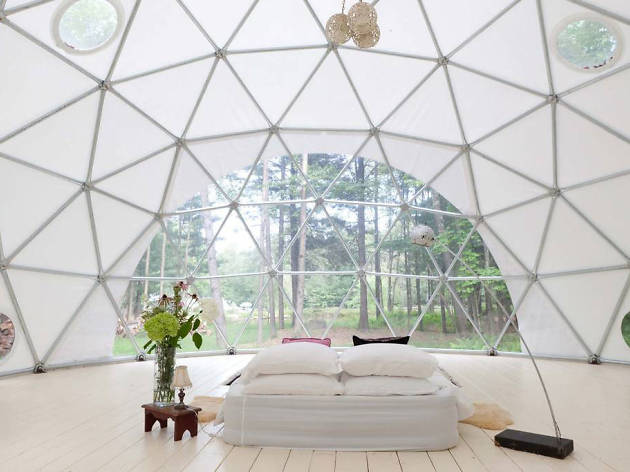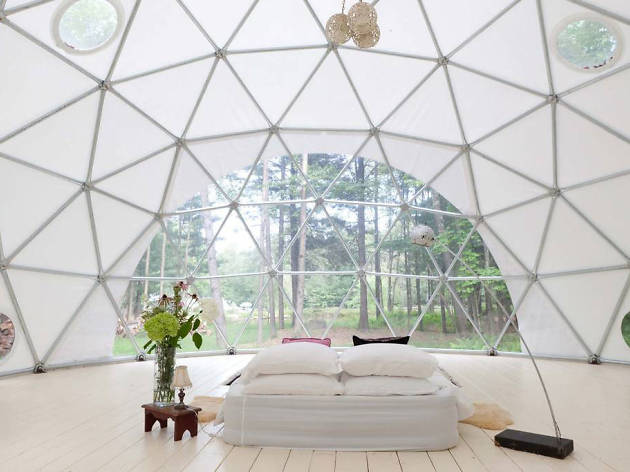 Photograph: Airbnb
7. Woodridge, NY: The glamping dome
This see-through yurt that's set on a 12-acre property comes with access to a pond and hiking trails, not to mention the chance to peep alpacas, sheep and goats. You do have to bring your own bed, but at least there are showers, a fridge and an outdoor kitchen. The property is also home to a recording studio, a fiber arts workshop and a vintage clothing store. From $379 per night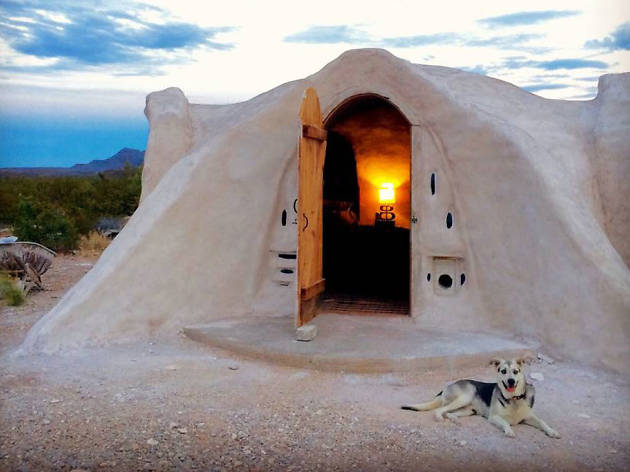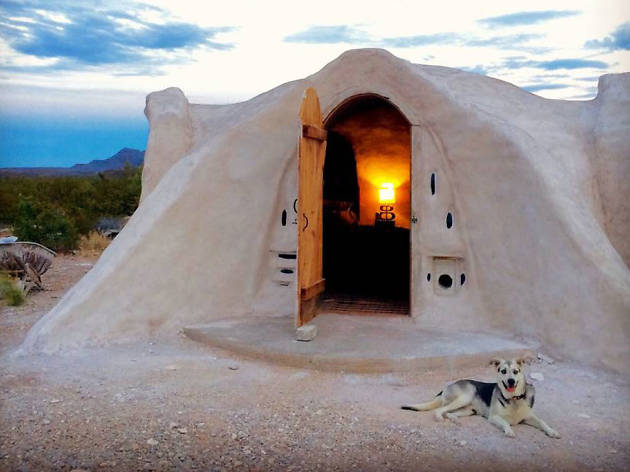 Photograph: Airbnb
8. Terlingua, TX : The desert getaway
This beautiful adobe dome located in the West Texas desert is visually arresting: shaped in a sort of Star Wars-style, the totally off-the-grid tiny house sleeps three and is decorated with bejeweled window books and rustic wood furniture. The real stunners, however, are outside the dome: the incredibly star-saturated nighttime desert sky and the incredible, see-it-to-believe-it colors of a desert sunrise. Plus, the entrance to Big Bend National Park is just a 25-minute drive away. From $99 per night
Discover the best things to do in Texas
Photograph: Courtesy Airbnb
9. Geyserville, CA: The tiny home
Any Tolkien fan will instantly recognize what this grass-roofed, adobe-walled abode is going for: it's a hobbit hut! Like Bilbo Baggins' storied home, this round, tiny space feels tucked-away and features natural adobe air conditioning as well as exotic neighbors: ocelots, emus, peacocks and alpacas wander the property. The hut's amenities (hot tub, sauna, pool, outdoor shower and bathroom) are located outside, as is an adobe oven for pizza-making. From $96 per night
Discover the best things to do in California
Photograph: Airbnb
10. Portland, OR: The mud hut
This earthen-walled hut was built as a respite from the city life in Portland and overlooks the nearby St. Johns bridge and the Willamette River. It's equipped with a wood-burning stove, a cozy outdoor living room and an outdoor kitchen, with access to permaculture gardens overflowing with berries. The owners are also homebrewers, so there's usually something fizzy to sip on. From $72 per night
Discover the best things to do in Oregon
Need more travel inspiration?
We haven't outgrown the dream of living in a treehouse nestled among the branches.
These glass house Airbnbs might be near civilization, but they feel a world away.