The quirkiest Airbnb rentals in America will make you go "huh?"
From a California "Hobbit Hut" to an oversized beagle in Idaho, these are the quirkiest Airbnbs you can rent in America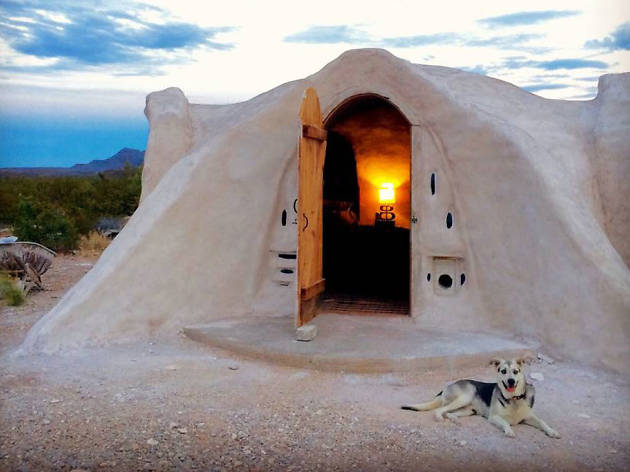 When it comes to overnight stays, we're all about Airbnbs these days: they're everywhere, they're affordable and they're often much comfier—and cooler—than hotels. Whether your travels take you to the best attractions in the USA, the most bizarre landmarks in the USA or the best national parks in the U.S., there's bound to be an interesting listing nearby. That's especially true of these 18 rentals, the strangest we could find in America. Whether your idea of a good time is sleeping in a tricked-out schoolbus or an actual crypt, you're in luck: these are the 18 quirkiest Airbnb rentals in America.
Quirkiest Airbnb Rentals in America
"Hobbit Hut" in Geyserville, CA
Any Tolkien fan will instantly recognize what this grass-roofed, adobe-walled abode is going for: it's a hobbit hut! Like Bilbo Baggins' storied home, this round, diminutive space feels tucked-away and features natural adobe air conditioning as well as exotic neighbors: ocelots, emus, peacocks and alpacas wander the property. Basically just a little round bedroom with stained glass windows, the hut's amenities (hot tub, sauna, pool, outdoor shower and bathroom) are located outside, as is an adobe oven for pizza-making.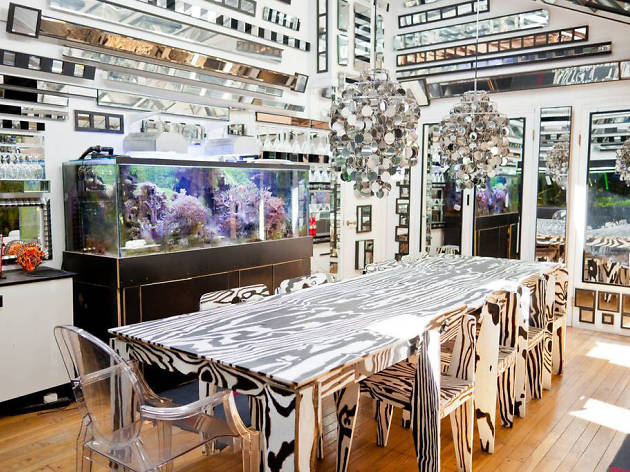 Photograph: Airbnb
Mirrored house in Pittsburgh
This artist's house and studio located in a Pittsburgh suburb has to be seen to be believed: actually, it will be seen over and over and over again, as both its interior and exterior are almost completely covered with mirrors of all shapes and sizes. You'll share the house with hosts Martin and Jesha, working artists whose passion is apparent in their home's jaw-dropping decoration: from the main room's long, zebra-striped communal table to its cut-mirror chandeliers to oversized coral-accented fish tanks, it's a sight to behold. Cooks will appreciate the couple's impeccably organized kitchen complete with professional gas range, and music lovers will want to check out the massive collection of painstakingly organized LPs.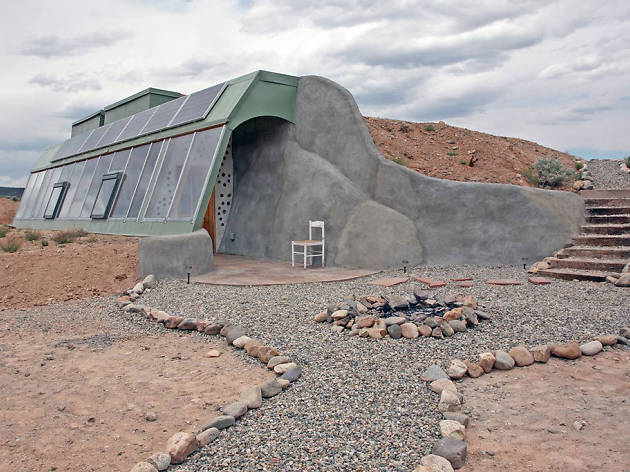 Photograph: Airbnb
"Studio Earthship" in Taos, NM
On the outside, this futuristic, off-the-grid home looks like something out of a sci-fi movie: a gray curve of sculpted concrete and a wall of windows. Inside, though, it's a handsome studio with a full kitchen and bathroom, a high-efficiency washing machine and high-speed internet. Built by hand by owner Dan, the modern home is "off the grid" because it catches its own rainwater with sloping windows, generates its own electricity with solar panels and stays at 72 degrees year-round without any A/C. Inside an attached greenhouse, plants help regulate the house's temperature and perfume it with the smell of fresh mint, and at night the wide-open sky glows with more stars than you ever thought existed.
Photograph: Airbnb
Vintage trailer in Los Angeles
Ever wanted to sleep in a vintage '50s trailer? How about a vintage '50s trailer parked inside an artsy, 6,000-square-foot loft? This listing checks both boxes, a 16-foot trailer outfitted in retro, deep-yellow hardwood and featuring a comfy king-sized bed, a sitting area, a mini kitchen with gas stove and icebox, and plenty of overhead storage space. When you want to stretch your legs, check out the huge loft around you: a working artists' space in a converted 1918 factory, it houses workstations, building areas, an indoor swing and a garden out back. There are also two full bathrooms and a shared kitchen.
Photograph: Airbnb
Converted schoolbus in Salinas, CA
This this adorable tricked-out "Magic Schoolbus" features a Tempurpedic queen bed, remote-controlled LED lighting, recycled redwood walls, a heater and access to the hosts' home to use the bathroom and kitchen. The bus is parked on a five-acre ranch on Monterey Bay, where hosts Angel and Satsimran offer a 6:30am kundalini yoga class as well as farm-fresh eggs when available. Is that California enough for you?
Photograph: Airbnb
Giant beagle in Cottonwood, ID
Idaho is probably the only state in the country with enough wide-open space to host this behemoth, a large house built in the shape of, yep, a beagle. Owners Frances and Dennis are the artists behind this operation; they built the two-story, two-bed, one-bath house themselves and also operate a gift shop full of hand-carved wooden dogs. The beagle home has an expansive second-story wooden deck affording views of the expansive Idaho prairie, and its interiors are stocked with plenty of canine art and books about dogs. A yummy breakfast is served daily, featuring Frances' home-baked muffins.
Photograph: Airbnb
Smallest house in the world in Boston
We wouldn't advise staying in this tiny "house" on wheels if you're at all claustrophobic: to us, it sorta looks like a bright green coffin with a couple of windows. But if you're game, crawl inside for a snooze on the single bed; miraculously, there's also a small operational sink. Thanks to its wheels, the little home can be toted anywhere within the Boston metro area; the house also fits inside a regular-sized van if you want to take it further afield.
Photograph: Airbnb
Airplane house in Phoenix
We're not ones to play favorites, but come on: this house is literally built around a 1964 Cherokee airplane. How cool is that? The tiny house—it pretty much only holds a queen size bed—is built of corrugated metal and nestled under the wing of the brazenly skull-graffitied plane. Inside the space, painted murals of desert mountains echo the Arizona landscape; just outside, find a hand-built outdoor shower. The use of a bike is included in the rental, so you can explore the nearby Downtown Arts District; hosts Cindi and Derrick will also share their Arizona Science Center membership for free entry to the museum.
Photograph: Airbnb
"Crypt Hotel" in Lewiston, ME
This incredibly strange Airbnb package includes access to the crypt room of the former St. Patrick's Church, completed in 1887, which from 1907 to 2009 housed the remains of the church's first priest, Father Wallace. In 2009, the church was closed and Wallace's body was transferred to a nearby cemetery, allowing for this very weird hotel experience. In 2014, the church's former rectory was converted into a boutique hotel, the Inn at the Agora; with this Airbnb rental, you can visit the crypt room between 9am and 2am daily, then sleep in one of the hotel's plush rooms at night. While in the crypt, take a nap in a casket-bed for two and watch a horror movie on the 32-inch flatscreen TV; then head back to the Inn for an...interesting night's sleep.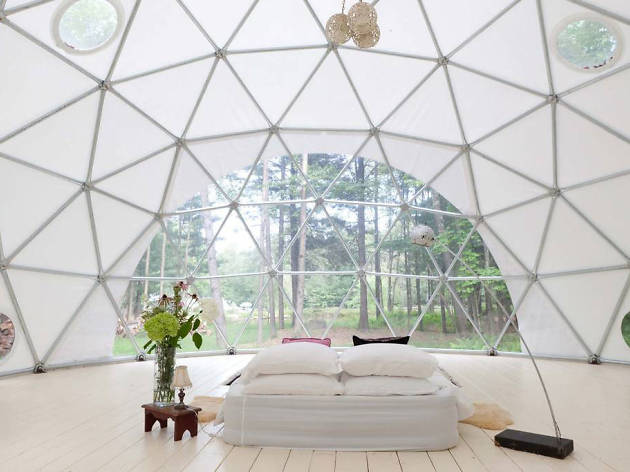 Photograph: Airbnb
Geodesic dome in Woodridge, NY
We're a little skeptical of the $350-per-night price tag on what amounts to "glamping" (glamorous camping) in the Catskills, but we can't deny how cool this listing seems: A large, pristine geodesic dome that can accommodate up to 16 guests, it's located on a farm that's home to sheep, goats, rabbits and chickens. Guests have access to a huge outdoor kitchen, a fire pit, outdoor double showers and an outhouse. The 12-acre property is home to a recording studio, a fiber arts workshop and a vintage clothing store, and a donation-based yoga class is held on Sundays at 12:30pm.
Show more