Heads up! We're working hard to be accurate – but these are unusual times, so please always check before heading out.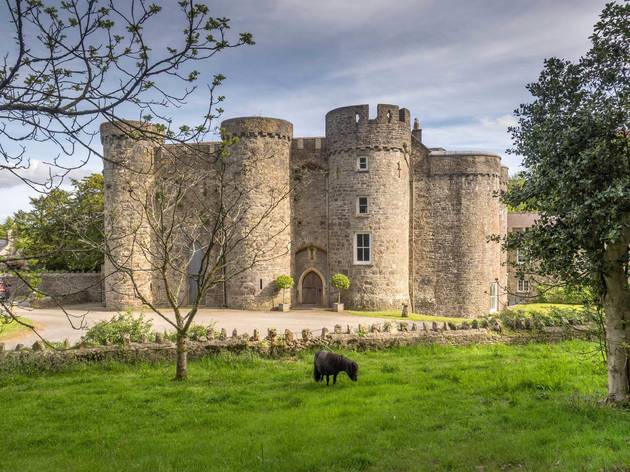 20 amazing UK castles you can actually stay in
Have a royally good mini-break in the UK at these turreted hotels and holiday rentals
Modern life, eh? It's so full of stress. Whether its our phones bleeping with work emails through the night, the chaos of city life or, say, a complete global meltdown to contend with, sometimes escaping can be very tempting – and these hotels and holiday rentals are the perfect place to do that, transporting you back in time and giving you a taste of royal life. Want to feel like a king or queen for a weekend? These are the places to do it.
RECOMMENDED: The best weekend breaks from London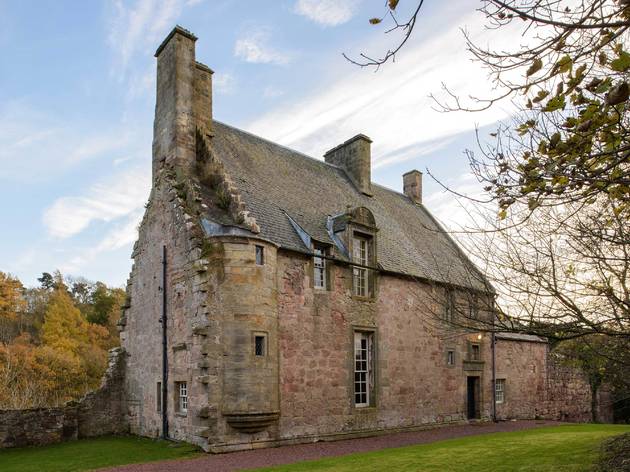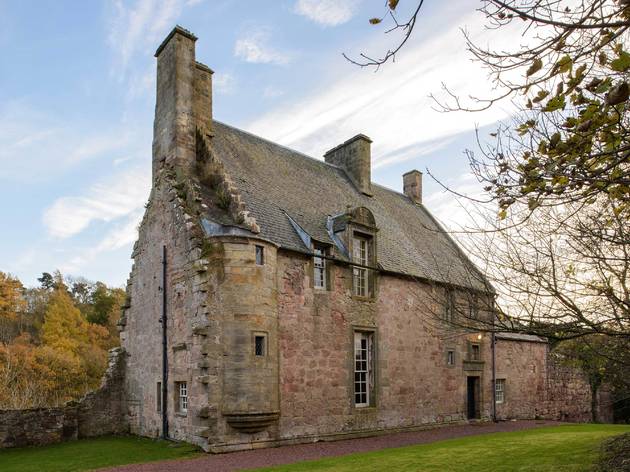 Photograph: Landmark Trust
1. Rosslyn Castle, Midlothian
Rosslyn has mega-thick walls and a dungeon and is surrounded by ancient woodland and the ruins of an even older fortification. Inside, you'll find an open fire and grand panelled rooms. You'll feel like you've fallen through time, despite being just a few miles outside modern-day Edinburgh.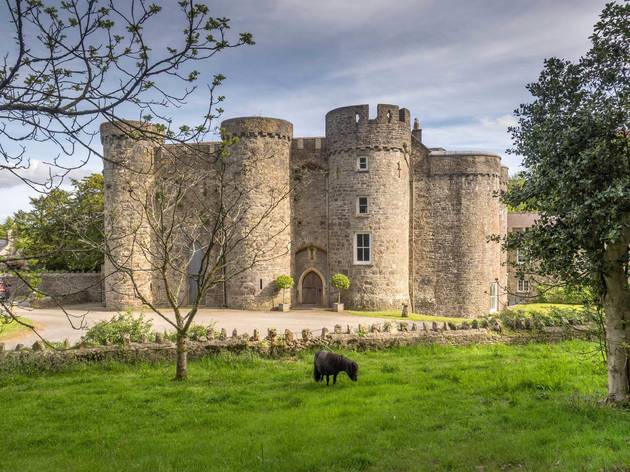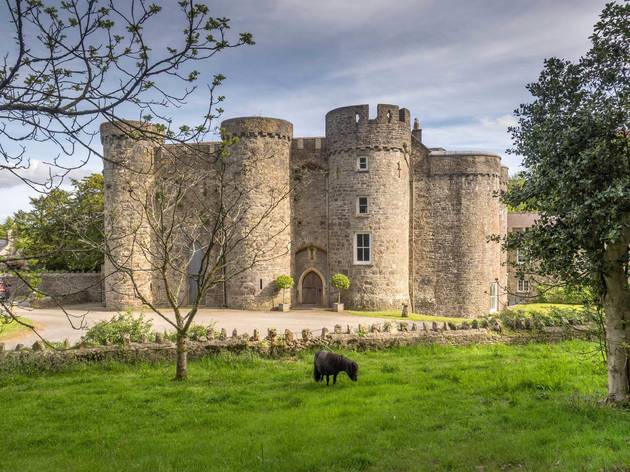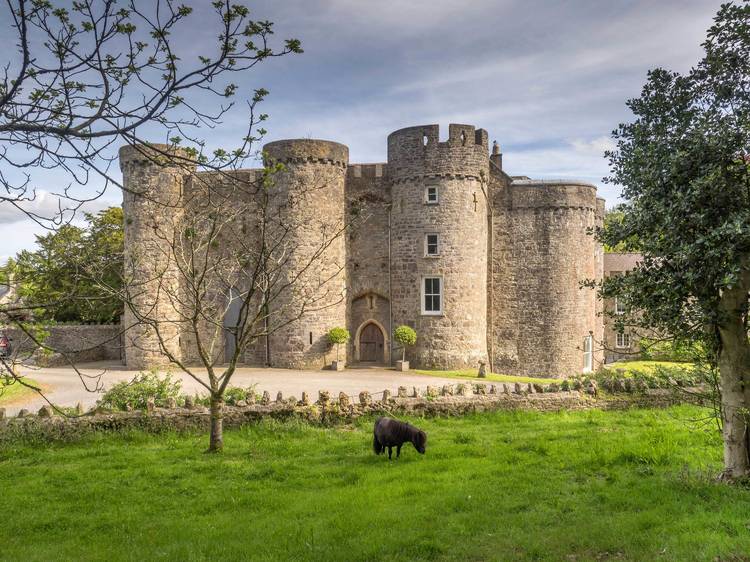 Photograph: Airbnb
2. Upton Castle, Pembrokeshire
Now a private family home, this grand castle dates back to the thirteenth century. It's not open to the public but you can stay in a room in the west wing for a few nights. Breakfast is served in the dining room downstairs. Bonus points if you spot a peacock (not in the dining room).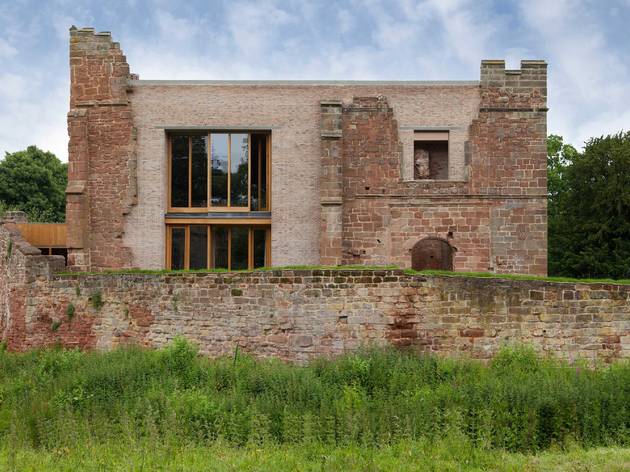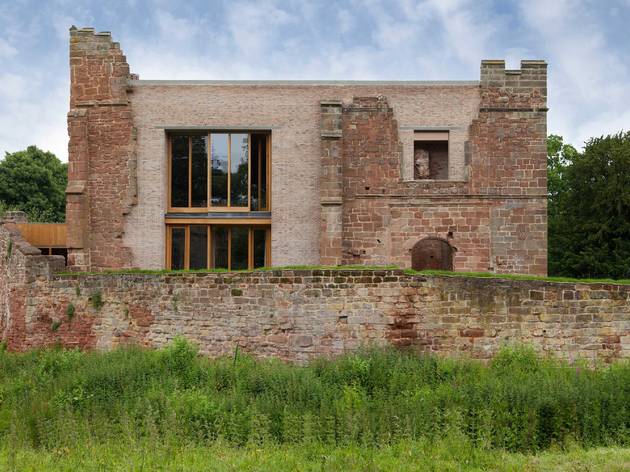 Photograph: Landmark Trust
3. Astley Castle, Warwickshire
This sixteenth-century manor house was left a ruin in the 1970s after a fire, then brought back to life with some Riba-award-winning architecture that adds modern design to the original walls. The result, which you can book out all to yourself, is pretty incredible.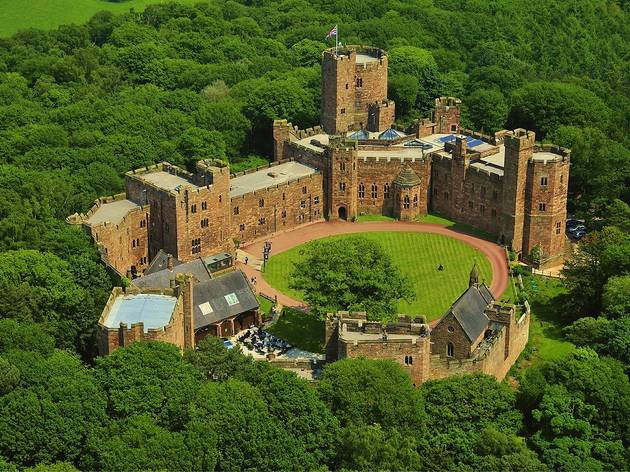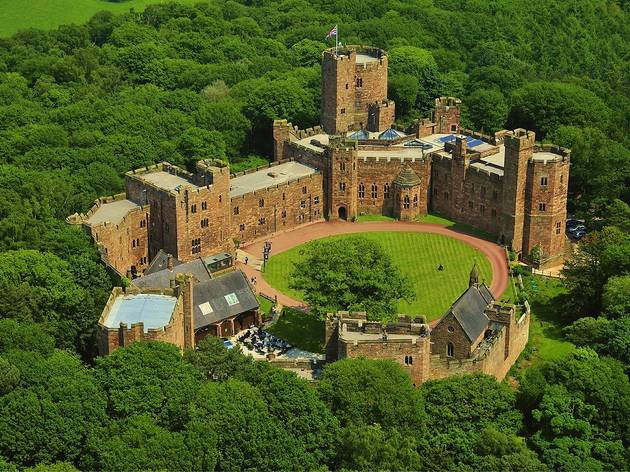 4. Peckforton Castle, Cheshire
This vast, grand castle is a popular celebrity wedding venue. Unsurprisingly, it's extremely luxe and has a spa. Grade I-listed and built in 1876 by a lord, it's two miles from the ruins of the Medieval Beeston Castle, where legend has it that Richard II hid his treasure. Plus, Cheshire Ice Cream farm is nearby, which serves up probably the creamiest iced goods you'll ever eat. (A consolation prize for any guests whose treasure hunts are unfruitful.)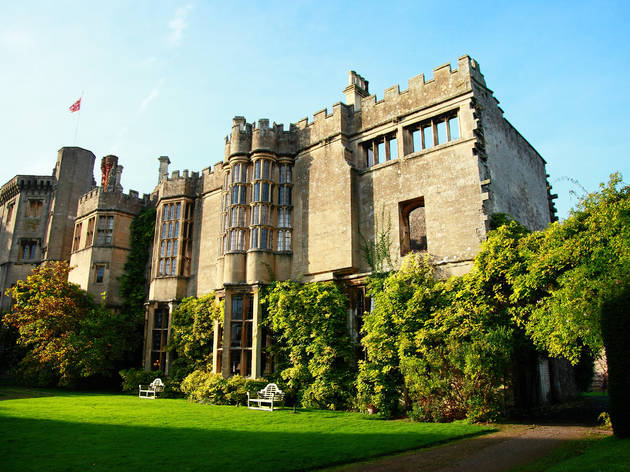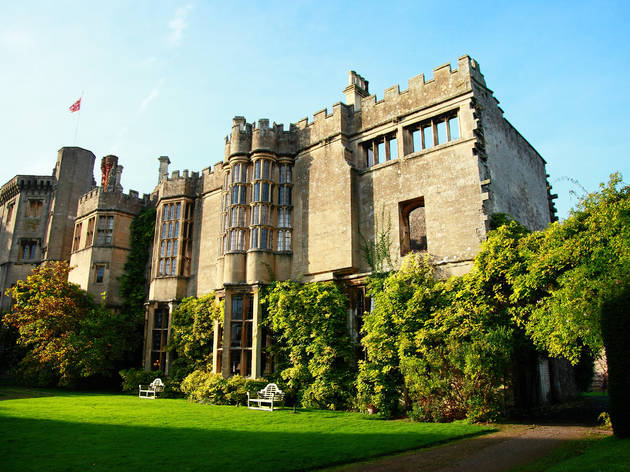 5. Thornbury Castle, Gloucestershire
Want a taste of sixteenth-century life? Head to Thornbury Castle on the edge of the Cotswolds. It's not only a high-end hotel, it was once owned by Henry VIII and Anne Boleyn (who was his new bride at the time). The hotel offers workshops in archery and the basics of falconry. There's croquet on the lawn, a vineyard and a spa. And once you've escaped the castle's vast grounds, you can explore the petite villages of the Cotswolds or head to Bristol for its art and nightlife scenes.
6. Augill Castle, Yorkshire
Expect to find turrets, secret doorways and gothic windows in this northern castle. It's the perfect place to pretend to be Jon Snow for the night. Built in 1841 by a Victorian gentleman, it has 15 acres of grounds. Walkers will like the fact it sits on the edge of the Yorkshire Dales and is just an hour away from the Lake District. The grandest rooms have four-poster beds, roll-top baths and fireplaces. You can stay in just one of the rooms or rent out the whole castle for you and up to 29 friends.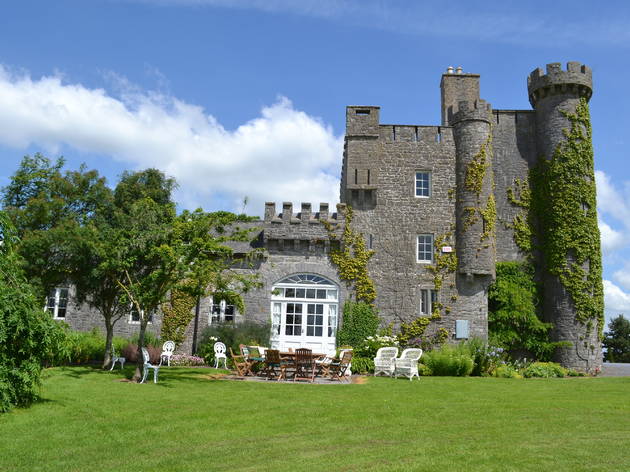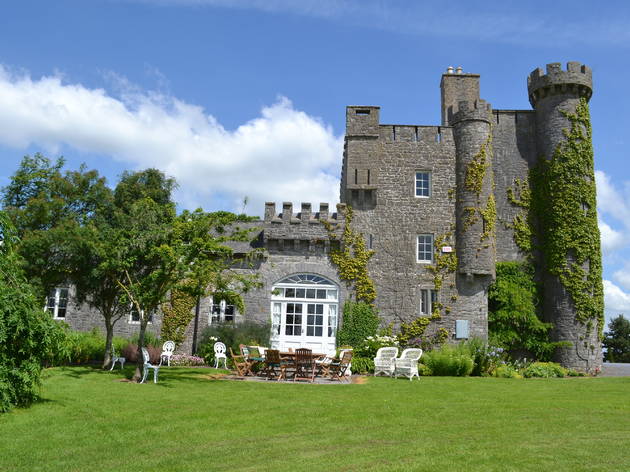 7. Lisheen Castle, County Tipperary
This eighteenth-century building has a chaotic history. Once a three-storey Irish Palladian country house, it was burned down by the IRA in 1921 during the Irish War of Independence. Eighty years later it was restored to its former glory. It now sleeps 14 and has a dining room, library and reception rooms for you to lounge around luxuriously in. Rent the whole thing for around £909 a night.
8. Langley Castle, Northumberland
History buffs, this one's for you. Head on a trip to Langley Castle in South Tyne and you'll be able to go on a tour of this fourteenth-century fortified building every day. The post-breakfast wanders will take you around the castle, battlements, chapel and garderobes (medieval toilets). You can get the authentic experience by staying in one of the stone-walled rooms or you can wake up looking out over the castle from a modern extension next door. They offer a foodie mini-break, where you'll get a prosecco and charcuterie sharing platter on arrival, plus Hadrian's Wall is just up the road, ready to be explored.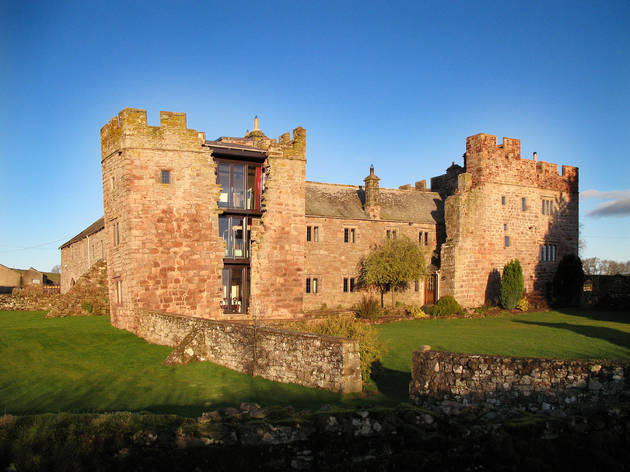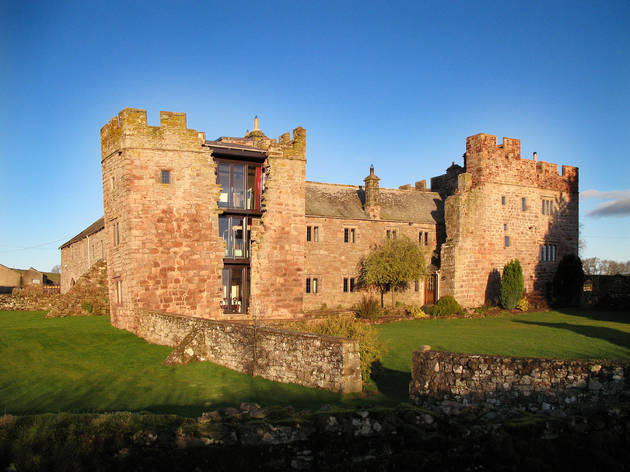 9. Blencowe Hall, Cumbria
Blencowe Hall is so old that one of its walls has crumbled with age. It's been turned into a dramatic modern feature though, the ancient ruins framing a modern glass building within. Grade I-listed, the building's surrounded by greenery – which you'll probably get a dramatic view of from your bedroom window. There's a spa, a billiards table and you're right next to the Lake District, so you can spend your days sailing on Ullswater and going clay pigeon shooting.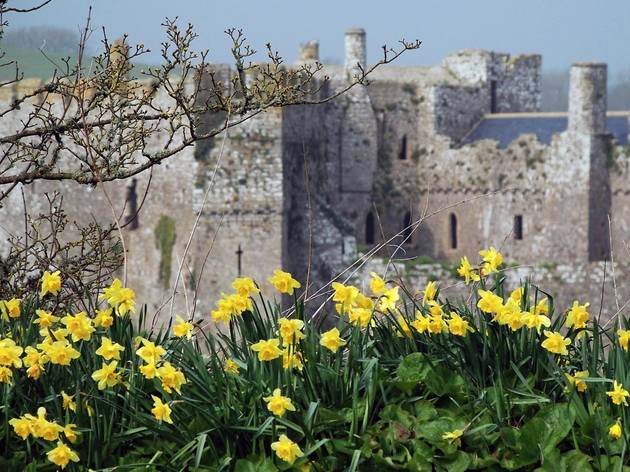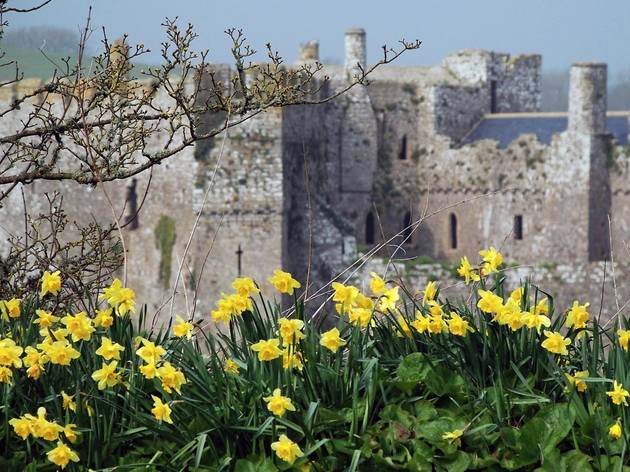 Picasa
10. Manorbier Castle, Pembrokeshire
Situated right on the coast in tiny Welsh town Manorbier, this castle is perfect for anyone who wants to escape the city and explore the great outdoors. Not only are there excellent surf and rock climbing opportunities nearby, the National Trust Coastal Path runs right past, leading visitors past rugged cliffs and estuaries. You'll find a local pub in Manorbier and the Victorian fishing village Tenby is 10 minutes drive up the road. Expect a very fresh fish supper.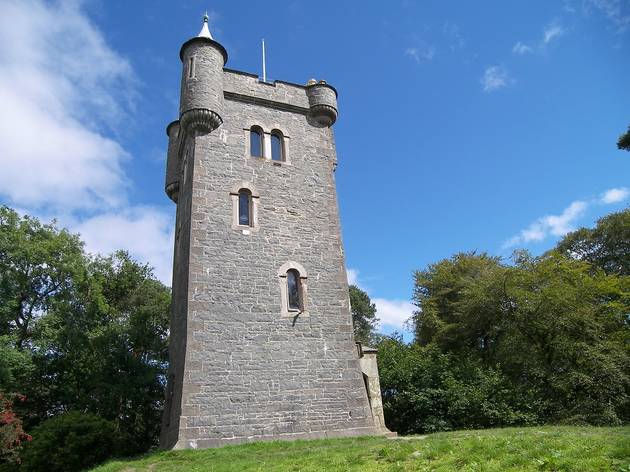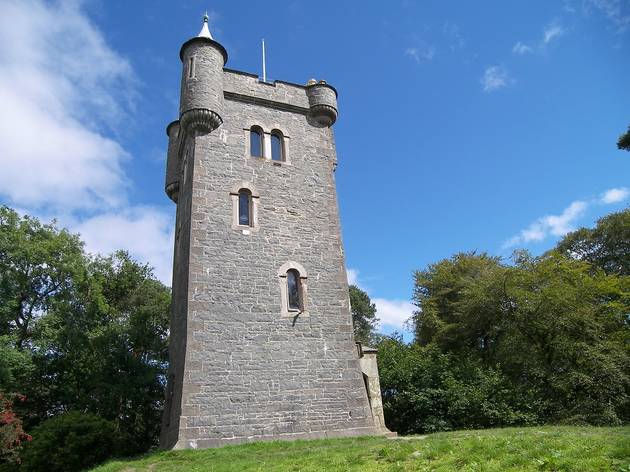 11. Helen's Tower, County Down
While Helen's Tower might not be a whole castle, it's so famous it has its own Wikipedia page. Built in 1861 by architect William Burn, it was commissioned by Lord Dufferin of Clandeboye as a tribute to his mother. The highlight of the building is an octagonal room engraved with poems that the likes of Alfred Tennyson and George Browning wrote about the building.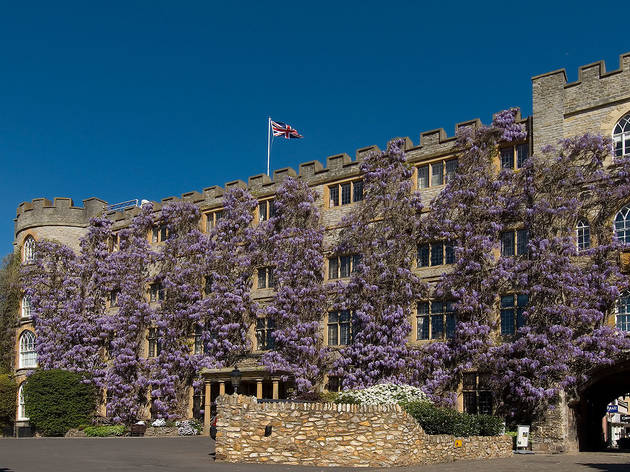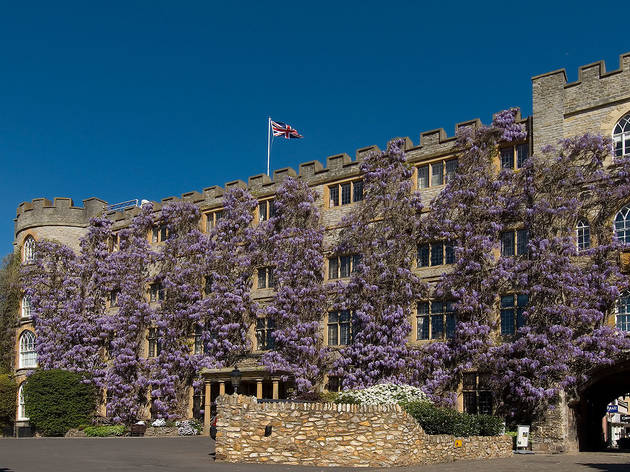 Anita Corbin and John O'Grady
12. The Castle Hotel, Somerset
Once a Norman fortress, Taunton's The Castle Hotel is a wisteria-lover's heaven. The twelfth-century, Grade I-listed building is decked out in the stuff. The hotel's home to two acclaimed restaurants – fine-dining joint Castle Bow and the more low-key eclectic venue Brazz. The hotel holds champagne dinners and garden parties throughout the year, and has the Cotswolds on its doorstep. It's ideal for anyone who wants to feel a little bit Kate Middleton.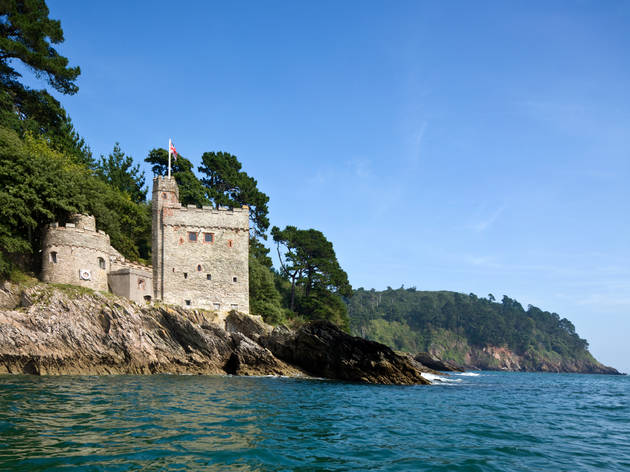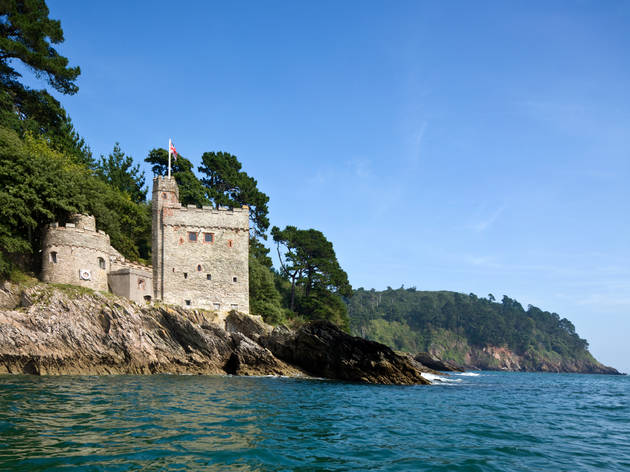 Paul Grundy.Com
13. Kingswear Castle, Devon
Built in 1502, Kingswear Castle's tower stands at the water's edge, with spectacular views of the rocky coast, the water and Dartmouth itself. The castle's ground floor was restored to look as it did originally, and guests are allowed to raise and lower the flag from the roof. Sleeping four people, Kingswear Castle costs from £636 for four nights.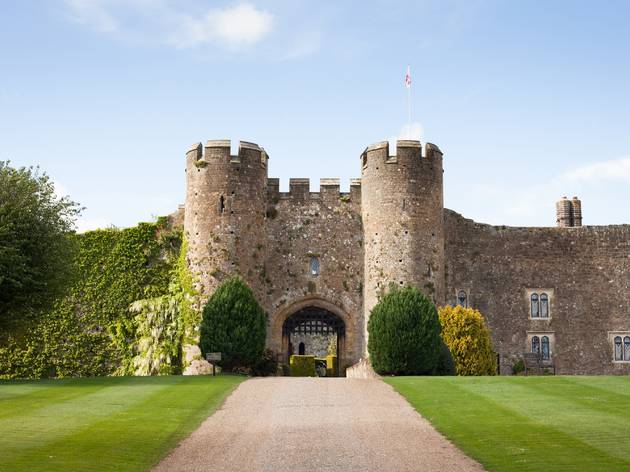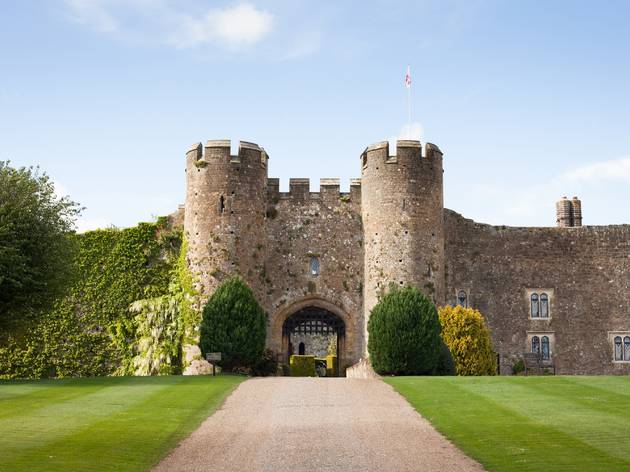 14. Amberley Castle, Sussex
West Sussex's Amberley Castle was built as a manor house in the 12th century before being fortified in 1377. Enclosed by a dramatic 60ft wall, Amberley Castle is flanked by a twin-tower gatehouse and a garderode tower. It is a truly beautiful place to stay, with rooms that tastefully merge period features with modern luxuries. The restaurant has a reputation as one of the best in Sussex.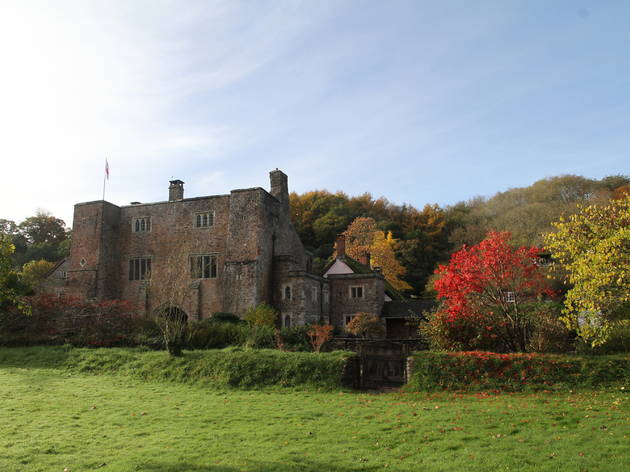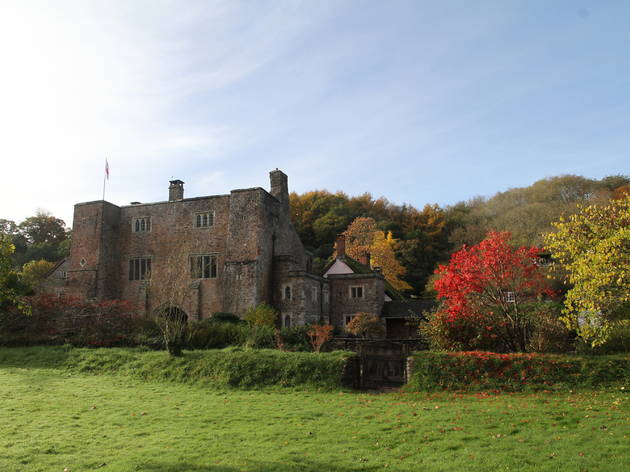 15. Bickleigh Castle, Devon
Sleeping 16 + guests, Bickleigh Castle occupies a seriously scenic spot in Devon. It overlooks the river that, supposedly, inspired Simon and Garfunkel's 1969 classic 'Bridge over Troubled Water', and includes a 6th century Saxon chapel, a mottle and bailey, an enclosed courtyard and formal Hall. Unsurprisingly, it is a popular wedding venue.
Cosy and with all the modern luxuries, this Medieval mini castle is a mere 45 minutes from Edinburgh, in the pretty royal burgh of Peebles. The interior is warm and welcoming, with an open fireplace, top floor bedroom and two further beds. Considering its age and steep steps, this is another castle better suited to couples or families with older children.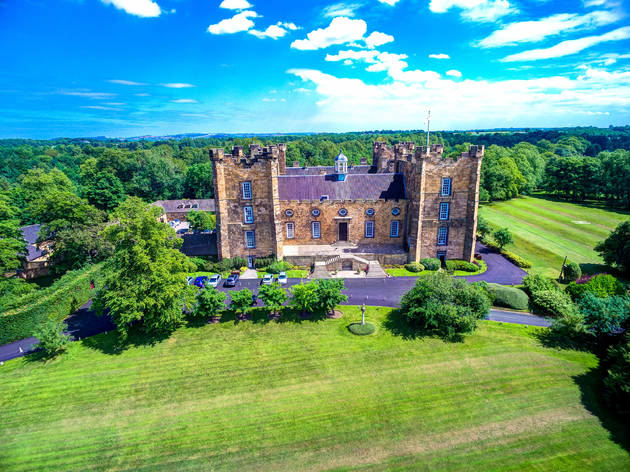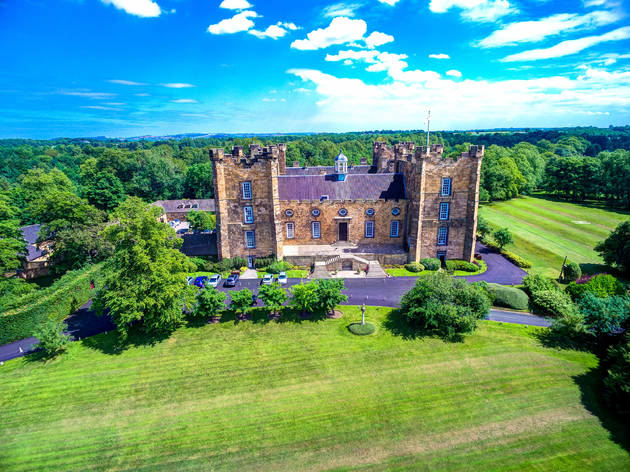 17. Lumley Castle, County Durham
Converted from a manor house into a castle in 1389, Lumley Castle has accommodated a great many guests over the years, including Durham University students when it functioned as a hall of residence in the 19th century. Rumour has it the castle is one of the most haunted places in County Durham, but that hasn't affected its popularity as a luxury hotel. Look out for special events, including Elizabethan banquets and Murder Mysteries – and choose from 73 atmospheric bedrooms.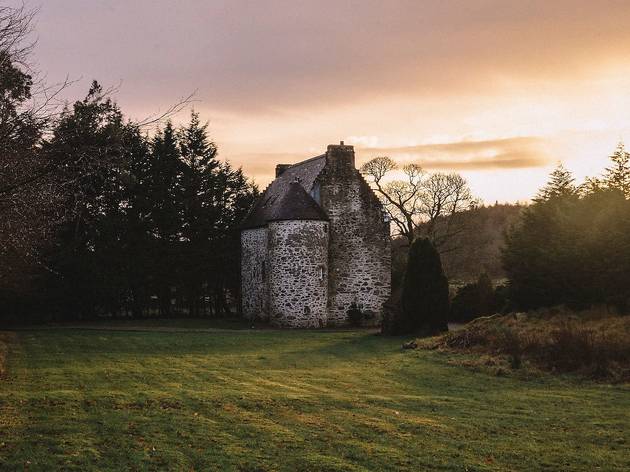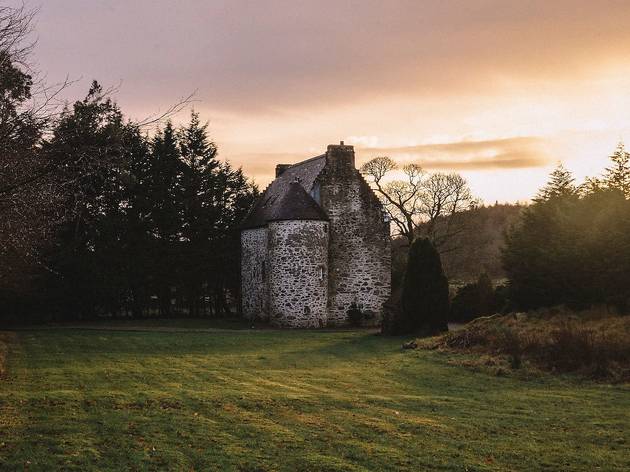 18. Kilmartin Castle, Argyll and Bute
As cosy as a castle can really be, this romantic Scottish retreat comfortably hosts up to six guests. Built in 1550, it has only had four owners over the years, and now lucky travellers can utilise it as a fairytale home from home. With a wood burner, thoughtfully chosen vintage furnishings and stacks of books, this castle is the ideal bolthole for anyone seeking a breather from city life.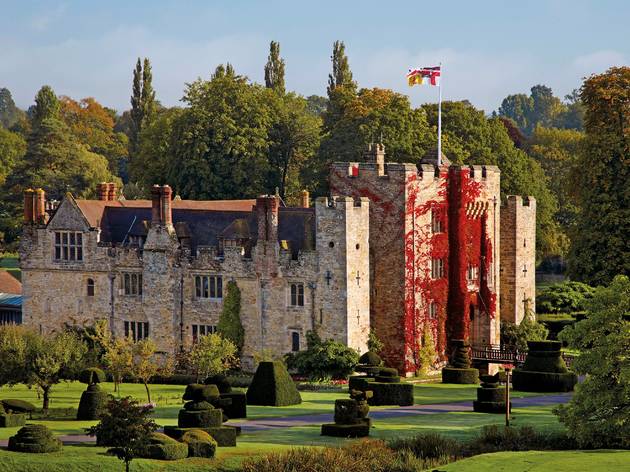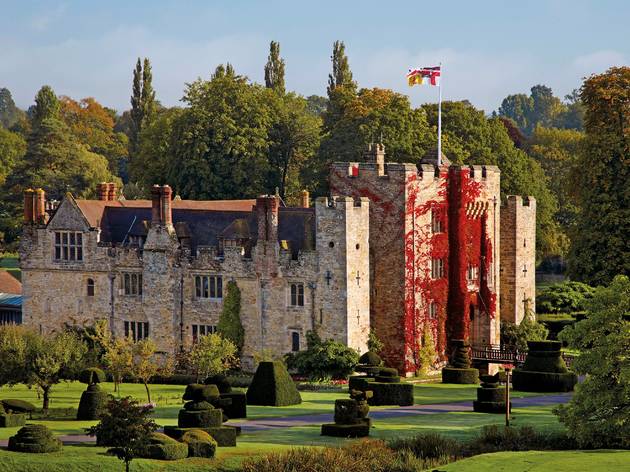 Anne Boleyn's family moved to Hever Castle in c.1504, and this is where she spent her childhood. In 1522, and after falling in love with Henry Percy, she was banished to Hever once more. It's also where she's said to have received letters from Henry VIII, before she later married him. Whether or not you have a thing for the Tudors, it's impossible not to be impressed by this beautiful castle, which has superb gardens, a 38 acre lake and golf course.
20. Dunksey Estate, Dumfries and Galloway
Sleeping 35 people, Dunskey Estate is surely the quintessential fairytale castle. Situated in the heart of Portpatrick, Scotland, this Edwardian castle is surrounded by 200 acres of glen walks, with forests, two lochs, three beaches, walled and woodland gardens, a maze – even waterfalls. Ever wanted to have the run of an entire castle? With 18 bedrooms and 16.5 bathrooms, Dunskey is pretty capacious. In case you wondered, a catering team is available on request. Staying in? There's a vast library crammed with classic books and a billiards room. Heading out? There's a golf course two minutes away, as well as a harbour where fishing expeditions are organised.
Exploring more of the UK?
From an otherworldly airship on the west coast of Scotland to a seafront retreat on the unspoilt beaches of Northern Ireland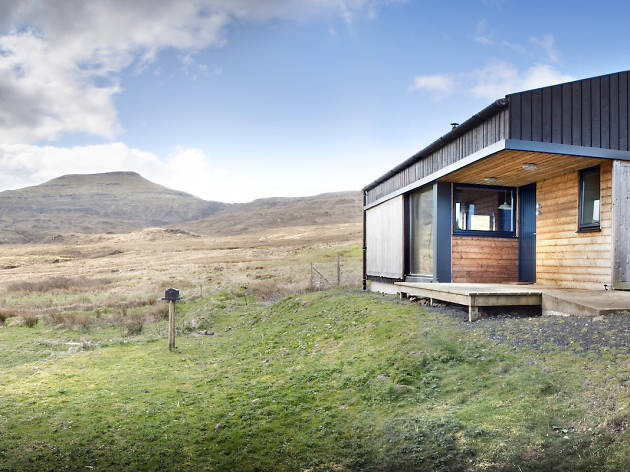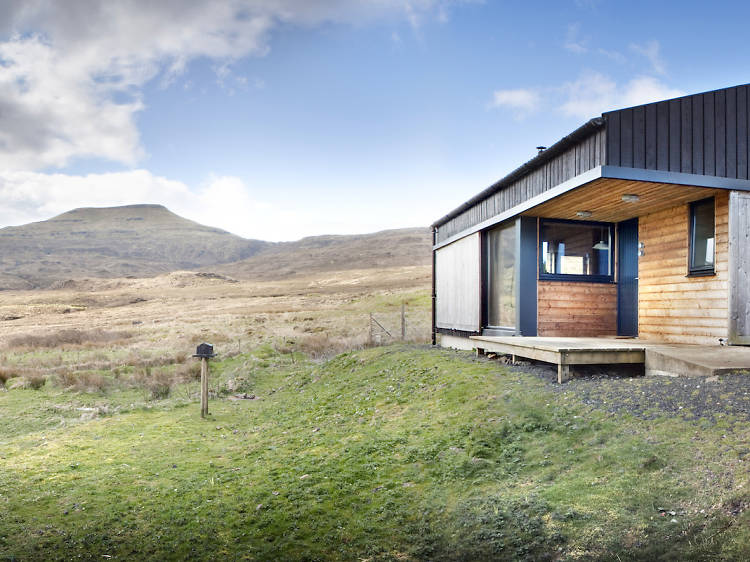 Want to get back to basics or fancy swerving the rest of humanity for a while? An escape to one of these hideaways is just the ticket.
Sometimes the best things really do come in small packages.