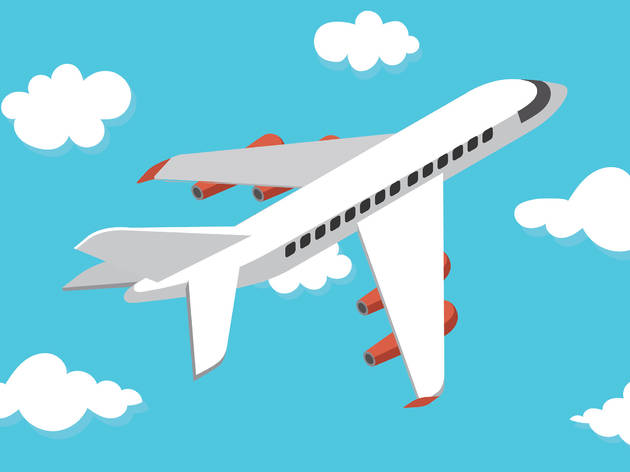 Can I get a refund for a cancelled flight and should I take a voucher?
Here's everything you need to know about claiming a refund for a cancelled flight in the UK
UPDATE, April 30: Many airlines are offering vouchers instead of refunds. We've added a section to answer the question: should you accept a voucher for a cancelled flight?
As nationwide lockdowns become the new normal across the world, the UK's major airlines have cancelled most – if not all – of their flights over the next couple of months. Has your flight been called off? Here's how to claim refunds from each major airline in the UK, how travel insurance might cover you for flights that are still going ahead, and – if you want to rebook – when normal schedules might resume.
My flight is cancelled. Can I get a refund?

Under current EU regulations, passengers are still entitled to a full refund for all cancelled flights in and out of the UK. Usually, getting a refund for a cancellation would be pretty straightforward – but carriers are currently being inundated with claims, and some are now trying to persuade passengers to accept credit vouchers or rebook for a later date instead. (Lobbying body Airlines UK, which represents British Airways, easyJet and Jet2, has asked the British government for a 'refund holiday' that would make vouchers an acceptable alternative to a refund. However, this has yet to be approved.)
Here's the state of play with each of the major UK airlines.
Ryanair
On March 24 the airline announced it was grounding all its flights throughout April and May. The budget carrier has been more forthcoming than most in offering passengers the option to claim a refund. Those whose flights have been cancelled should receive an email with the option to rebook or request a refund. There's also an online form you can fill out to claim your money back.
If you want to rebook for another date, the company has waived all 'change fees'.
For more information, click here.
EasyJet
EasyJet has stopped all flights from March 30. Unlike Ryanair, the low-cost airline has made it difficult for passengers to claim a refund online – instead, it is trying to persuade passengers to accept vouchers for future travel. Those with cancelled flights are still entitled to a refund, but must phone the airline on 0330 365 5000 to ask for their money back. Customers have a year from the original departure date in which to claim a refund.
If you want to rebook for another date, the company has waived all 'change fees'.
For more information, click here.
British Airways
British Airways has closed its bases at London City and Gatwick airports, but is still running a very limited service in and out of Heathrow. For those whose flights have been cancelled, BA has replaced its online refund request form with a page where you can claim a credit voucher (valid for 12 months from your original flight date). If you want a cash refund, you must ring the airline on 0800 727 800 from the UK.
The airline is waiving all rebooking and cancellation fees for all flights before May 31. If you cancel, you will receive a voucher for the same value. Rebooked flights must be within 12 months of the original departure date.
For more information, click here.
Jet2
On April 8 the budget airline cancelled all scheduled flights until June 17. A Jet2 spokesperson said it would work through all the cancelled flights in order and get in touch with customers to set out how they can claim their money back. Passengers will be entitled to a full refund, and will also be able to change bookings to a later departure date without paying a 'change fee'.
For more information, click here.
Should I take a voucher for a cancelled flight?

Short answer: no. There's a risk credit vouchers could end up worthless. Unlike for package holidays, vouchers issued instead of cash refunds for cancelled flights are not financially protected by the government's Atol scheme (which ensures package holiday customers get their money back if the travel firm goes bust between you booking the holiday and it taking place). That means that if you accept a voucher and your airline later goes bust, you won't be refunded.
If your airline refuses to give you a refund, or doesn't reply to your letters or phone calls, you have two options: Section 75 and chargeback. If you paid using a credit card, under Section 75 of the Consumer Credit Act 1974, your card provider is jointly liable for any breach of contract by the retailer. This means it's just as responsible for not delivering the service you paid for and you can ask them directly for your money back. To make a claim, your flights must have cost more than £100.
Alternatively, if you paid using a debit card, or your flights cost less than £100, you may be able to claim your money back using chargeback. This is a transaction reversal in which the bank withdraws the sum previously paid to the airline and puts straight it back in your account. Different debit card providers have different chargeback policies. For more information on how to make a claim, check the latest advice from Which?.
My flight hasn't officially been cancelled. Can I still get a refund?

Unfortunately not. BA, easyJet, Ryanair and Jet2 are refusing to refund passengers who are (quite sensibly) choosing not to fly because of the Foreign Office (FCO) warning against all but essential travel from the UK.
However, you may be able to claim your money back via travel insurance. If you'd already booked flights and bought travel insurance before the FCO's March 17 warning, and the policy included 'travel disruption cover', you should be entitled to make a claim with your provider.
If your travel insurance doesn't cover you, Which? advises rebooking (especially if your airline has waived its change fees)' and rebooking again until one of your rebookings is cancelled. You'll then be entitled to a full refund from the airline.
When will I be able to fly again?

That's a good question – and the answer is, unfortunately, unclear. Nationwide lockdowns mean commercial flights have been banned from coming into many countries around the world. And with most flights from the UK grounded and the government warning against all non-essential travel 'indefinitely', it seems those travel plans will have to wait until the summer – and maybe even later.
Some airlines have tentatively suggested a return to normal service in June or July. A Ryanair spokesperson has said that the airline's normal schedule won't return until June, while easyJet has given its staff a two-month leave of absence from March 30 – suggesting it hopes its standard timetable will be up and running again at the start of June. A Jet2 spokesperson said the firm hoped its normal schedule would resume from the end of June. (BA has not yet indicated when its services might return to normal.)
However, although the summer may not seem that far away, other sources have given later dates for when widespread air travel might start again. Notably, Australia's minister for trade, tourism and investment has said that Australians may not be able to travel internationally until December 2020.
All of which is to say: by all means, start dreaming and planning for a getaway in autumn or winter 2020. You've definitely earned it. But it's probably best to see how the situation changes before going full steam ahead with your booking.
Where to travel this autumn and winter