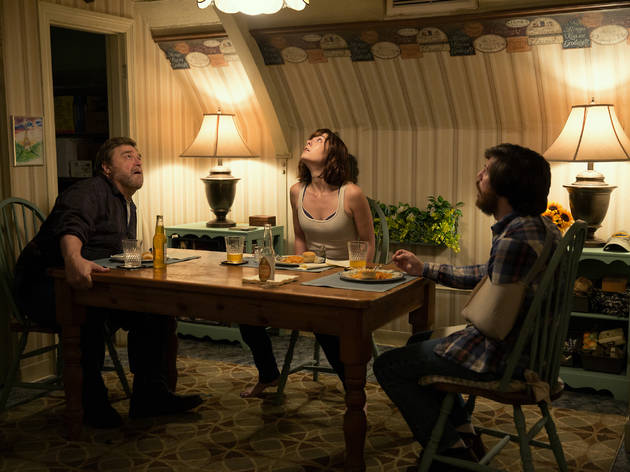 Time Out says
It might be the end of the world outside, as three expert actors chase their suspicions in a movie that's agonizingly close to being great.
Despite its title, Dan Trachtenberg's Twilight Zone–style thriller actually lives at two addresses. First there's the minimalist claustrophobic drama that unspools in an underground bunker, one that's riven by mistrust. If you're a fan of sweaty post-apocalyptic handwringing, lengthy scenes of problem-solving and those rare occasions when movies feel like live theater, this is where you'll want the film to linger. Then there's the maximalist action flick (no spoilers here) that 10 Cloverfield Lane becomes—perhaps unavoidably, given its arbitrary attachment to 2008's monster mash Cloverfield. The relocation is a letdown after so much exquisitely concentrated old-school craft.
Right from the start, you know you're in confident hands. Bear McCreary's frenetic orchestral score accompanies a teary yet wordless breakup, as Mary Elizabeth Winstead—the young, impressive actor with a determined jawline like Sigourney Weaver's—hangs up on her boyfriend, leaving behind a diamond ring and taking to the road with a bottle of Scotch. A car crash brings her down. She awakens, bloodied and nervous, chained to the wall of a cell. Her captor (John Goodman, channeling his creepy Barton Fink side) tells her an "attack" has happened, rendering the outside world uninhabitable. And we see just enough of that to wonder if he's right. Maybe he's her savior whose only crime is having a jukebox full of Tommy James and the Shondells.
Or maybe not. Enough can't be said about this section of 10 Cloverfield Lane—which fills up the vast majority of its running time. Basically, it's an electrifying three-person play, as the resourceful Winstead, the complexly furious Goodman and Tony-winner John Gallagher Jr. (portraying a lucky neighbor who made it down to the refuge) hash it out in scenes that impart the nauseating futility of George Romero's mall-barricaded Dawn of the Dead. If only the film were content with that. But producer J.J. Abrams, a brilliant marketer, eventually has to open his "mystery box," and the intelligence level plummets. Never mind. Go anyway and watch the arrival of the mighty Winstead, who'd do fine in a Room of her own.
Follow Joshua Rothkopf on Twitter: @joshrothkopf
Details
Release details
Rated:
PG-13
Release date:
Friday March 11 2016
Duration:
105 mins
Cast and crew
Director:
Dan Trachtenberg
Screenwriter:
Josh Campbell, Matthew Stuecken, Damien Chazelle
Cast:
Mary Elizabeth Winstead
John Goodman
John Gallagher Jr