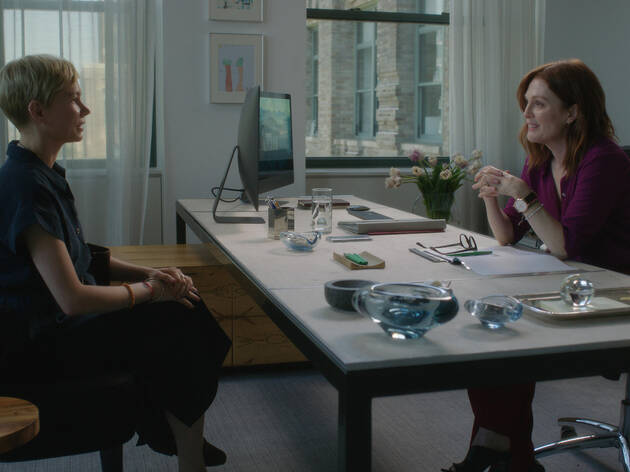 Family trauma comes to a lukewarm simmer in this well-cast but underpowered remake.
A chilly, frustrating Danish film becomes a chilly, frustrating American one, as director Susanne Bier's original 2006 version of After the Wedding gets a gender swap to no discernable improvement. Showy drone shots glide us into a movie that aspires to fatalistic depth: In the first, Isabel (Michelle Williams, squirming under her character's serenity) can be seen meditating in India, where she leads a charity and feeds shoeless kids; in the second, self-made media exec Theresa (Julianne Moore, channeling hints of her brittle turns in Magnolia and Safe) cruises up to her palatial Long Island mansion shout-singing Lady Gaga.
Quickly, an economic disparity is established, but the film, overdirected by Bart Freundlish (also Moore's husband), places a near-obnoxious Nancy Meyers-like emphasis on wealthy, lacquered interiors. Yes, there's a wedding: an elegant outdoor affair in which we see the menu cards, the his-and-her cocktail options, the seafood risotto. But it's also the place where Theresa and her handsome artist husband Oscar (Billy Crudup) will find themselves confronted by do-gooder Isabel, in town to receive a grant from Theresa and invited to the nuptials almost as an afterthought. One revealing toast from the bride, however, changes everything.
Nothing will be ruined in this review, but you'll wish the burn in Williams's eyes exploded into something a lot hotter. After the Wedding contains enough domestic revelations for several seasons of something delicious, but Freundlish's showdowns all seem to dissipate or get curtailed abruptly. Moore does vodka-swilling fury better than anyone, so why not unleash the beast for more than a minute or two? This isn't simply a plea for more melodrama—though the Americanized script positively begs or it—but a sensible request: We're waiting for this pressure cooker of a scenario to go nuclear and spill gunk all over the pretty, expensive stuff. It never quite happens and, for all the actors' impeccable restraint (Crudup continues in the subtle vein he mined for Jackie and 20th Century Women), something is missing.
Follow Joshua Rothkopf on Twitter: @joshrothkopf
Release details
Release date:
Friday January 25 2019
Duration:
110 mins
Cast and crew
Director:
Bart Freundlich
Screenwriter:
Bart Freundlich
Cast:
Michelle Williams
Julianne Moore
Billy Crudup