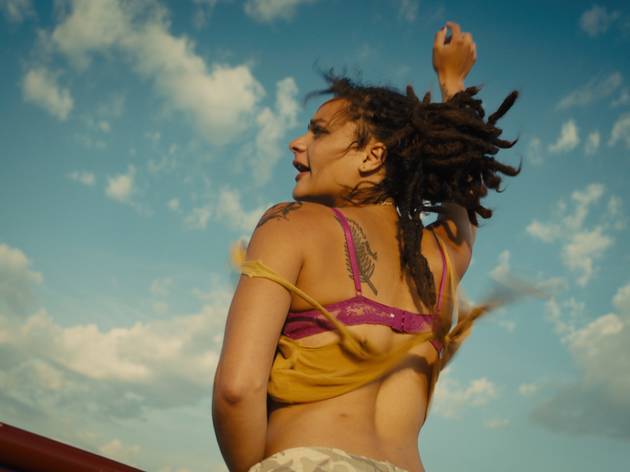 Time Out says
British writer-director Andrea Arnold heads to the U.S. for a bold, flawed road movie about teens.
There are many extraordinary moments, beautiful shots and intoxicating rushes of pure teenage adrenalin in British filmmaker Andrea Arnold's fractured portrait of American teenagers—which makes it all the more frustrating that her fourth film stops short of being more than a fitfully exciting, overlong experiment. Heavily musical, rowdy and fleshy, it's structured less as a story and more as fragments hung together in disparate episodes with a strong air of on-the-road improvisation. American Honey is an extreme road movie about a gang of teens selling magazine subscriptions door to door, state to state, in the Midwest.
Our guide to their anarchic lifestyle is Star (Sasha Lane), a searching, unformed girl who we follow tightly (once again, Arnold's regular cinematographer Robbie Ryan shoots American Honey right up close, claustrophobically, in the near-square Academy ratio). We first meet Star caring for two young kids and trying to avoid the gropes of a drunk who seems to be her father. But it's not long before she bumps into funny but dangerous Jake (Shia LaBeouf), tough Krystal (Riley Keough) and their door-to-door sales gang, and she hits the road with them.
The rest of the film flits between events that reflect Star's growing sense of self—encounters with potential clients, sex with Jake, risk-taking with older men—and repetitive atmospheric scenes that lean on Terrence Malick-style nature shots or on moments that capture the largely anonymous group of teens partying, fighting, singing or fucking. At its worst, American Honey feels like a tourist's postcard from the American fringe, one written in Arnold's clear hand but that also nods to filmmakers like Larry Clark and Harmony Korine and photographers like William Eggleston. At its best, it has an in-the-moment pumped energy that you'd think would be impossible to bottle but Arnold somehow has.
It's Arnold's first film shot in America. How much you warm to it might depend on whether you feel she's discovered something new making it. Or has she simply transferred ideas explored in her British films about teenage discovery, pain and bliss to a new backdrop? What does feel especially fresh is her light-touch suggestion that her gang of more-or-less endearing misfits are somehow a microcosm of American capitalism and the American dream—a social experiment in money, sex, power and belonging. Her main character, Star, sometimes gets lost along the way, but that's probably a point in itself. It's a bold film, full of energy and spunk, but a patchy and rambling one, too.
Details
Release details
Rated:
R
Release date:
Friday September 30 2016
Duration:
163 mins
Cast and crew
Director:
Andrea Arnold
Screenwriter:
Andrea Arnold
Cast:
Sasha Lane
Shia LaBoeuf
McCaul Lombardi
Arielle Holmes

Users say