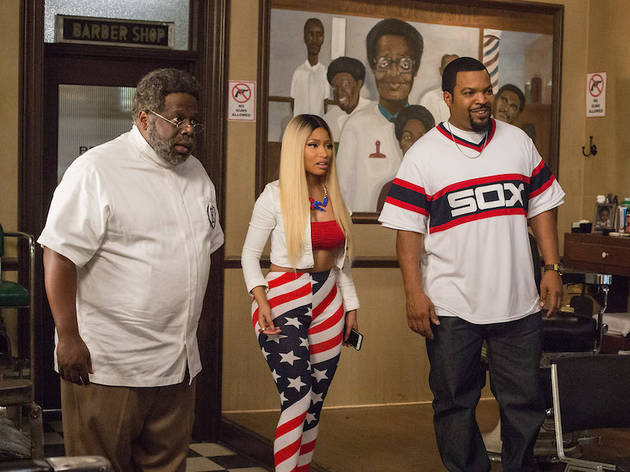 Time Out says
Ice Cube and his staff of head-cutters are back in an impressively serious comedy.
Not exactly about the haircuts, this 12-years-down-the-road sequel in the likable Barbershop franchise is still very much about getting one's head straight: avoiding the temptations of coworkers (like a much-ogled Nicki Minaj) or—more seriously—the lures of gang acceptance that ruin the young and impressionable. It's a fairly strident comedy, one that sometimes feels like an Afterschool Special, with a timely, real-life link to the escalating murder rate plaguing Chicago's South Side.
Fierce righteousness is well-suited to series anchor Ice Cube, who, as the salon's decent proprietor, Calvin, gives his most substantial performance since Boyz n the Hood. He's got many rousing stand-up-and-cheer monologues, including an argument with his wayward teenage son that champions the virtues of being smart and carefully choosing your associates. Provocatively, director Malcolm D. Lee echoes some of the grammar of Spike Lee's movies—not only his recent, similarly themed Chi-Raq but Do the Right Thing in shots that pin the besieged Calvin in a cloud of worry, much like Sal in his pizzeria.
It's refreshing to encounter a sequel that leans deeper into sociopolitical realities, not further away. While The Next Cut doesn't take any jabs at mayor Rahm Emanuel (who deserves them), they're implied by the film's plot about a small business organizing a weekend ceasefire when local authorities prove ineffective. Still, the movie's tone wobbles between sincerity, sitcom-style naughtiness and stand-up gags, courtesy Cedric the Entertainer and a large, well-defined cast. It all feels a touch schematic, trying to satisfy every audience type, when each haircut should be different. Barbershop: The Next Cut actually ends up in the chair, with a highly symbolic snipping that could have come straight outta the 1950s.
Follow Joshua Rothkopf on Twitter: @joshrothkopf
Details
Release details
Rated:
PG-13
Release date:
Friday April 15 2016
Duration:
112 mins
Cast and crew
Director:
Malcolm D. Lee
Screenwriter:
Kenya Barris, Tracy Oliver
Cast:
Ice Cube
Common
Cedric the Entertainer

Users say