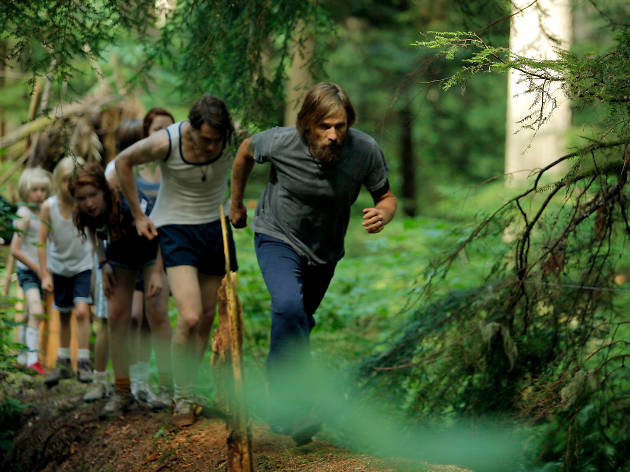 Time Out says
Living off the grid has its pros and cons in a domestic drama touched by a wayward spirit.
Viggo Mortensen will always be our Aragorn, charging the Black Gate and stirring Middle-earth spirits: "This day, we fight!" But there's always been a soulful, hippyish side to the actor as well (in real life, too), and Captain Fantastic, an unusual antidomestic drama, captures something brainy and bullheaded about Mortensen that feels true.
He plays Ben, an off-the-grid survivalist and intellectual blessed with six kids whom he rears in the forests of the Pacific Northwest. We get to know the children like the animals on Noah's ark: a pair of surly almost-men, a pair of beautifully confident teenage girls; a pair of blond tykes. All of them are proficient in hunting, knives and high-level literature, but their Noam Chomsky–adoring mother has just committed suicide, and Ben dreads the inevitable confrontation with society and its expectations.
The movie works best in the clan's private world (even if rock climbing in the rain seems like poor parenting). But then it deflates: Frank Langella, normally a welcome presence, is clownishly directed as a mean grandfather, and the plot abandons its tensions too abruptly.
Follow Joshua Rothkopf on Twitter: @joshrothkopf
Details
Release details
Rated:
R
Release date:
Friday July 8 2016
Duration:
118 mins
Cast and crew
Director:
Matt Ross
Screenwriter:
Matt Ross
Cast:
Viggo Mortensen
Frank Langella
Kathryn Hahn
Steve Zahn