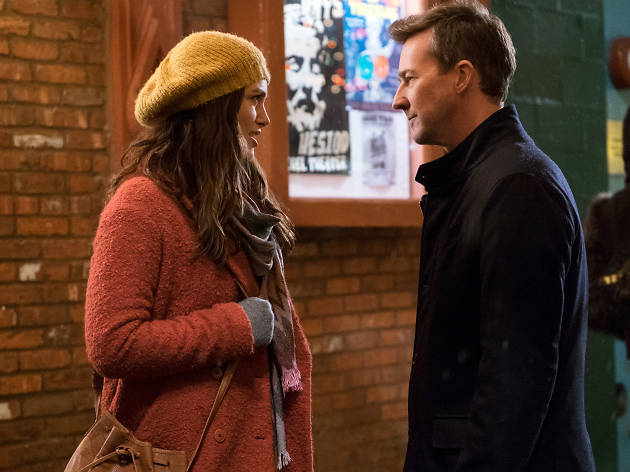 This sentimental and manipulative New York fairytale stars Will Smith and Helen Mirren.
The title of this cloying, grown-up fairy tale set in New York City sounds like it's been taken from a random generator for naming perfumes. "Collateral Beauty, you say? But I still have half a bottle left of Incidental Harmony."
A whimsical contemporary drama with a streak of over-polite tragedy, the film has a touch of Charles Dickens's A Christmas Carol to it. Will Smith plays grieving businessman and once-brilliant adman Howard, who is visited by three spirit types: Helen Mirren, Keira Knightley and Jacob Latimore playing small-time theater actors hired by Howard's colleagues to pretend to be Death, Love and Time. Can they collectively nudge him to a new level of self-knowledge?
At the very least, these interveners might help Howard's greedy business partners (Kate Winslet, Michael Peña and Edward Norton) prove once and for all that their unhappy friend is unfit to run a company. They want to sell up, cash in and sort out their own personal issues (a desire for a child, illness, trying to be a good father). Understandably, Smith is more concerned with the young daughter he and his ex-wife recently lost than in liquidating his shares. Strangely, the movie seems to pitch both issues at the same level of importance. The only sign of life in Howard comes from a burgeoning friendship with a fellow bereaved parent, played by the ever-reliable Naomie Harris.
Reaching out for heartwarming-yet-teary Christmas movie status, director David Frankel (The Devil Wears Prada, Marley & Me) has assembled a game and sparkly big-name cast, and he makes the most of a stream of attractive wintry Manhattan and Brooklyn locations. But it's just impossible to get past the core ridiculousness and arm-twisting manipulation of the plot.
Release details
| | |
| --- | --- |
| Rated: | PG-13 |
| Release date: | Friday December 16 2016 |
| Duration: | 97 mins |
Cast and crew
Director:
David Frankel
Screenwriter:
Allan Loeb
Cast:
Kate Winslet
Will Smith
Keira Knightley
Helen Mirren
Edward Norton