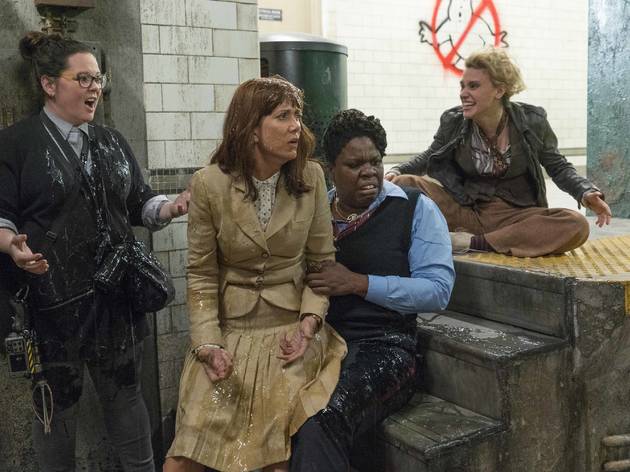 Time Out says
Go in with an open heart, and you won't get slimed: Yesterday's summer blockbuster is today's brainiac guilty pleasure.
The all-female reboot of Ghostbusters is here—jacked up, subversive and often very funny—and before any fanboys make the leap from vicious trailer criticism to the movie itself, let's get real about the 1984 original: It's breezy, it's blessed with a Bill Murray performance that captures him at his loosest, and it's hardly a work of genius. A thin Saturday Night Live skit propped up by zingers and special effects, Ghostbusters has somehow become a classic. Yet if you remember that summer's Gremlins, Purple Rain or The Karate Kid, you'll know it had some serious competition.
For this witty rethink, director Paul Feig, working with his screenwriter Katie Dippold (The Heat), drops the blue-collar schlubbiness of Murray's deadpan stare but adds a sharp sense of sorority, turning the comedy into something neurotically appealing on its own terms. The new Ghostbusters is a stealth battle of the sexes, one that spans from mansplaining college deans to a haughty New York mayor and a phalanx of male soldiers, all neutralized by a core team of four women happily trapped in their own playroom.
Melissa McCarthy and Kristen Wiig are Abby and Erin, ex-friends and co-authors of an embarrassing paranormal study, the 460-page Ghosts from Our Past: Both Figuratively and Literally. They're drawn together after Erin's academic career fizzles due to some bad optics, namely a YouTube clip in which she rants, "Ghosts are real!" But she's right: Evil vapors haunt the city's underground, bringing a tough subway worker (Leslie Jones) into the fold—and for a moment, the old Tribeca firehouse, now with a rent that's too damn high. (They settle for an office over a Chinese restaurant.)
But it's Kate McKinnon's rascally, plastic-goggled Holtzmann—loosely based on Harold Ramis's geeky spore collector—who absolutely steals the movie in a turn that might remind you of Val Kilmer's space cadet in Real Genius (it's even better). McKinnon comes up with a terrific amalgam of pure physical comedy, mock-triumphant gestures, sly winks, a lust for sexy toys and verbal slurs launched to a crowd of one in her head. She's the reason to see the film. No Ghostbusters has had a role this exquisitely silly.
Undeniably, Feig's reboot—which starts off wobbly—pays too much obeisance to the first chapter's plot beats. The towering Stay Puft Marshmallow Man is back, as is an endless stream of callback cameos that mostly distract. And the vivid sense of a grumbly seen-it-all NYC, so pungent in the Ed Koch–era original, is weakened here, not just by the unpersuasive Boston shooting location but by a lack of cheering crowds (where are they?). Regardless, it turns out it's okay to cross streams: Here's a summer movie starring a girl squad proud of its big brains and tacky jumpsuits. You could call that a supernatural event in itself.
Follow Joshua Rothkopf on Twitter: @joshrothkopf
Details
Release details
Rated:
PG-13
Release date:
Friday July 15 2016
Duration:
116 mins
Cast and crew
Director:
Paul Feig
Screenwriter:
Katie Dippold, Paul Feig
Cast:
Kristen Wiig
Melissa McCarthy
Cecily Strong
Chris Hemsworth
Kate McKinnon
Leslie Jones