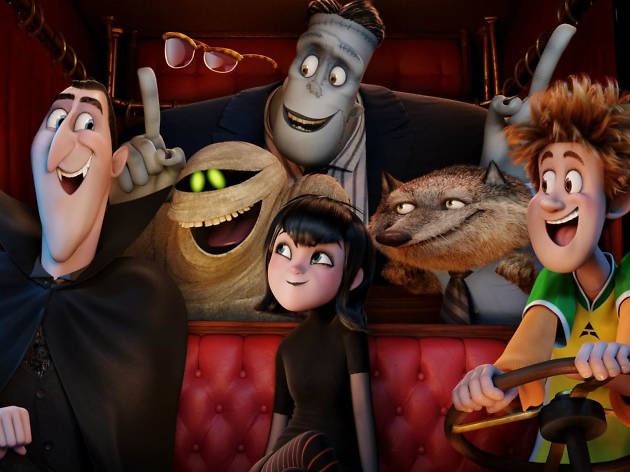 Time Out says
A vampire grandpa confronts his deepest fear in this confusing, pomo mismatch of kiddie humor and horror-movie asides.
A sugar-crazed animated monster comedy targeted at kids (not adults, like a good Pixar cry), the sequel to 2012's Hotel Transylvania isn't going to get anyone scared—nor, for all the vampires on display, does it have any real bite, visually or otherwise. Still, in a disastrous counter-strategy, so much attention has been paid to crafting a relentless string of in-jokes meant for ancient horror fans that the storyline limps from tired blood.
Struggling hotelier Drac's back (once again voiced by Adam Sandler, infinitely more bearable off-camera). He suffers mightily: His daughter, Mavis (Selena Gomez), has gone and married Jonathan (Andy Samberg), a shaggy-haired dude from California—a real stake in the heart. But the sight of his baby grandson, Dennis, makes the Count's undead spirit soar, as does the possibility that the boy might one day sprout fangs. The movie follows a bunch of bad grandparenting, intended to trigger a fear response in Dennis so his true inhuman self can emerge.
Between its huggable mummies, affably shambling spooks and decent human beings, there's little difference between the bunch, rendering the movie's strenuous anti-discrimination message hazy and unmerited. Sparks of wit range from the inspired—an Igor-voiced GPS program that hectors its driver—to the silly, such as a morose Phantom of the Opera crooning commentary from the organ: "Awkward!" As for a lengthy scene in which Gary Oldman's curvy Dracula wig is mocked, you have to wonder how infantile yet tartly ironic we can reasonably be expected to become in less than 90 minutes.
Follow Joshua Rothkopf on Twitter: @joshrothkopf
Details
Release details
Rated:
PG
Release date:
Friday September 25 2015
Duration:
89 mins
Cast and crew
Director:
Genndy Tartakovsky
Screenwriter:
Adam Sandler, Robert Smigel
Users say