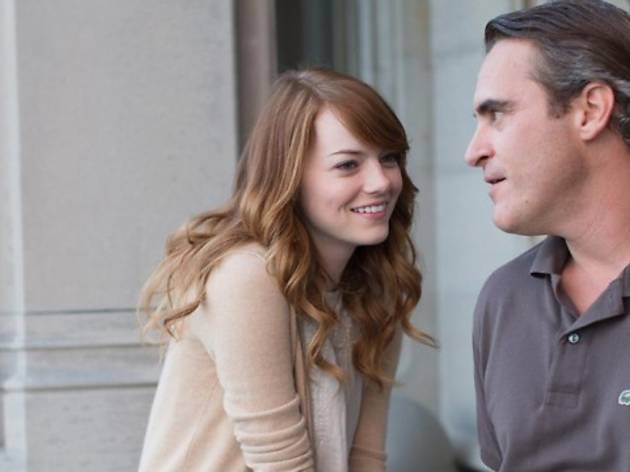 Time Out says
Not since 2007's Cassandra's Dream has Woody Allen played it almost entirely deadly straight with a tragic male character at the heart of a drama. Irrational Man harks further back to the likes of Crimes and Misdemeanors and gives us Abe (Joaquin Phoenix), a philosophy lecturer who arrives to teach at a small East Coast college. He's preceded by a reputation for eccentricity and womanizing—it turns out he's depressed and impotent, too. Two women circle him: fellow professor Rita (Parker Posey), who wants to sleep with him, and student Jill (Emma Stone), who insists, weakly, that her interest in this dark cloud of man is purely platonic. Abe feels useless and directionless. It's only when, unknown to anyone else, he hatches a plot to commit the perfect crime that he starts to come alive, intellectualizing his way to murder, and only then does the jazz properly kick in on the soundtrack.
It all feels pretty familiar: the tortured genius, the younger woman, the plot taking a suffocating turn, murder as an existential debate, the world increasingly closing in on our antihero. But there's something sloppy and sluggish about Irrational Man, even by Allen's uneven standards. It is by no means a disgraceful film—at times it feels respectable and uncomplicated—and there's enough for Allen aficionados to enjoy and unpack. But the energy levels are low, not helped in the early stages by the film being anchored by Phoenix's mumbling, laconic mess.
Luckily, Stone is a reliably lively presence, and Phoenix's performance perks up in tandem with Abe's enthusiasm. Posey, sadly, is saddled with a character that reflects badly on its creator: an intelligent but drunken woman who's inexplicably willing to throw herself at Phoenix's miserable academic. And you need some serious storytelling pizazz—the kind Allen regularly used to offer—to be able to push through the ludicrous plot Allen that serves up. Since that's absent, Irrational Man ends up being a shadow of its potential.
Details
Release details
Release date:
Friday July 17 2015
Duration:
96 mins
Cast and crew
Director:
Woody Allen
Screenwriter:
Woody Allen
Cast:
Emma Stone
Joaquin Phoenix
Parker Posey

Users say