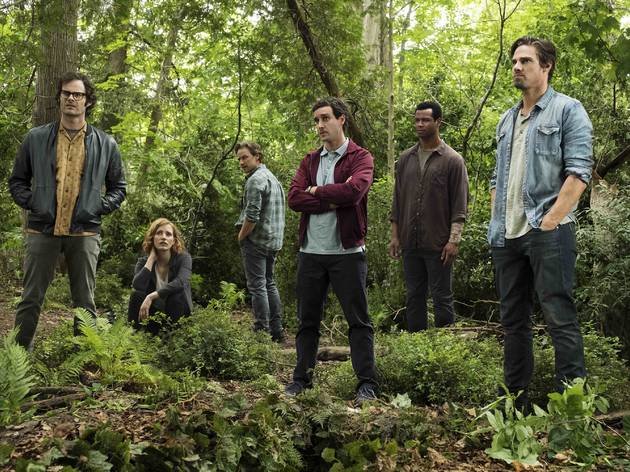 1/2
Photo: Brooke Palmer/Warner Bros.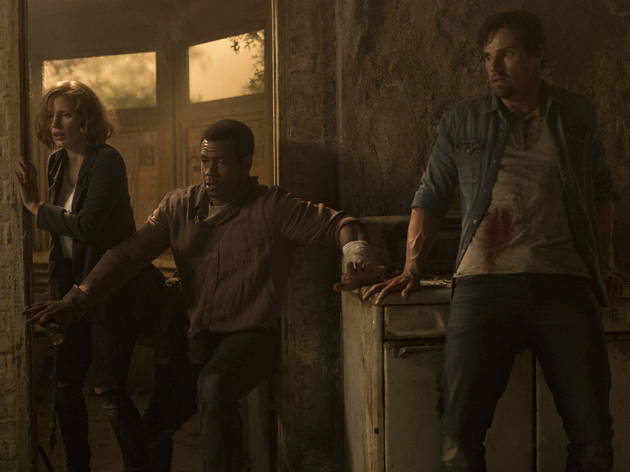 2/2
Time Out says
A grown-up Losers' Club does battle with its own hang-ups in a superior sequel.
Even in our Stranger Things–dominated popscape, no one was expecting 2017's It—a second attempt at a ponderous 30-year-old novel—to become such a huge phenomenon. A monster hit? Sure. No one likes a clown, evil or otherwise. But the highest-grossing horror movie of all time? To understand that outcome, one would have to consult the dark forces trapped in Stephen King's typewriter. Finally, though, the hype is justified: It: Chapter Two improves on its predecessor in nearly every way.
King's book was bifurcated into halves, one hefty chunk going to its 1950s preteens living in a fictional Maine town, and the other to these tiny warriors grown up into equally haunted '80s adults. It: Chapter Two follows suit, but the movie doubles down on the deeper, metaphorical nature of losing one's innocence and discovering a world full of real-life pain. Disturbingly (and boldly), the film opens with a scene of vicious gay bashing, as modern-day Derry has become a place similar to so much of today's hate-brimming America.
Like autumn leaves, those menacing red balloons reappear—the movie does a beautiful job of bridging its natural and supernatural elements—and it's up to an older, lonely Mike (Isaiah Mustafa), now the town's librarian, to call his buds. They include Bev (Jessica Chastain, a persuasive sufferer), trapped in an abusive marriage; Bill (James McAvoy, a little stiff), now a Hollywood screenwriter and crafter of "bad endings"; a slimmed-down Ben (Jay Ryan); the hypochondriac Eddie (James Ransone), a panicky risk assessor; and the self-loathing stand-up comic Richie (Barry's Bill Hader, funny and real, whose casting is a masterstroke).
Returning director Andy Muschietti did an effective job with his young cast in the first It (they all come back in flashbacks or nightmares, including standout Sophia Lillis as teenage Bev), but his work with the adults is superior. In the wake of Hereditary's Toni Collette, we're evidently in a brave new world where the heightened emotions of horror can yield finely frayed performances. Hader, especially, anchors the mania of several gross-outs (including one targeted expressly at fans of John Carpenter's The Thing) with a lived-in bonhomie.
Already, Bill Skarsgård's drooling Pennywise feels iconic. The hard-R moments that he dominates, gushing with dark gore, remind you that these movies may feature kids, but they're not for them. It: Chapter Two is a nostalgia-delivery device for Gen-X dreamers, down to its Poltergeist–like collapsing house and a winking authorial cameo. Even as it drifts into narrative indiscipline, you appreciate the movie's attempt to make sense of a troubled, beclowned present.
Follow Joshua Rothkopf on Twitter: @joshrothkopf
Details
Release details
Rated:
R
Release date:
Friday September 6 2019
Duration:
169 mins
Cast and crew
Director:
Andy Muschietti
Screenwriter:
Gary Dauberman
Cast:
Finn Wolfhard
James McAvoy
Jessica Chastain
Bill Hader
Bill Skarsgård