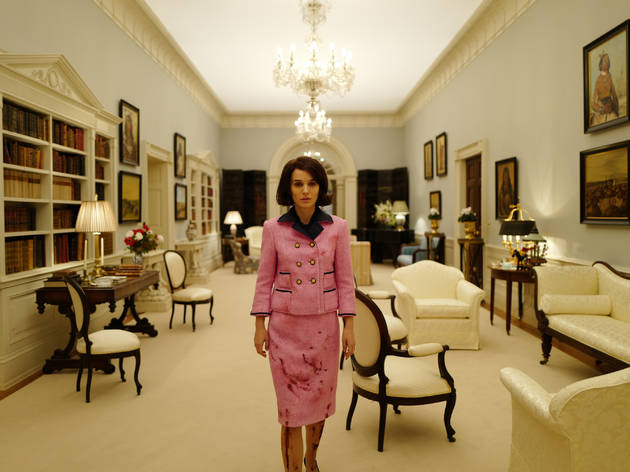 Time Out says
Commandingly complex, Natalie Portman triumphs in a real-life story pitched at an unthinkable moment of national tragedy.
It starts with a face—more a mask than a face, puffy from stress and crying and a loss that few can imagine. It's the delicate, almost distracted face of Natalie Portman, playing 34-year-old Jacqueline Kennedy during the week after her husband's 1963 assassination, in Jackie. Right from the beginning of Pablo Larraín's near-experimental stunner, you can tell you're in for a psychodrama of strange, hypnotic intimacy. One should also mention the orchestral smear heard on the soundtrack: a nauseating lurch of Psycho-esque strings provided by Under the Skin's Mica Levi, who expresses the movie's theme of sudden change better than anyone.
Jackie is a political period piece, something Larraín, a Chilean filmmaker, is especially good at. (His late-'80s–set Augusto Pinochet electoral comedy No is better than an entire season of Veep.) But more than any of Larraín's movies, Jackie represents a deep dive into internal catastrophe. Eclipsing her work in Black Swan, Portman flutters like a sail in a brisk wind. She is scattered, tense, wrecked and compellingly defiant in the face of those who would prefer she act a certain way. Supported by a director who often places his camera mere inches from her nose, Portman excels in a portrayal that no First Lady has ever been blessed to receive onscreen (nor any American President, come to think of it).
The smart script, by Noah Oppenheim, is designed as an expressionist framework built of disconnected moments. We see Jackie on the plane flying out of Dallas, shell-shocked as Lyndon B. Johnson takes his emergency oath of office. We watch her later that night, shedding the iconic pink suit and washing the blood and brains from her hair; it's her first private time as a widow. Some of these scenes are simply unbearable to endure, but the ones that stay with you articulate something unusual for a grief drama: forward-thinking savvy. There is JFK's legacy, already in question, to think about, as Jackie asks her aides about the scale of Abraham Lincoln's funeral. She seethes her way through a touchy interview with a profile writer (Billy Crudup, superb), insisting on total control of the piece: "And I don't smoke," she says, exhaling a deep plume.
Running counter to Portman's complexity is an elegantly developed strand of unfinished business. "We're just the beautiful people," spits Robert Kennedy (Peter Sarsgaard, an equal to Portman's commitment), furious at the thought of what his brother didn't have time to achieve. In one of his most gorgeous pieces of support work, John Hurt plays an Irish Catholic priest attempting to guide Kennedy through the worst of her black thoughts, but even he seems uncertain. Jackie pummels you with grandeur, with its epic visions of the funeral and that terrible moment in the convertible (all of it rendered in pitch-perfect detail and a subtle 16-millimeter shudder). Yet the film's lasting impact is dazzlingly intellectual: Just as JFK himself turned politics into image-making, his wife continued his work when no one else could.
Follow Joshua Rothkopf on Twitter: @joshrothkopf
Details
Release details
Rated:
R
Release date:
Friday December 2 2016
Duration:
99 mins
Cast and crew
Director:
Pablo Larraín
Screenwriter:
Noah Oppenheim
Cast:
Natalie Portman
Peter Sarsgaard
John Hurt
Greta Gerwig
John Carroll Lynch

Average User Rating
3.5 / 5
Rating Breakdown
5 star:

1

4 star:

1

3 star:

1

2 star:

1

1 star:

0
I had read a lot of reviews of this and seen the BBC Film 2017 review of it where the critics were divided over whether Portman's portrayal was a sympathetically grieving or a cold characterisation.
As we settled into a multiple flashback structured film where only the blood splattered pink suit gives the audience context, the visual include many extreme close ups and a clear difference between Portman's in camera TV intro to the White House and her everyday voice. Both mannered but acutely different.
The camerawork and mise en scene move into a kind of cinema verite existence feelung often like do umentary rather than dramadoc.
Nobody had prepared me for the music (Mica Lvi) which had a 60s Godardian quality and very asynchronous and unsettling.
Portman makes Jackie's smile a tour de force and an interesting study of manner.
As a characterisation it was possible to see in this Jackie the determined clear headed woman who would become an international celebrity and eventually Jackie O.
This Time Out Review is, I think, spot on.. but my companion hated everything about the film.
Cinematic Marmite.
While there is no doubt that Natalie Portman did an incredible job portraying Jackie O, the movie as a whole was very slow and simple. It only looked at Jackie immediately after the death of JFK; I went in hoping that we'd see glimpses of her life before becoming a Kennedy, how she handled his affair(s), and how she continued to live months or years later. Don't expect this to be a biopic, as this focuses more on a couple of events. The movie also moved more slowly than I had hoped, and it's not even 2 hours long.