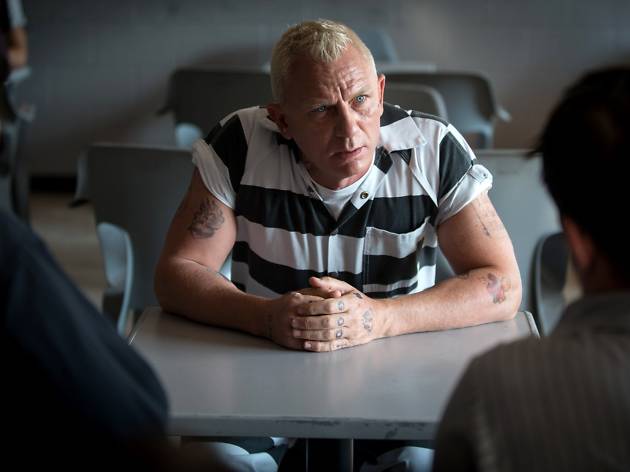 Time Out says
Channing Tatum, Adam Driver and a transformed Daniel Craig get criminal in the kind of underdog comedy that's too rare.
Bouncing back from a self-described "retirement" that ended up being shorter than some Hollywood vacations, director Steven Soderbergh returns to making features with a crime comedy that plays like a valentine to some of his most beloved, effervescent triumphs. Logan Lucky—about a NASCAR vault heist and the nuts who pull it off—has the same jazzy, improvised feel of Soderbergh's Ocean's Eleven. It's also peppered with the Southern-fried regional humor of Magic Mike. Present, too, are the anxieties of working-class strivers fed up with an American dream that's failed them, so throw in Erin Brockovich as well. But before we get too meta, know that the new film is its own rascally thing.
The West Virginian Logan brothers don't have the best of luck. Jimmy (Channing Tatum), a divorcé who dotes on his little girl, just lost his construction job; Clyde (Adam Driver), a bartender, lost even more in Iraq—his left hand. But together, along with an assortment of bumblefuck conspirators and one devilishly charming convict still in jail (Daniel Craig, trading his Bond accent for a swampy drawl that's mesmerizing), they hope to reverse the family curse with a robbery totaling millions of dollars in event concessions.
A fairground scene of toilet-rim tossing aside, Soderbergh never uses his movie to poke fun at yokels; Logan Lucky walks the same tricky line as Fargo. He draws divisions between the kindhearted and the cruel, and we get swept up in his energy because we know it comes from a generous place. When the plot stops cold for a beauty-pageant performance of exquisite purity, you'll feel like you're watching the most American film of the year.
Follow Joshua Rothkopf on Twitter: @joshrothkopf
Details
Release details
Rated:
PG-13
Release date:
Friday August 18 2017
Duration:
119 mins
Cast and crew
Director:
Steven Soderbergh
Screenwriter:
Rebecca Blunt
Cast:
Channing Tatum
Daniel Craig
Adam Driver
Riley Keough