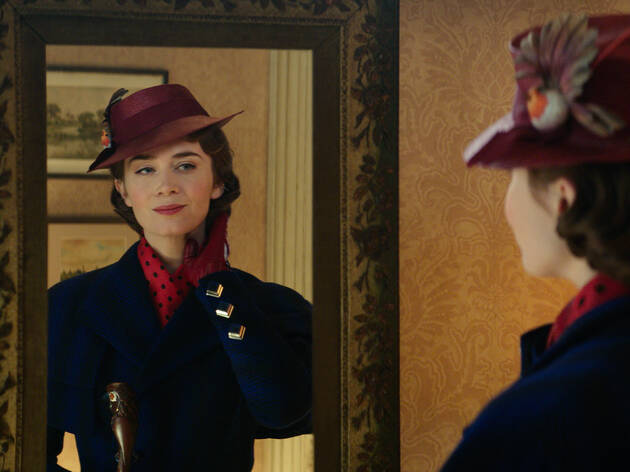 Time Out says
Emily Blunt is hypnotically charming in the year's sweetest surprise—a big-hearted contact high.
Burnishing old-school, kite-flying, Cockney-cavorting nostalgia to a high gloss, Disney's improbable sequel—coming a full 54 years after the original fantasy—is a risk that pays off, magically. Mary Poppins Returns is a defiantly backward-glancing musical, not only in its gaslit 1930s London (the days of the "Great Slump," as we learn), but also via its orchestral sweep, supplied by ace composer-lyricists Marc Shaiman and Scott Wittman, who nail the retro mood.
And still, even though this is a treat for audiences of a certain age, flashes of modernity sneak through in Emily Blunt's side-eye wink of a starring turn, purring through her impeccable pronunciation. "One never discusses a woman's age," she snaps at the mystified now-grown-up family she all but re-adopts as her new personal project when, a generation later, her nannying is needed. Mary's umbrella-assisted descent from the heavens is a stand-up-and-cheer moment (as is a fleet-footed cameo by 92-year-old Dick Van Dyke), but there's a deeper satisfaction in the songcraft that gives a thirtysomething Michael Banks (Ben Whishaw) the quiet, McCartney–esque "A Conversation," pitched amid his grief and loneliness. He's a widower.
That is to say, there are kids in this update (a trio of relentlessly upbeat adorables) but they're incidental to the real kids: lost adults who can't get a handle on life's realities. Like the 1964 landmark, the new movie vibrates with economic anxiety—this time, the threat comes from house repossession and homelessness. It won't take the wide-eyed presence of Hamilton's Lin-Manuel Miranda (or a scene-stealing Meryl Streep as Mary's vaguely Eastern European cousin, Topsy) to put you in mind of Brexit tensions or America's own xenophobic moment.
The movie's response is British in the most wonderful way: socially minded, psychedelic (brace for some truly hallucinogenic animation) and optimistic. Mary, for all her chipper rectitude, is the film's angel of compassion. When Blunt, in strong voice, sings a new song, "The Place Where Lost Things Go" (an exquisite lullaby that already feels like a classic), she's offering up a cosmic coping strategy. "There's nowhere to go but up," sings the cast, buoyed by balloons and a spirit of hope that's been gone too long.
Follow Joshua Rothkopf on Twitter: @joshrothkopf
Details
Release details
Rated:
PG
Release date:
Wednesday December 19 2018
Duration:
130 mins
Cast and crew
Director:
Rob Marshall
Screenwriter:
David Magee
Cast:
Emily Blunt
Lin-Manuel Miranda
Ben Whishaw
Emily Mortimer
Colin Firth

Users say