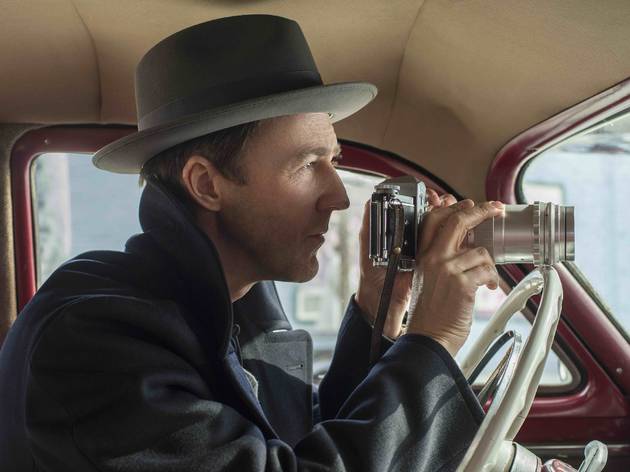 Time Out says
Varnishing a hard-nosed mystery novel with a coat of '50s noirishness, Edward Norton both romanticizes and expands upon his source material.
Jonathan Lethem's 1999 crime novel is practically the official housewarming gift for anyone moving to Carroll Gardens: a juicy mystery set in the neighborhood's mobbed-up '80s and '90s past. Loaded with violently funny coming-of-age stories (just on the fictional side of truth), the book would make for a stellar Goodfellas—and still might, since Edward Norton's sincere, misguided adaptation, resituated in the 1950s, isn't really the story you fell in love with.
Serving as screenwriter, director and main character—Lionel, a stuttering detective with Tourette's syndrome—Norton gives himself over to uncontrollable tics and verbal explosions ("If!" he often yells) that worked better on the page. He's more successful at evincing the gentleness that Lionel sometimes encounters in turn, especially from boss Frank Minna (Bruce Willis), gunned down early on and the engine of the plot. Lionel is stuck in a mental loop of vengeance, but all those gleaming cars and fedoras get in the way of Lethem's clean emotional burn.
Yet it's rare that we get a movie this municipally minded and Chinatown-ish, and Norton invents new elements with a free hand, including a Harlem turf war, a skittering jazz undercurrent (the music is by Daniel Pemberton) and a love interest in Gugu Mbatha-Raw. Alec Baldwin, playing a powerful urban planner, makes for a ferocious Robert Moses stand-in. When brassy Cherry Jones shows up as a Jane Jacobs in all but name, shouting down the builders, you wish Norton would commit to the real-life showdown he'd clearly rather be making.
Follow Joshua Rothkopf on Twitter: @joshrothkopf
Details
Release details
Rated:
R
Release date:
Friday November 1 2019
Duration:
144 mins
Cast and crew
Director:
Edward Norton
Screenwriter:
Edward Norton
Cast:
Edward Norton
Gugu Mbatha-Raw
Alec Baldwin
Bruce Willis
Willem Dafoe
Cherry Jones