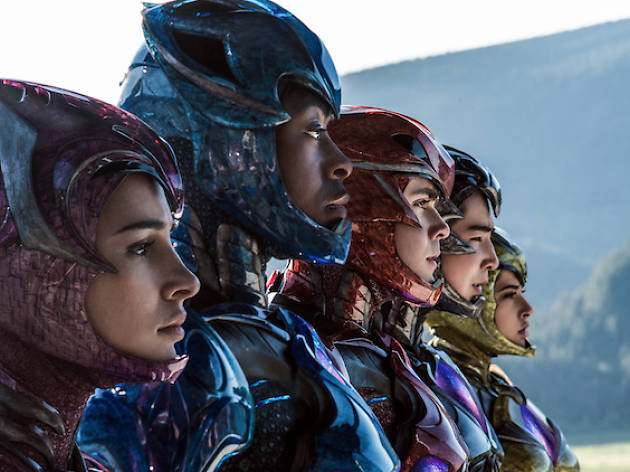 Time Out says
If you're one of the faithful, this big-screen adaptation of the beloved teenage superhero TV show rekindles the spirit.
"It's morphin' time!" fans will yell, as waves of light explode, color-coded armor creeps onto bodies, and tears of recognition are wiped away. Rarely has a franchise dominated childhoods as thoroughly as the '90s-era live-action Mighty Morphin Power Rangers, devoured on TV and cemented with action figures and toys. Today's grown-up kids aren't ready for the reboot, but they should be: The movie knows to make playground fun out of the material.
Set to the suburban backdrop of California's fictional Angel Grove, the story (for those not in the know) follows a rag-tag team of teens chosen to defend Earth from evil Rita Repulsa. What this Power Rangers does—unlike the show—is explore the complexities of our core team: They're imperfect but perfect enough to be selfless and save the world. Despite spending the majority of its running time with lead heroes Kimberly (Naomi Scott) and Jason (Dacre Montgomery), the main player of the group is autistic Billy (Me and Earl and the Dying Girl's RJ Cyler), whose enthusiasm and charm are contagious.
Kudos to the movie's subversive streak for using a great talent like Bryan Cranston to basically play a gigantic head (Power Ranger mentor Zordon). Bill Hader does justice by robot Alpha 5's iconic squeals while Elizabeth Banks delivers an exaggerated yet powerful villain that should have hit the airwaves 25 years ago: She makes it look like a blast, while devouring gold (don't ask—it's part of her plan). Here, Rita takes a little time off from planetary domination to also indulge in Krispy Kreme. Priorities, my friends.
Even if you have mixed feelings about the new suits and other shortcomings, Power Rangers will leave fans feeling sentimental. Whether it's a well-timed placement of the show's original theme song, cameos that only hard-core followers will notice (original Green Ranger Jason David Frank!) or the hint of a potential sequel, the film remains true to its TV origins and pays respect to its Japanese creators. Nostalgia has never felt so morphenomenal.
Details
Release details
Rated:
PG-13
Release date:
Friday March 24 2017
Duration:
124 mins
Cast and crew
Director:
Dean Israelite
Screenwriter:
John Gatins
Cast:
Elizabeth Banks
Naomi Scott
RJ Cyler
Ludi Lin
Dacre Montgomery
Bryan Cranston

Rating Breakdown
5 star:

1

4 star:

0

3 star:

1

2 star:

0

1 star:

0
"What this Power Rangers does—unlike the show—is explore the complexities of our core team: They're imperfect but perfect enough to be selfless and save the world."
I dont know what Power Rangers Show you have been watching. All the seasons I have seen do explore the people both individually as well as a core team.
I had mixed feelings about the Movie. As a true power ranger fan there were somethings I liked and some I didnt. I dont like how they took away the Its Morphin time power coins. The zords and the Megazord looked nothing like a Megazord. There were Transformers that looked better.
I mean overall I can see how the movie could be enjoyable to those who do not know the story line of the series.
I wasnt a complete fan of the story, but I did like the movie itself. Good action, some character building. One nice take on this reboot is how they applied modern day stereotypes to these kids.
I was so excited when I heard that a new Power Rangers film was coming out. I went to a private screening to check out the movie before it was released to the public. It was amazing! If you are a fan of the long running television show then you would notice some small changes from the show to the movie. I didn't have a problem with them and found them to be very minuscule and have little to no effect to the movie as a whole. I recommend seeing this movie.
#TOTastemaker
Snap: ITGraham