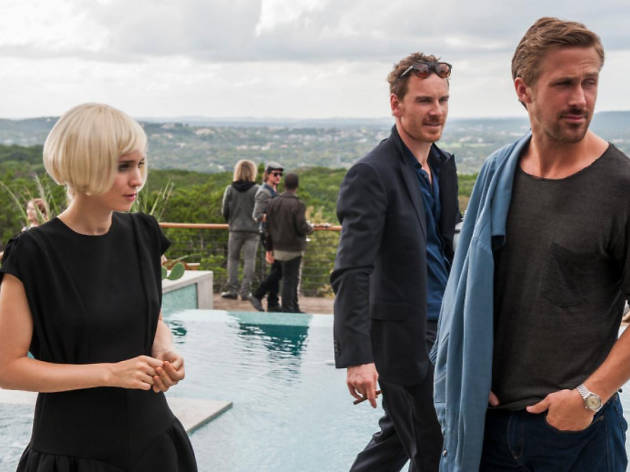 Time Out says
Visionary director Terrence Malick falls into a rut with this beautiful but empty Austin-set romance.
The world's most impossibly gorgeous actors lounge through exclusive parts of Austin, Texas—high-end homes, sprawling bedrooms and roped-off concert VIP areas—in Song to Song, a movie so deeply in need of a plot, a clue, anything at all, that you'll wish writer-director Terrence Malick was a bit more of a recluse. He's gone from only making masterpieces at his own pace (Badlands, Days of Heaven, the 20 years of nothingness that preceded The Thin Red Line), to making six features in the last six years alone. The sped-up pace hasn't been good for him. A swirly-girly sameness has taken over Malick's flow; his movies aren't supposed to feel like fashion spreads but they do, even as hushed narrators speak about their aching souls and lost loves.
Song to Song is, by far, the worst of these, for the resources it squanders and the two-hour-plus running time it wastes. Rooney Mara, though captivating in Carol and elsewhere, feels too discombobulated and random here as Faye, a Mona Lisa–inscrutable rock guitarist who attracts both Cook (Michael Fassbender), a wealthy, bawdy music manager, and rising songwriter BV (Ryan Gosling, here giving us the downer outtakes from La La Land). "I went through a period when sex had to be violent," Faye confesses at first, but Malick is way too timid to give us that kind of love-triangle experience. Instead, he brings on the lolling beach strolls, the private jets, backstage passes, Mexican vacations and a sexually toyed-with diner waitress (Natalie Portman) and French-accented lesbian lust object (Skyfall's Bérénice Marlohe).
You begin to thirst for humorous details, for anything to shake the movie out of its prettified stare. And they come—infrequently—via the on-location shooting that turns Austin into a bustling real-life backdrop. Val Kilmer, of all people, chainsaws an amplifier; Patti Smith and Sex Pistol John Lydon, both soulful and a little confused, make curious cameos as themselves. None of this is enough for a compelling drama, and it's time to stop praising Malick's go-to cinematographer Emmanuel Lubezki for coating everything in his floating widescreen lushness. Only Cate Blanchett, as a brittle, nervous date, has the smarts to link the improvisatory free-for-all to an amusing sense of rigidity. She should have tried her hand at the script, too.
Follow Joshua Rothkopf on Twitter: @joshrothkopf
Details
Release details
Rated:
R
Release date:
Friday March 17 2017
Duration:
129 mins
Cast and crew
Director:
Terrence Malick
Screenwriter:
Terrence Malick
Cast:
Rooney Mara
Michael Fassbender
Ryan Gosling
Natalie Portman
Cate Blanchett
Bérénice Marlohe

Users say