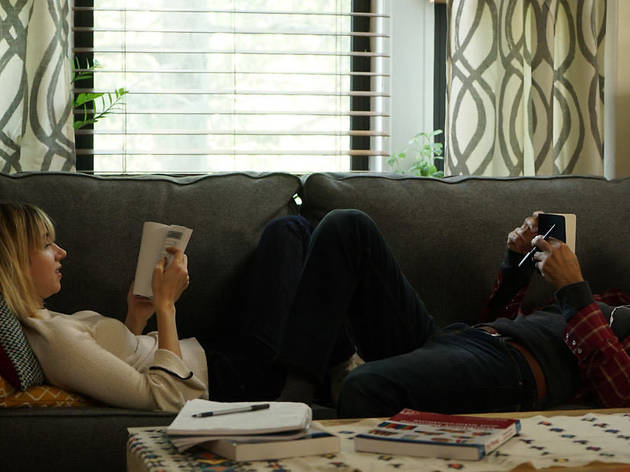 Time Out says
Actor Kumail Nanjiani breaks out with an autobiographical girlfriend-in-a-coma comedy that signals his arrival to the top.
Judd Apatow's durable formula of timid, geeky men, far-more-mature girlfriends and their huggably awkward parents gets a welcome infusion of cross-cultural tension—and some scary medical realities—in The Big Sick, a dynamite romantic comedy of intimate proportions. Apatow is only the producer here (Michael Showalter directs with a minimum of stylistic intrusion), but the creative prime mover is actor-writer Kumail Nanjiani, better known as Silicon Valley's peevish computer coder, Dinesh. Developing a based-on-real-life script with his wife, TV producer Emily V. Gordon, Nanjiani shapes his story of a Chicago comedian's wobbly rise, a trajectory altered by love, illness and some much-needed belated backbone.
Hoodie and backpack-clad, Uber driver Kumail (Nanjiani, modulating his nerd persona with impressive depth) turns his Pakistani heritage into a source of laughs for club crowds. He has a dense one-man show involving the game of cricket, and his sarcastic jokes often exploit racial anxieties. (Loudly arguing with his brother in a restaurant, he assures onlookers, "We hate terrorists—it's okay.") One night, Kumail's routine is interrupted by a smiling new fan, Emily (Zoe Kazan, completely owning her scenes), and they spark the kind of banter-crammed flirtation that movies like this have perfected. But Kumail can't tell his fiercely attentive suburban parents (Anupam Kher and Zenobia Shroff, both excellent) about the white girl he's seeing. Instead, he stashes photos of arranged-marriage candidates in a cigar box and rides out a courtship that he thinks is doomed to fail.
Already, The Big Sick is diverting impressively from familiar rom-com territory, so when it suddenly morphs into a completely different film—a bracingly sophisticated one—you'll want to cry with happiness. (The real tears will come soon enough.) Only weeks after their relationship hits the skids, Emily falls ill with a frightening, unexplained malady and Kumail is called to the hospital to authorize her doctors to induce a coma. Now come Emily's scowling parents (Ray Romano and Holly Hunter), who know all too well about their daughter's recent heartbreak, a blow administered by this stranger who won't leave the ICU.
Romano and Hunter are the film's secret weapons, both of them uncorking magnificently real performances flecked with resentment, nervousness and, ultimately, an acceptance that blooms like a shot of whiskey. Romano, with his Queens honk and effortless dadness, unleashes a killer aria about a tuna sandwich; Hunter remains the wildcat sparrer who dominated Broadcast News. The film is saying something both obvious and unusually wise: When you want someone, you often have to woo her parents. But more subtly, The Big Sick implies that if the love is real, the wooing can happen even when she's lying unconscious on the brink of death. Director Showalter does a beautiful job of twining Nanjiani and Romano's similar slump—you smile at what a perfect almost-father and son they already are—and he steers Hunter to a rapprochement of uncommon complexity and grace. And we thought we were watching a Judd Apatow film.
Follow Joshua Rothkopf on Twitter: @joshrothkopf
Details
Release details
Rated:
R
Release date:
Friday June 23 2017
Duration:
119 mins
Cast and crew
Director:
Michael Showalter
Screenwriter:
Kumail Nanjiani, Emily Gordon
Cast:
Kumail Nanjiani
Zoe Kazan
Holly Hunter
Ray Romano