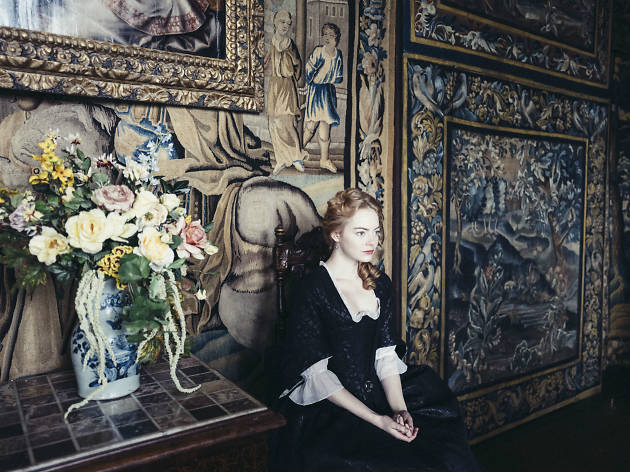 Time Out says
Emma Stone and Rachel Weisz spar for the affections of their queen in Yorgos Lanthimos's swooningly rude period piece—a royal flush.
We're watching an extremely luxe pocket of 18th-century life in The Favourite, which means the bewigged fops are scheming, the ducks are running (these people don't lack for strange competitive sports) and the offscreen organist is going for baroque. Even Stanley Kubrick knew to lay off his fish-eye lens once in a while. But Greek-born director Yorgos Lanthimos can't say no: He warps his period chamber piece—loosely based on the highly competitive court of the unstable Queen Anne—into a Lewis Carroll comic nightmare, piling cattiness upon cattiness.
And what's not to love about that? The constant visual and verbal bitchery feels like a pent-up release of something churning just under the surface. If this is your first Lanthimos movie, welcome. Know that you're a little late to the party: Two of his prior films—the psychosexual Dogtooth, about a family that has never allowed its grown-up kids to leave the house, and the equally vicious The Lobster—went darker and deeper than The Favourite, the first that Lanthimos hasn't personally written. But like its predecessors, the new one has an empathy that sneaks in amid all the bad behavior.
What makes The Favourite work are its women, who rule, both literally within the movie and outwardly, commanding our enjoyment. Unlike the similarly set Barry Lyndon or Dangerous Liaisons, which both had strong female characters toppled by the whims of strutting cocks, Lanthimos's latest makes the men extraneous, building a potent hothouse atmosphere that swirls with secret desires. At its wobbly center is Anne (Olivia Colman, marvelously cryptic with her own feelings), who suffers from gout and the deeper insecurity of 17 failed pregnancies. (Her living quarters are strewn with what we'd now call support bunnies.) Adding plainspoken companionship—and, we learn, much more in private—is Lady Sarah (Rachel Weisz), on hand to serve as the queen's mirror, mainly a flattering one.
When Sarah's distant cousin Abigail (Emma Stone) appears, she's been dragged through the mud, a victim of her father's misspent fortune and diminished name. She gets a job as a scullery maid, but, as she smiles coyly in the queen's presence, you know she won't be scrubbing floors for long. Lanthimos is concerned with charting these two trajectories, one downward, the other upward. You've seen Weisz curl her lip before (maybe even in The Lobster), but Stone makes the deeper impression, especially after she's elevated to the high spot, only to become a lacquered plaything. Ultimately, Lanthimos doesn't know what to do with either of them, and the real historical figures didn't leave behind much of a climax. The Favourite is about the gossipy retelling anyway, so who needs an ending?
Follow Joshua Rothkopf on Twitter: @joshrothkopf
Details
Release details
Rated:
R
Release date:
Friday November 23 2018
Duration:
120 mins
Cast and crew
Director:
Yorgos Lanthimos
Cast:
Emma Stone
Rachel Weisz
Olivia Colman

Rating Breakdown
5 star:

0

4 star:

0

3 star:

0

2 star:

0

1 star:

1
One of the worst movies I've ever seen.I want my money back! This is a 'wanna be' Barry Lyndon a classic by Stanley Kubrick.Some of it is a shameful exact copy of the scene where the vocal recital is interrupted by Lady Marlborough.I just wanted to scream at the plagarism and poorly edited work.Desperately waiting for this travesty to end and hoping for some sort of fitting finale, it just fizzled into oblivion,where it should have remained and NEVER made it to the screen.I'm giving it a 1 star only because I can't give it zero or a half.